Sony Ericsson Open - Sania Mirza moves into final round of qualifying
784 //
21 Mar 2012, 00:04 IST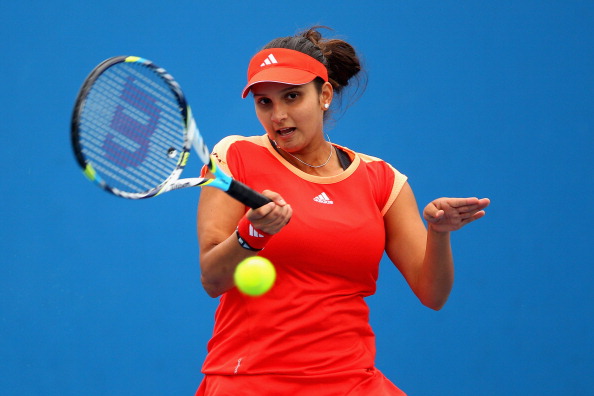 India's Sania Mirza has won her first round match in the qualifying draw for the Sony Ericsson Open in Miami – considered to be the fifth Slam in tennis.
Mirza beat world no. 95 Irina Falconi 7-6, 6-0 for a rare singles win and she moves into the final round fo qualifying where she will meet another young American – the world no. 90 Sloane Stephens.
A win against Stephens will give the Indian a place in the main draw.
Among other women advancing on the opening day were Mirjana Lucic, Araane Rezai and Americans Madison Keys and Jamie Hampton.
In the men's qualifying event, Americans Bobby Reynolds and Micheal Russell were winners as were former Australian Open finalist Arnaud Clement and wild card Sergei Bubka.
Men's Qualifying Singles – First Round
E Roger-Vasselin (FRA) d A Kudryavtsev (RUS) 62 00 Retired
T Kamke (GER) d J Silva (BRA) 62 00 Retired
G Garcia-Lopez (ESP) d M Viola (ITA) 63 36 64
M Bachinger (GER) d R Bemelmans (BEL) 64 62
B Paire (FRA) d A Kuznetsov (USA) 61 26 64
P Lorenzi (ITA) d A Brugues-Davi (ESP) 76(8) 63
F Bagnis (ARG) d E Prodon (FRA) 63 63
A Clement (FRA) d I Andreev (RUS) 67(8) 64 62
[WC] M Chiudinelli (SUI) d M Ilhan (TUR) 64 61
S Bolelli (ITA) d A Delic (BIH) 46 76(5) 63
B Phau (GER) d [WC] D Evans (GBR) 76(4) 60
B Reynolds (USA) d S Vagnozzi (ITA) 61 64
[WC] S Bubka (UKR) d R Dutra Silva (BRA) 75 64
R Bautista-Agut (ESP) d R De Voest (RSA) 76(5) 46 76(6)
F Dancevic (CAN) d R Mello (BRA) 64 64
D Goffin (BEL) d J Zopp (EST) 40 Retired
G Rufin (FRA) d H Zeballos (ARG) 75 61
F Serra (FRA) d T Schoorel (NED) 63 62
M Russell (USA) d [WC] T Smyczek (USA) 46 63 62
A Veic (CRO) d G Zemlja (SLO) 75 00 Retired
P Capdeville (CHI) d [WC] G Elias (POR) 16 63 64
J Ward (GBR) d A Golubev (KAZ) 63 63
R Ram (USA) d [Alt] M Elgin (RUS) 62 64
Y Sugita (JPN) d [Alt] V Estrella (DOM) 76(8) 64
Women's Qualifying Singles – First Round
K Bondarenko (UKR) d [WC] N Broady (GBR) 63 60
M Doi (JPN) d A Keothavong (GBR) 64 63
S Hsieh (TPE) d A Amanmuradova (UZB) 75 26 61
V Dushevina (RUS) d [WC] L Davis (USA) 63 61
V Lepchenko (USA) d A Riske (USA) 75 67(7) 62
L Robson (GBR) d A Panova (RUS) 63 76(3)
U Radwanska (POL) d E Rodina (RUS) 36 61 62
[WC] M Keys (USA) d O Govortsova (BLR) 63 57 64
S Foretz Gacon (FRA) d Y Meusburger (AUT) 62 36 76(2)
S Stephens (USA) d [WC] I de Vroome (NED) 61 63
[WC] A Pivovarova (RUS) d S Dubois (CAN) 16 64 60
M Minella (LUX) d S Karatantcheva (KAZ) 64 63
M Czink (HUN) d P Mayr-Achleitner (AUT) 64 64
A Rezai (FRA) d E Gallovits-Hall (ROU) 62 36 75
A Cornet (FRA) d N Bratchikova (RUS) 62 63
A Rus (NED) d [WC] C Garcia (FRA) 26 63 61
J Hampton (USA) d P Ormaechea (ARG) 64 63
S Mirza (IND) d I Falconi (USA) 76(4) 60
A Rodionova (AUS) d L Tsurenko (UKR) 62 64
A Hlavackova (CZE) d K Chang (TPE) 62 01 Retired
M Lucic (CRO) d L Arruabarrena-Vecino (ESP) 64 76(6)
E Birnerova (CZE) d K Barrois (GER) 62 26 75
Y Chan (TPE) d A Kudryavtseva (RUS) 61 64
V Savinykh (RUS) d S Voegele (SUI) 75 31 Retired