Interview - Rishika Sunkara, India's #3 tennis player
2.09K //
15 Sep 2012, 14:03 IST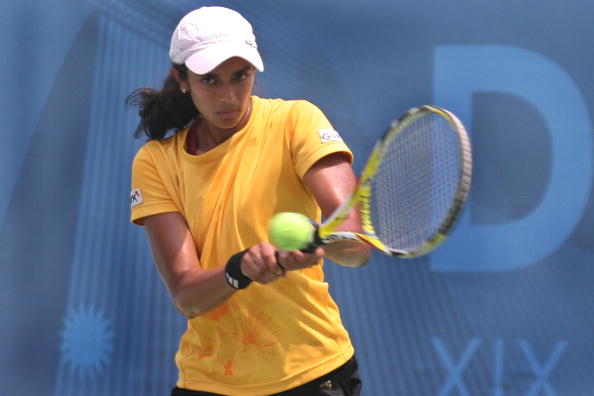 Rishika Sunkara is one of a nearly dozen Indian teenagers charting their way through the unglamourous ITF circuit, the first step to the hig-profile WTA Tour and Grand Slams. The 19 year old marker herself out of that pack by winning her first ITF singles title in New Delhi in May and has risen to no. 638 in the WTA rankings – making her the third highest ranked Indian in womens singles (second if you consider Sania Mirza inactive in singles).
We caught up with the 19 year old, who also reached the quarter finals of two ITF events in Turkey in the last couple of months, to get to know this risng star just a little better.
Tell us something about yourself and your background. How did you get take up the sport of tennis?
I started playing tennis at the young age of 6. I used to watch my elder brother play tennis everyday and inspired by him. I too started playing tennis. I was too young to decide what I wanted to do in life but I enjoyed the game. I started competing in tournaments and enjoyed the feeling of winning. Slowly and gradually, I started doing well and decided that I wanted to be a tennis champion.
You recently won your first ITF singles title in New Delhi in May. Can you talk to us about your experience of winning the title there?
Winning my first ITF title, especially in my hometown, was a wonderful feeling. I enjoyed every part of playing in front of my home crowd.
How different are the conditions/ competition in ITF events in India as compared to some of the ITF events you have played overseas?
The competiton in India is equal to most of the competitions around the world in this category (the ITF $10,000 Futures) but to move on higher in the rankings we have to play higher category events (the $25K, $50K events) which unfortunately do not happen very often in India.
There are a lot of Indian teenagers playing the ITF draws this year. Are you friends with any of the other Indian girls and what's the camaraderie between all of you like?
I have a lot of friends in the circuit. We all belong to the same level and travel around for tournaments together. I think we all enjoy the time with each other off the court and when it comes to on court, we are just two players who are playing to win the match.
Where do you currently train and who is on your coaching team?
I trained with Mahesh Kumbaria for 4 years from the age of 6 and I have been training with my present coach, Aditya Sachdeva since the age of 10. My coaching team includes a lot of other coaches from my academy, my fitness trainer Vishwanathan Sridharan who works under the company 'Back to Fitness' and Alipt Sandhu who takes care of my mental training.
A lot of sports-persons in India complain about the lack of sponsorship. Do you have any sponsors and how do you manage being a professional athlete who is yet to hit the big time in her sport?
I have been supported by ADIDAS and HEAD for a very long time and I am very grateful to them for their support. Not all players in India can afford traveling for tournaments. Due to lack of sponsorship, Indian players definitely at a disadvantage. We have many talented players in India but due to lack of support, we are not able to reach higher in the rankings. I myself am looking for a major sponsorship so that I can train and play tournaments abroad in countries like France and USA where the level of training is much higher.
Did you always know you wanted to be a professional tennis player? If not, what would you have been?
As I mentioned earlier, I was too young to decide about my career when I first started playing tennis. I enjoyed the game a lot and I continued till a level when I realised that this is where I belong . From then on, there has been no looking back.
Who are your role models in tennis? And what are goals you have set yourself for the next year?
My role model in tennis is Justin Henin. I grew up watching her play. She was an all court player and I loved the way she plays. My goal for the next year is to reach the top 400 in the WTA rankings.
What has been the impact of Sania Mirza on Indian womens tennis? Have you had the chance to meet and play with Sania?
Sania Mirza has definitely played a major role in Indian tennis especially for girls. She has given us that extra hope and confidence that we Indians can also make it big. I have personally never got the chance to interact with her but I have met her when I played the Junior Grand Slams.
How do you spend your time off away from tennis?
I personally think this is a bad question to ask any tennis player. We all have very long training hours and the time we get off court we just like to relax and enjoy. I normally go for a movie with my parents or just watch TV and listen to music.
What is life on the road like?
Tennis is a game of different strokes. That is the reason we always end up learning the game. We can never say I have learnt enough tennis. Every match I play I find myself wanting to learn more.
What is your schedule like in the coming months?
This year my schedule would be to play a lot of tournaments and gain a lot of experience. I have 2 tournaments coming up in India itself this month end and I have been training hard for them.