At the start of the 2023 Tata Open Maharashtra, the end of which saw Tallon Griekspoor lift his maiden ATP tour title, Dutch player Tim van Rijthoven made a statement that truly revealed itself more and more as the tournament progressed.
Van Rijthoven became the first of the quickly rising Dutch trio of Tallon Griekspoor, Botic van de Zandschulp, and himself, to win a maiden career ATP title, achieving it at S'Hertogenbosch in June last year. When speaking in a press conference on Tuesday, the No. 111 ranked player predicted that the other two could taste the same success soon.
"I hope I showed them now that winning a title is possible. I wouldn't be surprised if one of them (Botic van de Zandschulp and Tallon Griekspoor) also wins a title this year," Van Rijthoven said.
It only took a few days for Griekspoor to prove his fellow Dutchman right.
By clinching the title in Pune, the 26-year-old became the first player from his country to win an ATP singles hard-court title since 2001. After an agonizing title drought for a many years, and having Robin Haase as practically the lone warrior for Dutch men's singles tennis, the Netherlands now has two title winners in the span of a few months. Add to that the fact that world No. 34 Van de Zandschulp, who made the semifinals in Pune and was the first of the lot to make it big by reaching the 2021 US Open quarterfinals, is also knocking on the doors of title-winning success on the ATP tour.
So what has contributed to the rise in Dutch tennis and the confidence being exuded by this younger generation of Dutch stars? One key factor of late has been the unity between the players back home and the willingness to succeed as a group by helping bring out the best in each other in a predominantly individual sport.
Shedding light on the same, Griekspoor revealed how most Dutch players practice together back home every chance they get, something he believes has helped some of the most successful tennis playing nations.
"We're all at the federation, most of us are at the same place," Tallon Griekspoor said in a press conference after his semi-final win in Pune. "Whenever we're back home, we're trying to practice together. I think this helps a lot. I mean, it's tough, when there are only 1-2 players are you need to figure it all out yourself."
Doing so helped the likes of Van Rijthoven to work closely with and feed off the success of the likes of Griekspoor and Van de Zanschulp. According to Tata Open winner, it also helps the budding players to learn from each other, who now know what it takes to succeed at the highest level.
"Like this, we can help each other, and it looks like this is the right way for us and I think this is also how it goes in Italy and Spain, wherever they have like 10-12 players in the Top-100. It's always good to have good players close or near you to see and trying to inspire each other and to become better," Tallon Griekspoor added.
Van de Zandschulp echoed those thoughts, speaking earlier during the tournament.
"I think we're all practicing together at the same place, so I think that's always good to make each other better. I think I was the first to break through a little bit and the other guys started believing in themselves," the 27-year-old said.
Depth in Dutch tennis cannot be compared to Spain and Italy, but there is a group who can "do some good damage" on ATP Tour, says Tallon Griekspoor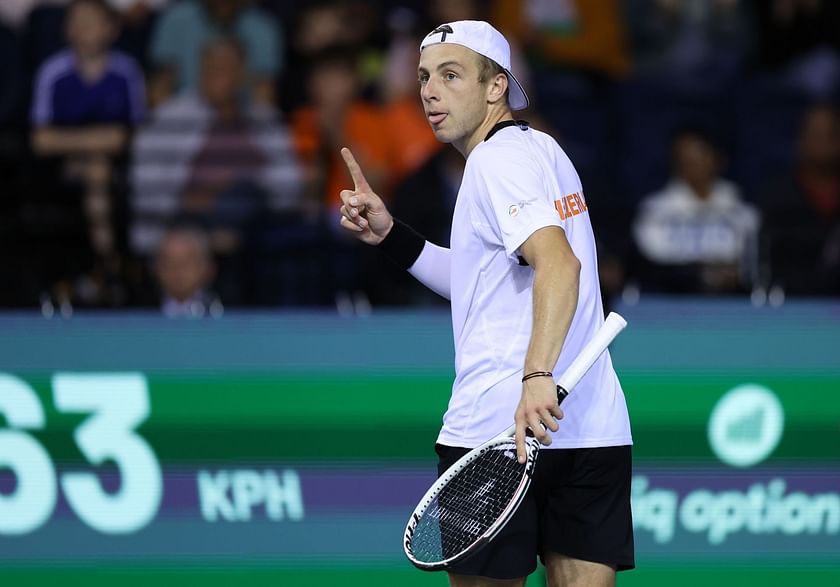 While the trio of Tallon Griekspoor, Botic van de Zandschulp, and Tim van Rijthoven continue to work towards further leveling up, the question of 'who's next?' will also arise sooner rather than later. Griekspoor, whose record-setting success in winning eight Challenger titles in a single season in 2021 coincided with van de Zandschulp's US Open run, believes Dutch tennis' answer to that question is a positive one.
He stressed that the depth of tennis talent in the Netherlands cannot be compared to the likes of Spain and Italy, who have at least five players each in the Top-100 and many others knocking on the doors.
"We're a really small country. We don't have too many players, especially if you look to Spain, Italy. We can't compare ourselves to these countries," Tallon Griekspoor said.
However, the 26-year-old believes the tennis world could soon see quite a few Dutch players joining the current trio and make an impact on tour.
"Botic, especially, he inspired all of us by going to the quarters of the US Open. I had that great Challenger run like straight after, and now some more guys are following up, around 130-140. It's been tough, but now I feel like we have a good group of guys who can do some good damage on the ATP tour," Griekspoor said.
According to Netherland's newest ATP title winner, hard work, belief, and inspiring examples from fellow players are at the center of the revolution. He hopes to see the Netherlands also have many players in the Top-100 soon.
"I think we were already working hard and at some point, it came together for Botic and me at the same time. Now some guys are following. They also beat us in practice sometimes. So they probably believe that, 'If they can do it, I can do it.' That's a little bit the feeling we have now," Griekspoor said.
He also expressed his optimism for the future of Dutch tennis.
"I think we're doing well, we had a few tough years, but now it looks better and better for us," the Dutchman added.
Edited by Siddharth Dhananjay