The 6 best strokes of men's tennis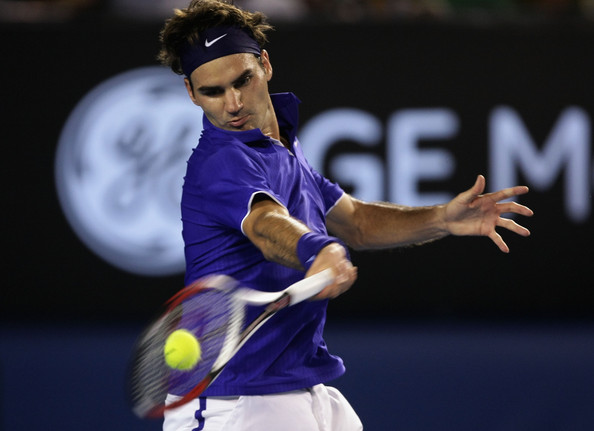 Tennis in my view is such an delightful sport. It is authentic, beautiful and crafted. Many people have graced the sport of tennis with technique and precision. Out of them, a few stand tall. These people stand tall because they have the best arsenal of shots.
So, let us take a look at the six best strokes of Tennis in the Modern Era.
6. David Nalbandian's Backhand – I know most of you guys will argue this selection. But, this is true! Yes, people like Roger Federer, Marat Safin and Novak Djokovic  might have great backhands but in my view they do not compare with that of the the tall Argentine. In fact, Nalbandian owns the record for the fastest backhand ever recorded (110 mph).
Even Federer and Nadal have openly admired Nalbandian's backhand. Nadal had once expressed that he greatly feared Nalbandian's lethal stroke. His backhand is silky smooth and it is devoid of errors. Its a shame that Nalbandian did not win more trophies.
The video below was taken in 2004 in a masters event where Nalbandian jumps and gives a double handed backhand against Roddick. Even the opponent applauds people!
5. Stefan Edberg's Volleys – This was a tough one to choose. I had to pick between Edberg and Rafter and I would loved to pick either of them. Although Rafter might have been the most naturally talented S&V player ever lived, Edberg to me is more technical.
What makes Edberg more special is the fact that he didn't have a great serve to go with his silky volleys. He only had a decent serve yet he mastered S&V.
I have seen many videos of the genius and it never mattered if he wins or losses. It was as if I watching poetry in motion. His grace cannot be matched by anyone.
The following video is from the 1993 Australian Open final between Edberg and Courier. Just check out the volley that plays at 0.14 seconds. NOBODY and I mean Nobody can place the ball that way other than Edberg!
4. Pete Sampras' serve – Well, this one was kind of obvious isn't it? Some people might suggest Andy Roddick or Ivo Karlovic, but serve isn't always about the speed.
Andy Roddick holds the record for the fastest serve and my God, he is brilliant in what he does! But, once people get used to his speed (like Roger Federer and Rafa Nadal have done), it becomes easier to pick him up.
Sampras on the other hand is a lethal combination of speed, spin, accuracy and motion. His first serve is very hard to pick because you never know what he is going to go with.
The video below will explain you how to move your body while serving! Want to be a tennis player? Watch and learn!
3. Andre Agassi's return serve : Not many players specialize in the field of returning a serve. Many people consider Agassi's return of serve to be more effective than his serve itself. This has enabled him to garnish many break points and ultimately win games.
His service return is impeccable mainly because he is aggressive all the time. I have never seen him mishit a return in my life and that shows the brilliant hand-eye co-ordination he has.
2. Rafael Nadal's forehand – My favorite shot in this list. Nadal is a beast and we all know that. He can reach balls that no one can and hit them so ferociously with his forehand. He is strong and that helps his forehand.
Not many people have had answers to Federer's slices and backhands but Nadal's forehand has done it so relentlessly.
Now, I also admire Juan Martin Del Potro's forehand but that one is hard while Nadal's forehand is quite heavy. A heavier forehand means that your opponent has less chances of returning it.
Rafael Nadal will always be on top of the tennis world because of this shot.
The following video is a compilation of the best forehands of Nadal.
1. Roger Federer : Wondering where the shot is? Well, it is quite hard to narrow down Roger Federer's vast armory.
He has a great serve, a ferocious, single handed backhand, best slice in the world, a deadly forehand and the shot of the century! How can you narrow it down from there?
Below are some of his greatest shots.
Also watch this 10 best shots of Federer
Well, I known I'm pro-Federer, still even for a neutral, its a tough ask. So, I'm just going to go end this post on the note "Roger Federer, Period."