The Djoker Gets Serious
816 //
01 Jul 2011, 22:04 IST
The All England Tennis and Croquet club known to the world for hosting the most prestigious Tennis tournament, Wimbledon, has just witnessed one of the most brutal games seen in its 134 year history. And my word was it a smashing game. Two supremely fit players bludgeoning that poor tennis ball from corner to corner and it was a pity that there had to be a winner.
Tennis fans, say hello to the new world no. 1 Novak Djokovic, who with his never say die attitude and better use of the gray matter trumped over one of the most charismatic players to grace a tennis court after Goran Ivanisevic; Jo Wilfred Tsonga with a scoreline of 7-6(7/4), 6-2, 6-7(9/11), 6-3 to clinch his first ever Wimbledon final showdown against either the former no.1 Rafael Nadal or Britain's great hope after Tim Henman, Andy Murray(that he is actually Scottish is another story altogether)
Watching these two heavyweights battle it out was a sight to behold for tennis fanatics like me. Djokovic had lost five of his last seven encounters against Tsonga but today, he had that something extra in him, something that Tsonga's opponent in the previous round, Roger Federer did not have… the urge and will to fight on and snatch the momentum from JWT.  Let's see how the match panned out set-wise to see why Djokovic is currently the best player in the world.
Set 1:
Djokovic faltered in the opening game of the set, sending a forehand wild and long allowing Jo-Wilfred to seize the initiative. Tsonga held his serve in the very next game saving a break point and played brilliantly to hold his serve in the following game with a diving backhand volley reminiscent of the great Boris Becker. Just when it seemed that JW's break would seem crucial in the outcome of the set and maybe the match, the Djoker hit back and leveled the set at 5-5 to set up a tie-break which he win relatively comfortably 7-4 after Tsonga dumped a routine volley into the net.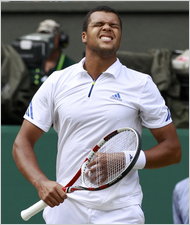 Set 2:
Much like the former no.1 Nadal, Nole seems to have got expertise at hammering in the strokes and taking the game by the scruff of its neck, especially having broken serve early on. The break seemed to have deflated Tsonga, who seemed to have not recovered from losing the 1st set. Tsonga was broken again and Novak won the set 6-2. It seemed all but over and one had to feel for Tsonga as coming back from 2 sets down in two consecutive matches against Federer and then Djokovic was never going to be easy. With Tsonga serving the way he was today, it seemed almost impossible!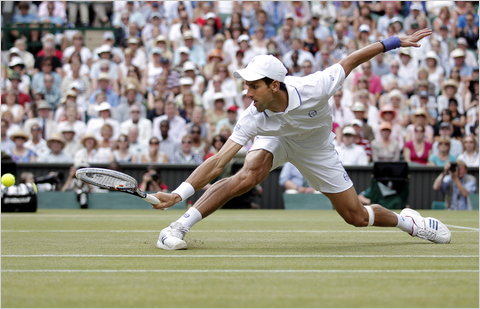 Set 3:
Trust Tsonga to give you some real bouts of excitement when it really matters. The point at 1 all, love 15 with Tsonga serving will make every highlight film in the world. After a Tsonga drop shot, which has become a feature of his carefree game, Djokovic thumped a forehand up the line, that a diving (again) Tsonga angled crosscourt. Djokovic, trying to go one better over his opponent lunged then leapt after the ball (Becker vs Becker!!), playing a backhand into the open court. That should have ended it, no? Tsonga, still on the ground, somehow stretched and got a racket on the ball which unfortunately landed long, as the crowd roared at the acrobatic feats of both players.  Djokovic secured another early service break which put in comfortably in the driver's seat to wrap up the match in straight sets. But Tsonga broke to love to force a tie-break, and then fought off two match points before a clattering serve was sent long by Djokovic to take the match into a fourth set.

Set 4:
Surely JW wouldn't do it again. Definitely Nole was better equipped than Roger to handle the raucous 18000 Tsonga supporters to wrap up the match in this set. After Tsonga's thrilling performance in the previous set, one would have thought that way, but give Nole credit for keeping his nerve and his wits about him. Tsonga, maybe just trying to get his breath back dropped intensity for a while which allowed Djokovic to seize the opportunity to race to a 3-0 lead after which there was no looking back, although the crowd always expected JW to raise his game, which never happened. Djokovic went on to hold serve and win the set 6-3 and the match, thus reaching his first ever Wimbledon final and attaining the World No. 1 ranking, regardless of what Rafa Nadal does against Murray.