Top seeds Vaishnavi, Hana sail into second round
1.00K //
05 Dec 2012, 00:36 IST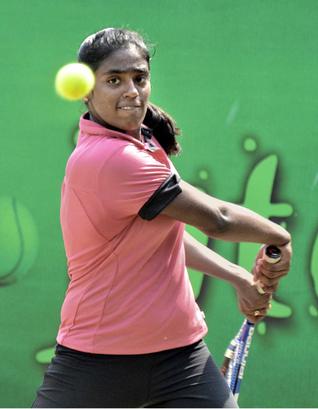 Mumbai - The top two seeds Sri Vaishnavi Peddi Reddy of India and Hana Mortagy of Egypt in the girl's category sailed into the second round of the ITF-CCI Junior Boys' & Girls' under-18 Tennis Championship.
Top-seeded Sri Vaishanavi strolled past unseeded Sruta Kirti Gunuganti, also from India, winning in a canter at 6-2, 6-3 while second seed Hana enjoyed a much relaxed time in getting past India's Serah Menezes 6-1, 6-2 at the Cricket Club of India courts Tuesday.
In the boy's competition, fifth seed Timur Khabibulin of Kazakhstan had an easy ride past India's Rishab Dev winning by a comfortable 6-1, 6-2 verdict.
Meanwhile in an all-India contest, Gnana Bhaskar staged a great recovery after losing the opening set without winning a point to script a 0-6, 6-3, 6-3 victory against Sharvil Nawghare.
Results – Girl's singles (First round): Vaishanavi Peddi Reddy (Ind) beat Sruta Kirti Gunuganti (Ind) 6-2, 6-3; Yuchia Chen (Tpe) beat Riyaa B. Vardhaan (Ind) 6-2, 6-3; Hana Mortagy (Egy) beat Serah Menezes (Ind) 6-1, 6-2; Zeel Desai (Ind) beat Bharthi Bylapudi (Ind) 6-0, 6-2; Snehal Mane (Ind) beat Aboli Goghari (Ind) 6-0, 6-3; Vasanti Shinde (Ind) beat Devanshi G. Bhimjiyani (Ind) 6-2, 6-3; Treetha Iska (Ind) beat Aayshuree Narendra Bildhaiya (Ind) 6-0, 6-3; Mihika Yadav (Ind) beat Raveena Reddy Somannagari (Ind)6-3, 6-1; Dhruthi Tatachar Venugopal (Ind) beat Isha Budwal (Ind) 6-3, 6-4; Mahitha Dadi Reddy (Ind) beat Ramya Natrajan (Ind) 6-2, 6-4; Pranjala Yadalapalli (Ind) beat Aastha Dargude (Ind) 6-1, 6-2.
Results – Boy's singles (First round): Ansu Bhuyan (Ind) beat Jayesh Pungliya (Ind) 0-6, 6-3, 6-1; Timur Khabibulin (Kza) beat Rishab Dev (Ind) 6-1, 6-2; Aditya Deswal (Ind) beat Dhir Gala (Ind) 6-1, 7-5.