US Open 2010 Draw Analysis: Heroic Quests, Cruel Jokes And All That
1.02K //
29 Aug 2010, 02:25 IST
The last Grand Slam of the year is upon us, and what better way to kick things off than to indulge in some good old-fashioned prediction nonsense? Time and again we fall flat on our faces when the actual results turn out to be light years away from our hair-brained picks, and yet time and again we insist on remorselessly losing ourselves in the snobbish science of bracketology. So without further ado, let's take a look at the men's draw at this year's US Open:
First Quarter: The Quest Re-Awakened
Where will David Nalbandian land? That was the question most tennis followers' minds were focussed on before the draw sheets were revealed. The Argentine with the killer return of serve and the deadly two-handed backhand has hit something of a purple patch in his comeback from injury, and is probably the one player ranked outside the top 20 that no seeded player wanted to face. Well, the news is that he's been drawn in top seed Rafael Nadal's section, with a possible meeting between the two at the quarterfinal stage. Before that, though, Nalbandian will probably have to deal with Fernando Verdasco (who's been in a puzzling funk ever since the end of the clay season) in the 3rd round and possibly David Ferrer or Ernests Gulbis in the 4th, and given Nalbandian's history of big-stage jitters, to say that neither of those matches will be a walk in the park for him would be a huge understatement. Gulbis, in particular, has shown real signs of growth lately, and although it would still take plenty of courage to rely on him to win ANY match (even against a qualifier ranked outside the top 500), I'm willing to bet that he makes his much-awaited Slam breakthrough here. For Nadal, meanwhile, the quest for the Holy Grail resumes here, with his declared aim of adding the US Open to his collection of Major titles having become a source of plenty of frenzied media interest. Nadal's results over the North American hardcourt swing weren't particularly encouraging, but this year he's had more rest than usual after the grueling European mini-season, so fatigue will not be a factor for him this time round.
Prediction: Nadal def. Gulbis
Dark horse: Alexandr Dolgopolov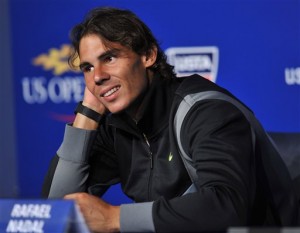 Second Quarter: The Quest Re-Awakened, Part 2
If Nadal is looking to reignite his quest to complete a career Grand Slam, Andy Murray is probably looking to throw himself headlong, with all the desperation he can summon, into his quest to win a Slam of any kind. He has publicly said that the US Open is the Major that he covets most of all, so it is perhaps a good thing that his game is almost tailor-made for the fast hardcourts in New York. His 4th round exit last year to Marin Cilic was intensely disappointing, and Murray will want to make amends this year, although it must be said here that nothing short of claiming the title will amount to 'making amends' for Murray. Standing in his way in the quarters will most likely be Tomas Berdych, that strapping Czech lad who's made it a bit of a habit this year to storm through the draw at a Major by stringing together a bunch of demolition jobs. The match will probably be a crapshoot that could go either way, but I'm giving the edge to Murray, if for nothing else than the fact that he's had significantly better results at the pre-US Open warmup events (Murray is the winner of the Olympus US Open Series, if you didn't know that already). Mikhail Youzhny and Nicolas Almagro lurk in this quarter too, as do Americans John Isner and Sam Querrey, but none of them has done anything noteworthy recently to inspire too much interest.
Prediction: Murray def. Berdych
Dark horse: Xavier Malisse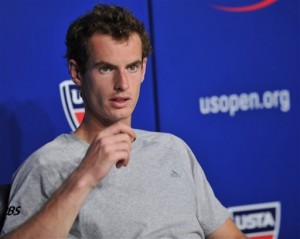 Third Quarter: The Death March
Poor Novak Djokovic, he simply CANNOT catch a break. He's had more than his fair share of cruel jokes played on him by repeatedly being drawn to face Roger Federer at the hardcourt Slams and Rafael Nadal at Roland Garros, and this year is no different. But his troubles might start even before his potential semifinal date with Federer. He's up against hard-hitting countryman Viktor Troicki at the very first hurdle, after which he'll probably have to face plucky German Philipp Petzschner, from where he'll head to a potential 4th-round meeting with either Marcos Baghdatis or Mardy Fish, before finally ending his quarter against recent nemesis Andy Roddick or hardcourt specialist Nikolay Davydenko. It will be a minor miracle if Djokovic manages to come out of this minefield in one piece. Talented underachievers Gael Monfils and Richard Gasquet find themselves here, and as usual I don't see either of them going far in the tournament. Roddick has traditionally done well at his home Slam, but he's coming off a minor tussle with mononucleosis, so he might find himself struggling with fitness issues. That leaves us with the resurgent pair of Fish and Baghdatis, who will likely face off in the 3rd round. Fish has been something of a media darling the last few weeks, with stories of his inspiring weight-loss schedule being repeated more often than I care to remember. But Baghdatis has quietly put together an impressive season of his own, and he's been to a Grand Slam final before, so don't be too surprised if flab trumps fit this time.
Prediction: Baghdatis def. Roddick
Dark horse: Thomaz Belluci
Fourth Quarter: Those Puffy, Cream-filled Cupcakes
Roger Federer has reportedly got some of his mojo back, so was there really any need for fate to do everything in its power to make sure he got a cupcake draw? Federer's quarter is filled with players who could legitimately be called his punching bags – Lleyton Hewitt, Juan Carlos Ferrero, Fernando Gonzalez and Paul-Henri Mathieu. Sure, Robin Soderling looms as a formidable quarterfinal foe, but before anyone forgets, that Soderling victory in the French Open quarters was the first time in 13 tries that Soderling had been able to put it past Federer. Not exactly a fearsome rival, if you ask me. Of course, if Federer's travails this year are anything to go by, it's wholly possible for him to be scared out of his wits by Brian Dabul in the first round, but there seems to be a newfound calmness to Federer lately, which should ensure, at the very least, that he beats the players that he should be beating. Soderling shouldn't have much trouble reaching the 4th round, where he'll likely meet the not-so-young-anymore Marin Cilic. Ah yes, Cilic. A year that began so promisingly for him has gone disastrously downhill, but the US Open is as good a place as any for him to salvage something out of the season. The question is – does he want to salvage anything out of the season?
Prediction: Federer def. Soderling
Dark horse: Thiemo de Bakker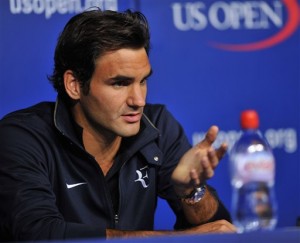 Semifinals
Semifinal 1: Murray came out all guns firing in his match against Nadal in Toronto last month, and his no-holds-barred offensive approach made sure that he emerged victorious in two straightforward sets. Something similar happened earlier this year at the Australian Open, with Murray abandoning his patient, cat-and-mouse game to instead take the attack to Nadal, a ploy that worked as well as it sounded. If he can build up that kind of aggressive mindset again, there's nothing to stop his superior hardcourt game from upsetting Nadal here too.
Prediction: Murray def. Nadal
Semifinal 2: Baghdatis can be a tremendous shot-maker when his game is on, but it will take more than dazzling strokeplay to defeat Federer on Super Saturday at the US Open. The feat hasn't been accomplished in 6 years, and it's not going to happen now.
Prediction: Federer def. Baghdatis
Final
Yes, I am fully aware that I probably sound like a disturbed dimwit when I pick Murray to win a Major title by defeating Federer in the final. I have nothing to say in my defense here, other than – it's gotta happen SOME day, right?
Champion: Andy Murray