US Open Series: Reading the Signs
The dust has almost settled on the much-ballyhooed Olympus US Open Series. Sure, the New Haven event is still in progress, but no real Grand Slam contender would be unreasonable enough to play a tournament just one week before the US Open, unless the said contender wanted to garner every single ranking point on offer, even if that meant burying herself into the fatigue-laden ground (I'm looking at you, Caroline Wozniacki). So what, if any, indications did we get from this grueling month about the form of the players going into the last Major of the year? Here's a list of 5 things we learnt during the North American summer hardcourt swing: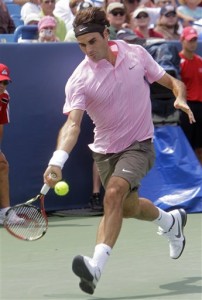 Fed's still got it, if only fleetingly: Two Masters' tournaments, two finals, one title and a return of some of that lost swagger. It'd be easy to proclaim that Roger Federer 'is back' after he won the Cincinnati final against suddenly-formidable Mardy Fish and went down in two close sets to Andy Murray in Toronto. Federer has traditionally used the US hardcourt season as a springboard to find his form and claim the real thing a couple of weeks later, but this year, perhaps more than ever, he really NEEDED to do well in the two pre-US Open Masters' events. His dismal showing (by his standards, anyway) in the year's European Grand Slams was still fresh in everyone's minds, and damage control was the need of the hour, a situation highlighted by the addition of reputed coach Paul Annacone to his team. So where does he find himself now? Speaking strictly in terms of results, the doubts about his game and motivation may have been dispelled, but the cracks in Federer's armor refuse to be wiped away. His latest affliction? A disturbing little habit of going on a blaze of breathtaking shots and silken winners for a few games, sometimes even a whole set, only to lapse into a phase of wild inconsistency and slumped shoulders a few minutes later. Federer hasn't been able to maintain his focus and concentration for the full duration of a match since the Australian Open. This tendency almost cost him the matches against Tomas Berdych and Novak Djokovic in Toronto, and it certainly did cost him dearly at Wimbledon. Who's to say the pattern won't repeat itself at the Open?
Serena and the Conspiracies: First there were whispers that Serena Williams had used her significant influence over tennis's governing bodies to escape too strict a punishment for her unsightly outburst in last year's US Open semifinal. Then, when Serena pulled out of all the pre-US Open hardcourt tournaments citing a cut foot, there were claims that she was faking the injury because she doesn't care about non-Slam tourneys at this stage of her career. And now that she has officially withdrawn from the US Open too, there are indignant cries that the pullout is the result of a surreptitious agreement between her and the authorities to ensure that she didn't participate in this year's US Open after what happened last year. The conspiracy theories are getting more imaginative by the minute, but is anyone complaining? Where's there's Serena, there's drama. The 15 years that she's spent on the WTA tour should have bored that fact into our minds well enough. One thing that is not in doubt, however, is that the US Open has lost a considerable amount of sheen with Serena's withdrawal; it's almost like a tournament of also-rans now. The women's champion this year may have a hard time trying to get rid of the asterisk that many people are sure to attach to her victory.
American on the move: Who'd have thought a couple of months ago that the American player most heavily-favored to do well at the Open would be neither Andy Roddick nor Sam Querrey, but Mardy Fish? The previously-overweight journeyman with the big serve and the deft volleys, who famously lost a boatload of weight in the offseason last year, has been on something of a tear. He won back-to-back titles in Newport and Atlanta before reaching the final in Cincinnati, where he gave Federer more than a few scares before finally giving in to fatigue and his opponent's steady play. Fish has defeated Murray 3 consecutive times this year, and he has got the best of Roddick two straight times, and although I'm tired of hearing about it from US commentators, Fish's newfound commitment to fitness really has been paying dividends. As for the other Americans in the fray, there seem to be more questions than answers. Roddick has been mysteriously off-color since the Miami tournament back in April, and last week it was diagnosed that he'd been suffering from a mild case of mononucleosis for a couple of months. Querrey hasn't made much of a splash in the Masters' tournaments to justify too high expectations at a Major, and John Isner still seems to be recovering from the lingering effects of that marathon Wimbledon match against Nicolas Mahut.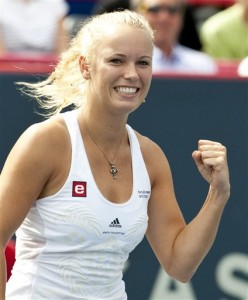 Pretenders in disarray: Now that Serena Williams has been forced to pull out of New York, logic would dictate that the rest of the women must be rubbing their hands in glee at the prospect of having a legitimate shot at Grand Slam glory. Unfortunately, logic is not something that sits comfortably with the WTA at the moment – almost all players not named Serena Williams (note that I didn't merely say 'Williams') that are in the US Open field are prone to melting down into puddles of fear and tears when put under pressure. Kim Clijsters seems unbeatable when she's on her game, but she can also inexplicably meander into bouts of alarming errors without warning, something she displayed for almost two whole sets against Maria Sharapova in the Cincinnati final. Sharapova, meanwhile, has her own set of demons to deal with, the prime example of which is that she couldn't put Clijsters away in Cincinnati despite her opponent's ghastly play and having the luxury of 3 match points in the second set. Sharapova seems to have lost confidence in her ability to defeat the very top players, which, allied with her occasional descents into series of cringe-worthy double faults, does not paint a very rosy picture for her chances. Victoria Azarenka insists on playing nearly every week of the year and consequently keeps injuring herself, Venus Williams has been dealing with a long-standing knee ailment that just doesn't show signs of ever abating fully, Caroline Wozniacki, as pointed out above, simply doesn't understand the meaning of 'rest', Svetlana Kuznetsova seems perpetually fascinated by the idea of going from tournament champion to first-round loser in the space of a couple of days,  and Elena Dementieva seems a little dazed ever since she lost that golden opportunity to finally win a Slam at this year's French Open. Jelena Jankovic, Sam Stosur, Vera Zvonareva, you say? If you can dare to put your money on any of these ladies, then I applaud your fiery courage.
Giants Falling Short: The promise that raw power would eventually take over men's tennis was born right here last year when Juan Martin Del Potro bulldozed his way past a nightmare draw to emerge as the 2009 US Open champion. Since then, the big-boned big hitters have sporadically threatened to fulfill that promise with a a few significant wins, but have invariably pulled up short at the final hurdle. Robin Soderling and Tomas Berdych notched up victories over Federer at the French Open and Wimbledon respectively, but on both occasions Rafael Nadal, that puny 6'1" midget, was there to stop the revolution in its tracks. Del Potro, of course, has withdrawn from this year's tournament owing to his wrist injury (which marks just the third time in the Open era that the men's defending champion will not be participating in the US Open), so the Big Boy Brigade will be without its prized leader this time. Will that be too large a void to fill? Soderling and Berdych have put in steady if unspectacular results over the past one month, but Marin Cilic is stuck in a suffocating rut from which there seems to be no escape. Ernests Gulbis almost claimed 2 top-5 victims over the summer, going toe-to-toe with Soderling at Toronto and Murray at Cincinnati, but predictably threw both those matches away at the end with his patented array of brain-dead shots and embarrassing flubs. Can these massive ballstrikers give us the irrevocable proof that Big Boy tennis is here to stay? With those pesky little midgets standing in the way, I wouldn't count on it.