Venus Williams: Coming out of the shadows
778 //
26 Mar 2012, 19:17 IST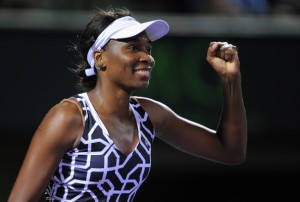 You'd think that the last place to find a member of the Williams household would be the backseat. But the older of the two most famous Williamses in the world, Venus, has made a habit of staying in the shadows. In fact, she's been so good at it that we haven't even noticed she's no longer the brash, loud, almost unfairly gifted athlete who took the tennis world by storm all those years ago with her braided hair, outlandish outfits and fearsome power. If you watch any of her recent interviews closely, you'll be stunned to see that Venus actually comes off as a soft-spoken diplomat in them. It's Serena who's been dominating the headlines in recent years with her quotable quotes and smashing comebacks stories, leaving Venus, playing the dignified stateswoman, in the background. So when Venus makes a smashing comeback of her own, schooling World No.3 Petra Kvitova and saving match points against Aleksandra Wozniak in her first tournament since being diagnosed with the chronic, energy-sapping Sjogren's syndrome, it would be impossible to begrudge her a share of the limelight.
While the 'Williams story' will probably go down as one of the most extraordinary events in tennis history, the impression that most people take away from the narrative, that the Williams sisters conquered the tennis world with their identical personalities and comparably fierce groundstrokes, couldn't be more wrong. The Williams sisters are often clubbed together and viewed as a single entity, but Venus and Serena are worlds apart as persons. Serena is the garish controversy-magnet who, after losing a match, says ungracious things like, "my opponent made a lot of lucky shots"; Venus is the classy victor who takes reporters to task for belittling her opponent, a 6-0, 6-1 loser. Serena is the ultra-aggressive, spoiled child who launches into abusive tirades against umpires who make dodgy calls against her; Venus is the patient Miss goody-two-shoes who quietly accepts every umpiring decision, even if it is blatantly unjust. Serena is the obscenely confident, risk-taking maverick who sets up shop at the baseline and fires her groundstrokes into the corners; Venus is the insanely quick retriever who scurries all over the court in her bid to keep a point alive. Serena is a 13-time Grand Slam champion who many consider as one of the 3 greatest female players of all time; Venus is a 7-time Major champion who is is almost never mentioned in GOAT discussions.
It wasn't always so, of course. When Venus first burst on to the scene she was just as much a controversy-magnet as Serena is today. She shocked spectators with her colourful, revealing outfits (admittedly, she hasn't quite given up on this just yet). She rubbished the importance of organized tennis coaching, hailing her loud-mouthed father as the only trainer she ever had in her life. She made no friends on the tour, instead taking on fights with the likes of Martina Hingis and Irina Spirlea. And she tore up the courts with her unstoppable play, leading many observers to wonder, given the rate she was going at, whether she'd end up as the greatest player of all time. But as Serena came along for her share of the pie, Venus couldn't help but mellow down and let little sis take centrestage. She was unable to summon the necessary motivation to defeat her baby sister in those first few historic Slam finals that the two contested, and Serena didn't need to be asked twice.
It was probably at that moment that Venus realized that the role of the doting, mature elder sister was one she could slip into effortlessly. She hasn't looked back since. Now, when Serena lifts those glistening Slam trophies, Venus successfully gets tournament organizers to give women equal prize money. And when Serena shocks the world with her wild shenanigans, Venus quietly goes about fighting her autoimmune disease.
As different as the two sisters may be, in the Sony Ericsson Open at Miami Venus has shown plenty of the indefatigable will that has defined Serena over the past decade. Venus has publicly intimated her intention to compete at the London Olympics, something that is not even close to being a done deal considering her abysmally low ranking. And the desire to muster as many wins as she can to bump up that ranking is showing in her play. In the first round against Kimiko Date-Krumm, Venus was in imperious form, brushing aside her opponent for the loss of just 3 games. In the second round, she dug in deep and waited patiently for the errors that would inevitably creep into Kvitova's game, before going on to stamp her authority towards the end. In her third round match yesterday, she waited patiently for her own errors to subside, before grinding out the win as the match went into overtime. What will her next match against Ana Ivanovic bring? A vintage Venus Williams beatdown? Or a lethargic, nervy error-fest? Thanks to her Sjogren's syndrome, Venus can never be sure of her energy levels on any given day. And while that may be a scary thought for most people, Venus has made it clear that she's prepared to overcome any obstacle that comes her way.
Fighting adversity is something that Venus has been doing all through her career. She fought racial discrimination at the start of her career, then the intense pressure of dealing with sibling rivalry on the biggest stages of the world, and later the misogynist attitudes of the organizers at her own beloved Wimbledon. Through all these trials, she remained in the background, never making a big enough scene to take any of the attention away from her infinitely more tabloid-worthy little sister. Thankfully, in her fight against Sjogren's syndrome – the biggest adversity of them all – she won't be lurking in the shadows anymore. This time, when she wins, the world will take notice. Even Serena can't begrudge her that.