Why Rafael Nadal should not think of retirement despite all of his recent struggles
5.72K //
11 Jan 2015, 09:39 IST
Rafa Nadal is one of the greatest tennis players in history. Despite being tormented by injuries in the recent years and with questions regarding how long his body can sustain his game, Nadal shows he has enough strength to carry on as long he wishes. Although there are innumerable reasons as to why Rafa should not retire just as yet, but I've identified 5 of the most compelling reasons which drives the point home. The 14-time Grand Slam winner has still a lot to achieve before he hangs up his boots.
Age
Rafa was born on 3 June 1986, which makes him just over 28 years old. Simply put, this is not an age to retire unless one has a serious health issue. I know that Nadal has a very aggressive style of playing, but over the past few years he has been slightly more careful and plays a lot more offensive shots in order to end the points slightly quickly. The slight alteration in his style will help him extend his playing career and I believe Rafa still has a quite a few good years left in him.
2nd Australian Open
Except Australian Open, Rafa has won all the other Grand Slams twice. If he manages to win the Australian Open again, he will become the first man to win each of the four Grand Slam tournaments twice in the Open era, which is no mean feat.
Nadal has been quite unlucky in Melbourne with injuries, but even considering this, his performance has been quite impressive. Since 2007, he has made quarter-final thrice, semi-finals onc and the final thrice with one title to his name. And, if past performances are of any indication, Nadal promises to ease through to the second week of the first Slam of the year.
10th French Open
When Bjorn Borg won 6 French Open titles, it was said that it would be almost impossible for anyone else to break his record. But Nadal is a different beast altogether. Nadal has competed in 10 French Opens so far, winning 9 of them. Considering this, he might very well win few more. Adding a 10th French Open crown to his name would be an absolute dream and a milestone nobody has dreamt before.
Given that the clay surface is his forte, Nadal can strategize his career in a way that he remains fit for the clay season. Since his body takes a much larger toll on hard surfaces, skipping out on most tournaments in the year could be a viable option. If he does intend to do so and is able to keep the level of performance, a few more French Open titles could be a realistic target.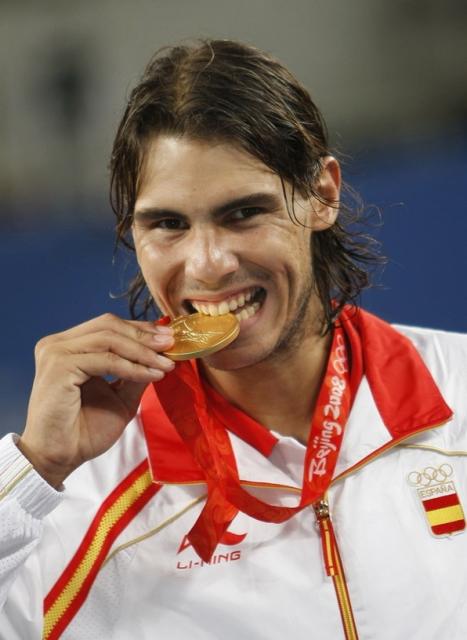 2nd Olympic gold
Rafa won the Olympics gold in Beijing 2008, defeating Fernando González of Chile in the final. The tournament was played on hard courts, arguably his least favorite surface. Due to an injury, he was not able to participate in the 2012 London Olympics.
The 2016 Olympics in Rio will be contested on clay, and this makes Nadal an even more likely contender to win at the Olympics. This would be enough motivation for him to continue his tennis journey.
Most Grand Slam titles
Rafael Nadal already has 14 Grand Slams, tying the record with Pete Sampras, and is only three behind Roger Federer. Being younger than Federer, Nadal knows he has more time to catch up before Federer runs away with more Majors. The Spaniard's competitive nature will drive him to carry on and catch up to the Swiss Maestro.
There is still a debate as to who is the GOAT (Greatest of All Time). And even though I'm a Rafa fan, I would say Federer is slightly ahead of Rafa at this moment. But things could change, and if Rafa manages to stay fit for a few years and achieve the targets, he'll certainly be right up there at the helm of tennis legends.
These are all good reasons for Rafa to not retire, but most importantly his desire to play and compete is as strong as ever. His love for the game is enough for him to keep pushing, and all tennis lovers would love to see him go on for a very long time.
Nadal was recently asked about the possibility of retirement because of his myriad injures. To which he replied, "It is still some years away". There was never any doubt there!