Win in Dubai is special: Rohan Bopanna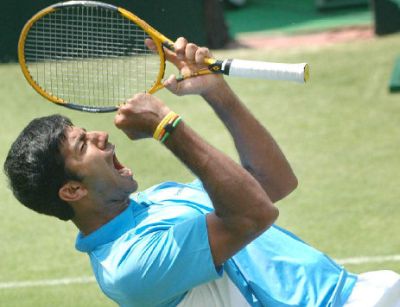 Back from a sensational doubles win at the Dubai Open on Saturday last week, tennis player Rohan Bopanna who teamed up with Mahesh Bhupathi for the first time to lift a title spoke to the Bangalore media here today. Rohan, individually ranked at No.5 in the doubles, climbed up three spots to reach his highest career ranking of No.8 on Monday.
Bopanna's struggle to get noticed ended in 2011 when he and his former partner Aisam Qureshi qualified for the Barclays ATP World Tour Finals but not before clinching the titles at Halle, Stockholm, and Paris Masters. The duo had also entered the final of 2010 US Open.
However, now, with the intention of competing in London, Bopanna chose to break his long-term association with Pakistan's Aisam-ul-Haq Qureshi at the start of the year to join hands with Bhupathi. After a stuttering start, the duo pocketed its maiden crown as a team last week in Dubai.
In the interaction, he talks about the big win and also on the changes the pair had to adapt to be more successful.
Excerpts:
Tell us about your first title win along with Mahesh Bhupathi…
Victory in?Dubai was a great moment. Every win is significant, but I will always consider the win in Dubai as a special moment in my career. Dubai had great fan appeal, with great turnout from the Indian community in the semis and finals. We got a lot of support from the crowd.
You two had an edgy start to the season but Dubai Open win must have silenced your critics?
There is no talk of silencing the critics. We want to work hard and improve our game. Bhupathi has such a vast experience of 17 years and many Grand Slam titles under his belt. It was easy for me. It was easy to get along with him.
Tell us about your decision of partnering with Mahesh Bhupathi…
Playing with Mahesh is wonderful, as we have been friends for a while. Mahesh has been mentoring me through the years as when I was still playing the Junior Tour, he had already won a Grand Slam. This partnership is a great opportunity for me to tap into his immense experience, and this helps me better my game. We are both raring to go for this season.
What's yours and Aisam Qureshi's relation like after parting ways?
I have known Aisam for over 15 years now. I see him more as a friend than as a doubles partner, and was glad that I could be part of his wedding celebrations at the close of last year in Pakistan
Was there any kind of adjustments that you and Bhupathi had to make to become more effective?
We had a rough start but we worked on our weaknesses and strengths. First I was playing in the advantage court and Bhupathi in the deuce court. But later, we shifted with Bhupathi playing in his favoured advantage court and the strategy worked for us. Whoever is playing better on that day will take charge and that is how we get along.
You think you have a realistic chance of playing the London Olympics?
Representing the country at the Olympics is a proud moment for every athlete and I look forward to that. For now, I'm concentrating on my fitness and playing good tennis.
You turned 32 recently. What was the celebration like?
After a gap of 7-8 years, I celebrated my birthday in Bangalore. Nothing more than some of my friends mashing cake on my face! (laughs)