World No.1 - Not a joker anymore
Beating Nadal in a Grand Slam even once is not easy. I don't know about twice. But this guy has done it thrice in a row. Besides taming Rafa all through the last three Grand Slams, he was able to beat him in four masters finals and as of now, holds a perfect 7-0 record against the Spaniard since last year.
Well, the guy who was mentioned clandestinely above needs no introduction. If anyone can claim to have had the measure of Nadal in the last eight years, it has to be Novak Djokovic. The exploits of this man in the last one year have been beyond imagination. Winning ten titles in a calendar year is no joke and people who feel he has been so lucky to have done it should really feel ashamed of themselves as the effort that he has put in has been extraordinary to say the least.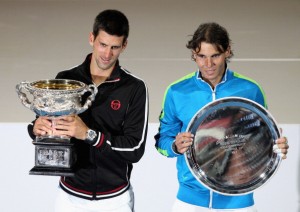 Since his loss in the final of US open 2010 at the hands of Rafael Nadal in a four-setter, the Serb has travelled leaps and bounds in improving his game to another level.  When Roger played Nole in the semi finals of Australian open 2011, very few people would have had their bets placed against the former. But Nole surprised not only the fans but also the greatest player of all time himself by beating him in three straight sets even after trailing in the second by a break.
Novak Djokovic has  looked like a shadow of his own self when we look at the last one and half months of tennis since the culmination of Australian open 2012 where he played unbelievably to beat Nadal in five sets. He has had a couple of loses which were not expected of him and one of them was against a man who was ranked outside the top ten then. With the losses against Murray and Isner, a few people already have started discounting his accomplishments by claiming that these two losses have proved that his purple patch was just that: a purple patch. But can just a couple of defeats lessen the magnitude of his achievements? The feat that he has achieved by beating Nadal and Federer six times and four times respectively in a single year was not in any way a mean one.
There are also some people who criticized Nole for his attitude in the past. His chest-thumping  after winning a point inside the court and his way of making fun of players like Roger Federer and Maria Sharapova by mimicking their actions outside the tennis court did not go down well with all tennis fans. But as he started winning more, he curtailed such antics; in fact, he seems to have almost completely abandoned them now. It seems as if he has learnt that as the top-ranked player he needs to set an example to the rest of the people who aspire to be No.1. Everybody knows how good on-court behavior has Roger Federer exhibited wherever he has been placed in ATP rankings. Roger commands respect not only due to hi style of play but also due to the way he behaves on the court. Nole has not quite reached that level and it would be premature to compare him with Roger as things stand today. But a couple of things really stand out when we analyse the character of Novak Djokovic.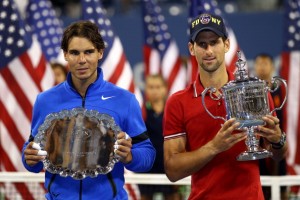 One outstanding quality of Djokovic is that whenever his opponent hits a great winner against him, he reacts by applauding it with a clap on his racquet. The only other player who had ever done this consistently was the great Steffi Graf. The other quality which I would love to mention is the way he goes and congratulates his opponents when he is beaten. I have never seen anyone go with such a smiling face to greet his opponent who  just beat him. Such sportsmanlike qualities are really the attributes that can differentiate a great player from a good player.
Since Nole's behavior is now in place, the critics feel that it is time to attack his game. But having closely observed Djokovic's game in the last one year and even at this year's Australian Open, I am sure he is in for a long stay in the top three of the ATP rankings, at least for the next five years if he stays fit. This man has perfected his game and once you get to that level it is impossible for anyone to take you for granted.  Sure, the players who play tennis are human beings, and one or two losses are bound to happen. Not to forget, in Nole's case, since he runs a lot at the baseline, as he himself  admitted in an interview with the great Jim Courier at the end of his five-set semi final against Andy Murray at this year's Australian Open, he is bound to get fatigued and so you cannot expect him to win every match he plays. That said, one big victory at a Major would silence all his critics, and I'm sure that victory is going to come sooner rather than later.
Djoker may not be able to display the consistency that Roger was able to exhibit from 2003 up until 2009, precisely because of the difference in game styles of the two. Federer's game gives less room for injuries and it hardly allows fatigue to set in. But Novak 'sway of playing, injuries can play a major role at times which could hamper his consistency. Nevertheless, Nole is the hottest player on tour right now now and could amass a huge pile of victories while he is at his peak, and I am sure at the end of his career he would go down as one of the greatest players to have ever played the game of tennis.