WTA Miami - Azarenka comes back from the brink to keep streak alive
641 //
27 Mar 2012, 10:18 IST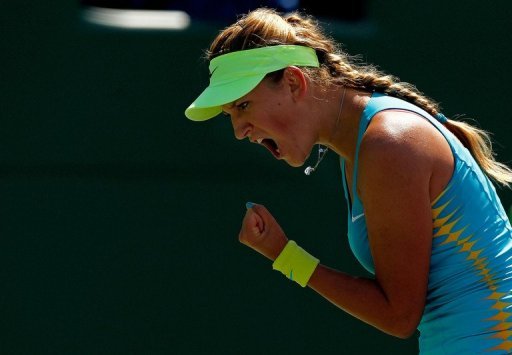 World no. 1 Victoria Azarenka came from 1-6, 2-5 behind to defeat a determined Dominika Cibukova and advance to the quarter finals of the Sony Ericsson Open in Miami on Monday.
"It kinda felt like she closed her eyes and just went for everything, and me, I couldn't open my eyes. I was blinded a little bit," Azarenka commented after the match. "But my coach came to the court, kicked me a little bit that I had to at least try to change something, because it was like a snowball, and I kept rolling with the same match and wasn't adjusting. In the end I was trying to change something. But it was more about fighting in my heart today rather than any other shot.
"I definitely wasn't thinking about the streak, that's for sure."
"I have to give all the credit to her. She played some splendid tennis and was hitting every possible line there was," Azarenka commented. "A match like this gives you a little bit of understanding that no matter what, you still have a chance. You just have to keep fighting until they call it game, set and match."
Azarenka is now 26-0 for the year.
Meanwhile, Serena Williams avenged her loss in the US Open finals to Sam Stosur by beating the Australian 7-5, 6-3 to set up a clash against Caroline Wozniacki. The Dane beat Belgian Yanina Wickmayer 7-6, 6-0
"In the second set I just took off from the first point," Wozniacki commented. "The first set was a very high level from both of us. I wasn't able to take my chances at 6-5, but I'm happy I finished it in the tie-break. I was going for that ace."
"I really, really, really, really like Caroline as a person and as a girl and as someone on the tour," Williams said of the Dane. "I like her a lot. She's a good girl and it will be a tough match. It will be like going out there against a good friend. I always said if I can play Venus, then I'm okay playing anybody."
Maria Sharapova, Agnieszka Radwanska, Marion Bartoli and Li Na also won their matches.
Singles – Fourth Round
(1) Victoria Azarenka (BLR) d. (16) Dominika Cibulkova (SVK) 16 76(7) 75
(2) Maria Sharapova (RUS) d. Ekaterina Makarova (RUS) 64 76(3)
(4) Caroline Wozniacki (DEN) d. (23) Yanina Wickmayer (BEL) 76(6) 60
(5) Agnieszka Radwanska (POL) d. (WC) Garbiñe Muguruza Blanco (ESP) 63 62
(10) Serena Williams (USA) d. (6) Samantha Stosur (AUS) 75 63
(7) Marion Bartoli (FRA) d. (22) Maria Kirilenko (RUS) 61 62
(8) Li Na (CHN) d. (12) Sabine Lisicki (GER) 36 64 62