WTA Miami - Serena, Clijsters, Sharapova, Wozniacki all advance
753 //
23 Mar 2012, 11:02 IST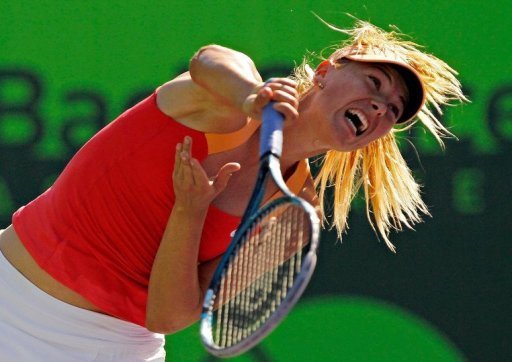 The big names on the women's side at the Sony Ericsson Open in Miami all advanced to the third round on Thursday.
Former world no. 1 Serena Williams scored an impressive straight sets win over Chinese wild card Shuai Zhang while anotehr former world no. 1 Kim Clijsters showed her ranking of 37 tells little, with an upset win over 14th seed Julia Georges 6-1, 7-5.
"I think she played really well. She's pretty young. She's doing really well," Williams said. "I was a little bit rusty and a little bit nervous too, for whatever reason. I haven't played here for so long and I wanted to do well. So I was really nervous out there, but I think now I've gotten one under I'll be better."
"I'm always a little nervous in the first round, and I kind of chill out after that," she commented. "It's always the same. It's always been the same. Last time I played I played horrible, and I was thinking as long as I don't hit a ball into the stands I'll be good – I didn't do that today, so it worked out well for me."
"With these weather conditions it's tough serving," Clijsters said. "I don't think there's anybody who plays a whole tournament with perfect tennis, so you have to try and battle through, and find the solutions when you're not playing your best. Mentally, that's one of the biggest focuses I have when I step out on the court here in Miami, where it can get very windy."
World no. 2 Maria Sharapova was extended to three sets by the Israeli Shahar Peer while regining Grand Slam champions Li Na and Sam Stosur also won.
Rising German Mona Barthel knocked off another former world no. 1 – droppingonly three games to beat Jelena Jankovic and was joined in the third round by countrywoman Sabine Lisicki.
Caroline Wozniacki also advanced with a straight sets win over Czech Barbora Strycova.
Women's Singles – Second Round
[2] M Sharapova (RUS) d S Peer (ISR) 46 63 63
[6] S Stosur (AUS) d [Q] V Savinykh (RUS) 64 60
[10] S Williams (USA) d [WC] S Zhang (CHN) 62 63
[12] S Lisicki (GER) d S Arvidsson (SWE) 63 62
M Barthel (GER) d [13] J Jankovic (SRB) 60 63
K Clijsters (BEL) d [14] J Goerges (GER) 62 75
[17] S Peng (CHN) d [Q] S Foretz Gacon (FRA) 61 62
E Makarova (RUS) d [19] A Pavlyuchenkova (RUS) 61 62
[21] R Vinci (ITA) d T Pironkova (BUL) 75 61
[23] Y Wickmayer (BEL) d M Erakovic (NZL) 63 64
C Scheepers (RSA) d [25] A Medina Garrigues (ESP) 16 64 60
I Benesova (CZE) d [26] S Kuznetsova (RUS) 16 76(7) 76(7)
[Q] S Stephens (USA) d [30] S Errani (ITA) 36 62 75
(4) Caroline Wozniacki d Barbora Strycova 6-4, 6-0
(8) Li Na d Melinda Czink 7-5, 6-2