WTA Pune: Indian challenge ends in women's singles
679 //
07 Nov 2012, 21:00 IST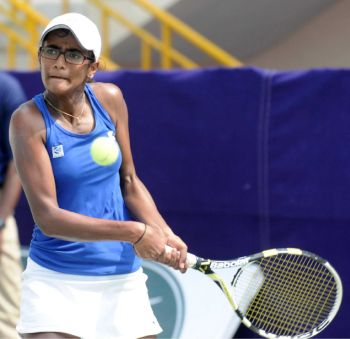 Pune - Indian challenge in the women's singles of the $125,000 Sanjay Kakade Group Royal Indian Open WTA Challenger came to an end in the second round when tennis wild-card Rutuja Bhosale went down 6-3, 6-0 to seventh seed Elina Svitolina of Ukraine at the Balewadi Sports Complex here on Wednesday.
The 16-year-old, playing in her maiden WTA event, was no match to her opponent's powerful ground strokes and deceptive drops and was left stranded many a time as the ball zipped past her.
Rutuja had registered an upset victory in the opening round of the tournament against So-Ra Lee and was expected to put up a fight against an opponent ranked 550 places above her.
And the local girl did not disappoint. There was no lack of effort on her part and some of the winners she hit during the one-and-half-hour encounter were enough to prove that she has the ability and the strokes. What is needed now is more work on the speed and especially the service to match her opponents.
Rutuja committed two doubles faults in her very first service game and though she immediately broke back to draw level at 2-2 in the opening set, she was obviously playing second fiddle to the Ukrainian.
"She just stepped up the pace in the second set. But I am happy with the way I played in this tournament. I will take a lot of positives from this tournament and hope to improve on the things I have learnt," Rutuja added.
Svitolina broke Rutuja's serve again in the sixth game and then eased through the set before raising the bar so high in the second that Rutuja crumbled under the opponent's attack.
In the day's other matches, third seed Donna Vekic of Croatia was made to work hard for victory by Oksana Kalashnikova of Georgia before winning 6-2, 4-6, 6-0, while fourth seed Eva Birnerova of the Czech Republic was shown the door by Thailand's Luksika Kumkhum 3-6, 6-3, 6-1. The fourth seed is the first upset of the tournament.
Results (second round):
Singles: 3-Donna Vekic (CRO) bt Oksana Kalashnikova 6-2, 4-6, 6-0; Luksika Kumkhum (THA) bt 4-Eva Birnerova (CZE) 3-6, 6-3, 6-1; 7-Elina Svitolina (UKR) bt Rutuja Bhosale (IND) 6-3, 6-0
Doubles: Yi-Fan Xu/Yi-Miao Zhou (CHN) bt 3-Monique Adamczak/Stephanie Bengson (AUS) 6-3, 6-2