Winning a World Title is probably the main reason why any wrestler joins a professional wrestling company. As the top prize of every wrestling organization, a victory in a World Title match is seen as the apex of a person wrestling career. Winning a World Title used to be such a hard task in WWE that legends like Roddy Piper, Jake Roberts, Owen Hart and Scott Hall never realized their dream of being called a WWE World Champion.
Ever since its inception back in 190s, WWE has had a total of 4 different World Championships at various stages, with the WWE Title and the Universal Title being the two that WWE has at this moment. World Title reigns are often seen as a way to measure the level the wrestler achieved in the company, and not every superstar get a chance to hold a World Title on more than one occasion. Here are the 10 superstars with most World Title reigns in WWE history.
Note: This list is only based on the World Title reigns under the WWE banner and not any other promotion. Hence, according to this list, Ric Flair and AJ Styles are only two time World Champions and Sting has not held even a single World Title.
---
#10(Tie) Mankind, Booker T, Jeff Hardy, Kane and Rey Mysterio - 3 Reigns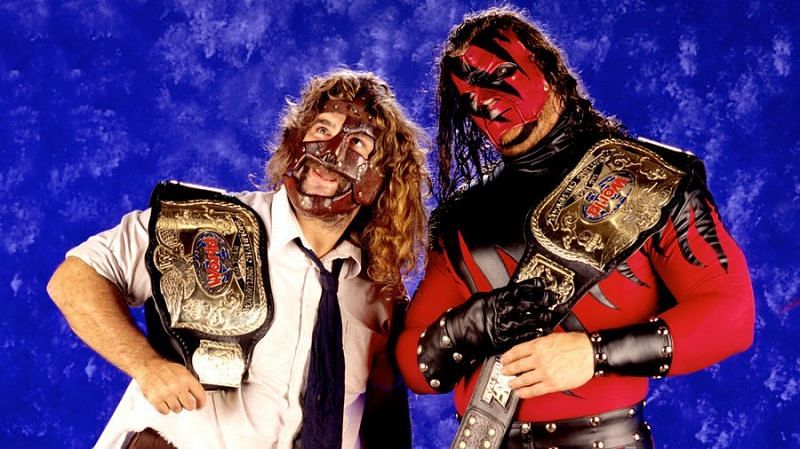 Starting off this list is a quintet of superstars, all of whom are on everyone's list of the best superstars of all time and have been World Champion under the WWE banner three times each. Even though Mick Foley achieved quite a lot of success during the Attitude Era, the cumulative total of his three WWF title reigns is just 47 days, all from 1999. Never the less, his first WWF Title win on Raw is commonly regarded as one of the biggest wins in the history of Raw.
Just like Mick Foley, Kane managed only three world title throughout his career, which includes one reign each with WWF, ECW and World Heavyweight Title, despite being a main event superstar throughout his career.
While Booker T only won WWE's version of World Heavyweight Title only once in 2006, his last two reigns as WCW World Champion in 2001 also took place under WWE banner, giving him a total of three runs as World Champion.
Forever as popular as he is right now in WWE, Jeff Hardy's only WWE Title win in late 2008 is generally considered among the feel good moments of this century. He followed this win with two small reigns as World Heavyweight Champion in 2009 during that critically acclaimed rivalry with CM Punk.
Even though he was never a credible World Champion, Rey Mysterio did enjoy three World Title reigns under the WWE banner, which includes two World Heavyweight Title wins and a less than a day reign as WWE Champion in 2011.
#9(Tie) Shawn Michaels, Christian, Alberto Del Rio, Daniel Bryan, Sheamus and Roman Reigns - 4 Reigns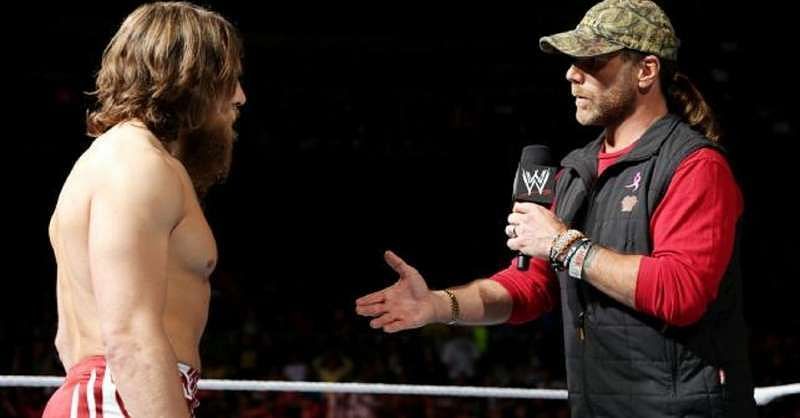 It's hard to digest the fact that despite being a bonafide main eventer and show stealer for WWE for almost two decades, Shawn Michaels only won the top prize of the company four times. His three reigns as WWF Champion came during his first run with the company, with his first title win at Mania XII regarded as a milestone moment. His final and solitary reign as World Heavyweight Champion lasted for only 28 days in 2002.
Joining him at the same spot is his Pupil, Daniel Bryan, who also has three reigns as WWE Champion and one reign as World Heavyweight Champion to his name. While Bryan's defeat at Mania XXVIII is regarded as the worst World Title defeat, his WWE Title win two years later is regarded as one of the finest victories in recent times.
Courtesy his win at Summerslam, the current Universal Champion has also joined HBK and Bryan at joint four reigns after accumulating three reigns with the WWE Title, the last of which began at WrestleMania 32.
While he has been out of the main event for quite some time now, Sheamus has a sensational cabinet of title, which includes three reigns as WWE Champion and one reign of 218 days as World Heavyweight Champion.
Rounding off this list are Christian and Alberto Del Rio. While both of them boast two reigns each as World Heavyweight Champions, Del Rio's two reigns as WWE Champion are well complemented by Christian's two with the ECW Championship.
#8(Tie) Bret Hart, Big Show and Brock Lesnar - 5 Reigns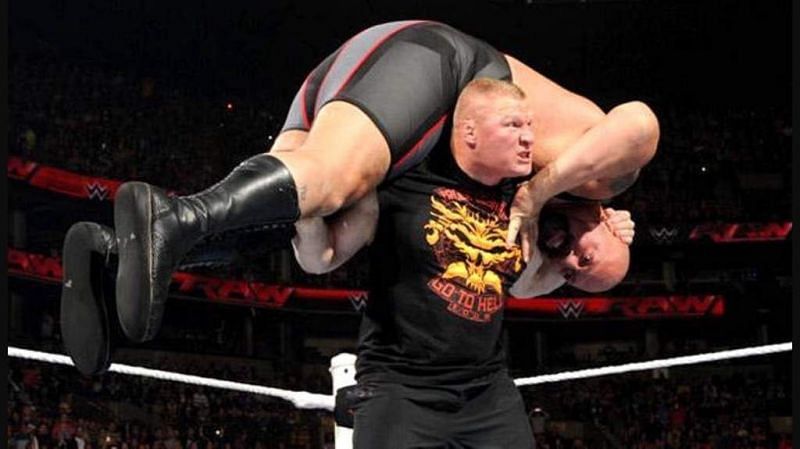 Brock Lesnar has held a World Title for such a long time in recent times that it just dazzles your mind that he has only held a World Title 5 times under WWE banner. Before setting a near impossible record of 504 days as Universal Champion, Lesnar had four immensely successful reigns as WWE Champion, three of which came during his first run where he has sensational feuds with Kurt Angle and Big Show.
Speaking of The Big Show, he himself has a quintet of World Title victories to his name. His first WWE title reign came back in 1999 and this was followed by another one in 2002, an ECW title win in 2006 and two reigns as World Heavyweight Champion in 2011 and 2012.
Rounding off this list of all B's is the greatest in-ring technician of all time, 'The Excellence of Execution' Bret Hart. Before his sour departure from WWF in 1997, Hart was the poster boy of the company and was the proud holder of the WWF Title on 5 separate occasions. His win in the main event of WrestleMania X is one that is often regarded by some as their favorite.
#7(Tie) Steve Austin, Hulk Hogan, Kurt Angle, Batista, Chris Jericho and CM Punk - 6 Reigns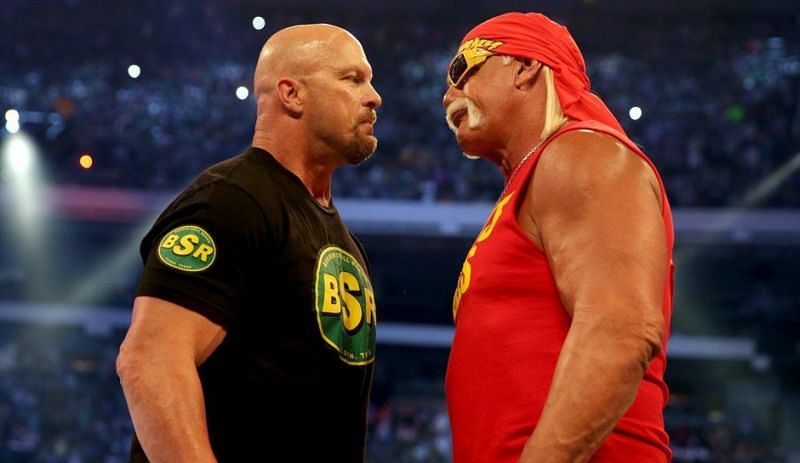 More people have held the World Title 6 times within the WWE than any other number, and it is a list that is probably the most star-studded of all. As the biggest wrestling star in the history, Hulk Hogan was a permanent fixture in the main event picture during his first run and accumulated five WWF Title reigns. His last one came in 2002 during his highly popular run as Hollywood Hulk Hogan.
Steve Austin might have had issues with Hulk throughout his career, but he does share something with Hulk after all - World Title reigns. After winning his first WWE Title at WrestleMania XIV in a monumental match, Austin had five more runs with the same title, the last one of which ended at Vengeance 2001.
One anti-authority figure followed by another as CM Punk too proudly held a World Title six times. Apart from his memorable 434-day reign as WWE Champion and a small reign that preceded that, the 'Greatest of all Time' was the World Heavyweight Champion three times and ECW Champion once.
If greatness is involved, how can we forget the evergreen Chris Jericho? Between his first WCW Title win in 2001 and his third reign as World Heavyweight Champion in 2010, Y2J had one more reign as WCW champion and a reign as the first ever Undisputed WWF Champion.
Even though he is an authority figure on-screen right now, Kurt Angle is a living legend inside the ring. Apart from that Olympic gold medal, Angle's resume bolsters five tremendous reigns as WWE Champion and an equally good reign with World Heavyweight Title in 2006.
While the first five people were most associated with the WWE Title, Batista became a main event star with his four tremendous runs with the World Heavyweight Title. Still, he got his hands on the WWE Title on two occasion during the end months of his first run in 2010.
#6 The Undertaker - 7 Reigns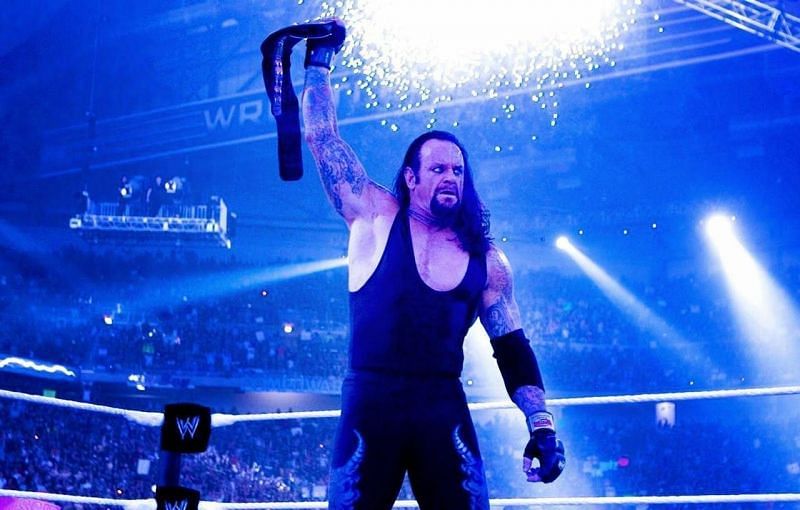 Never has there ever been, and there never will be, a character more unique and phenomenal as The Undertaker. For almost three decades, the Deadman has enthralled fans of every generation with his ominous presence and his majestic work inside the ring. While it won't be wrong to say that WWE never considered him as a long-term World Champion, he did win the World Title, or as he liked to say Holy Grail, seven times in his illustrious career.
His first win over WWF Champion Hulk Hogan at Survivor Series 1991 made him the youngest WWF Champion at that time. This was followed by three more reigns as WWF champion over the next decade, the first of which began with a victory in the main event of WrestleMania 13.
Later in his full-time career, Taker became more synonymous with World Heavyweight Title, with his three reigns with the title between 2007 and 2010 often regarded as the highest points in the 12-year history of the now defunct championship.
#5 The Rock - 10 Reigns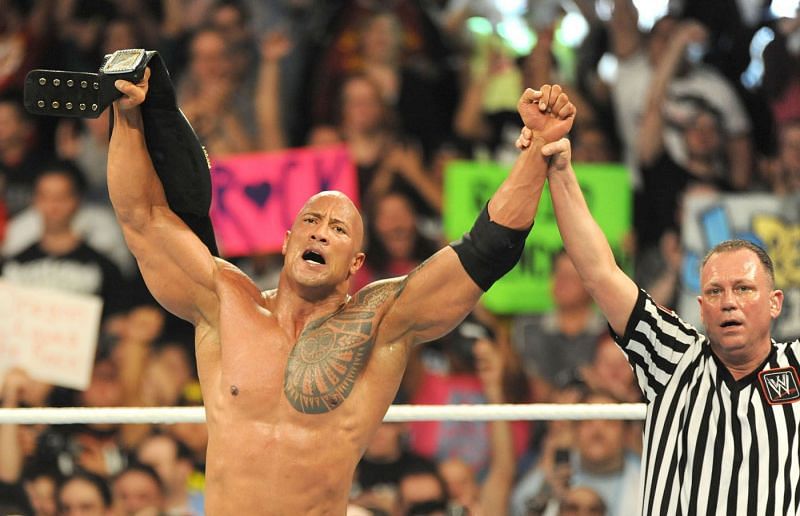 Just based on the level of Charisma he used to bring to his character, The Rock became one of the biggest stars in the world. Before he left the WWE in 2003 to pursue his budding career in Hollywood, The Rock was a record-breaking World Champion under WWE banner. With a time period of almost 11 years between his last two World Title reigns, The Rock holds the record of the longest gap between two successive World Title reigns in WWE history.
While he was never a long-term choice for a World Champion, The Rock did enjoy eight reigns with the WWF/WWE Title. Between November 1998 and August 2002, The Rock was in possession of the title seven times and won the title for the eighth time in January 2013 after returning to in-ring action the previous year.
In between those record WWE title reigns, The Great One also got his hands on the now-defunct WCW Championship, which he traded with Chris Jericho during the fall of 2001, taking his tally of World Title reigns to double figure.
#4 Edge - 11 Reigns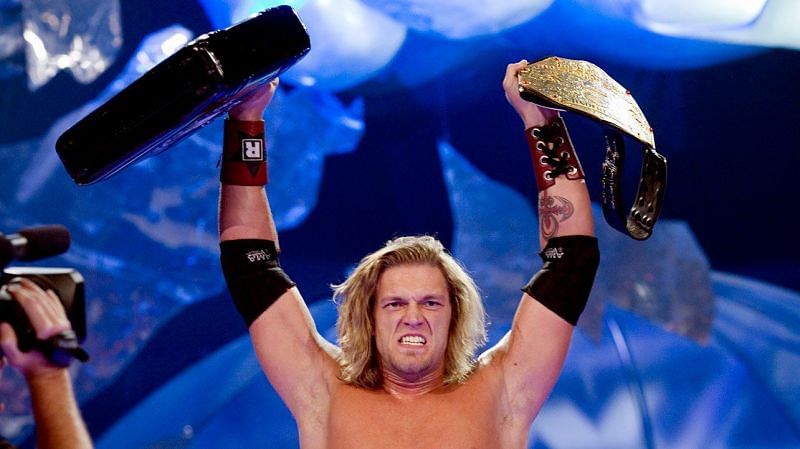 Had it not been for that unfortunate injury that forced him to retire from in-ring action as a World Champion in 2011, Edge would have certainly added a number of World Titles to his already tremendous tally. Despite starting his career as a tag team specialist and a mid-card wrestler, Edge made a stunning jump to the main event scene in the mid-2000s and stayed there till the end of his career.
The Ultimate Opportunist that he was, Edge first won the WWE Title after cashing in his Money in the Bank briefcase in January 2006 and won the title three more times the same year. However, it wasn't until his first World Heavyweight Title win in 2007 that he started scaling new height in the company.
As a record seven-time holder of WWE's version of the Big Gold Belt, Edge had a series of all-time great rivalries with the likes of The Undertaker, Batista, John Cena and Jeff Hardy which turned the title into the most prestigious World Title at that time and made Edge synonymous with that championship which he held till his last day as a wrestler.
#3 Randy Orton - 13 Reigns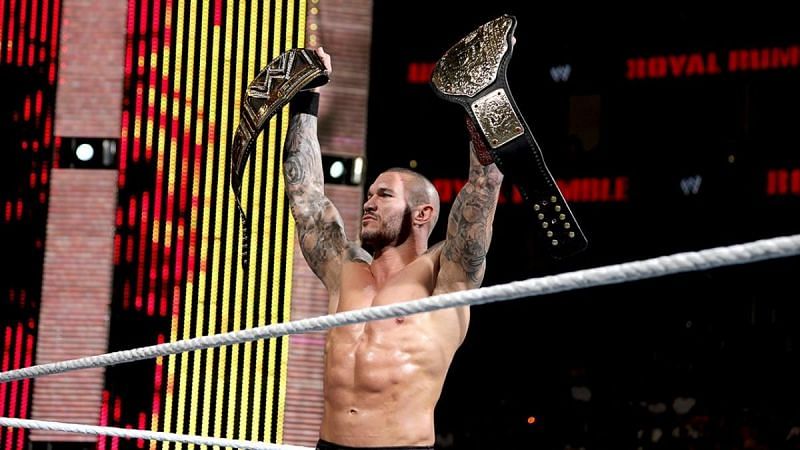 While Edge dominated the Main Event scene on Smackdown as a vile, vicious heel, Randy Orton played the same role on Raw during the second half of the 2000s. While not as sadistic and vicious as he right now, Randy Orton was easily the most hated villain in the company. This only played in his favor, as he accumulated a number of World Titles during that period.
However, the first of his thirteen World Title came way back in 2004 when he defeated Chris Benoit to become the youngest World Heavyweight Champion in history. However, Randy had to wait 3 more years to finally get his hand on the World Championship before he won the WWE Championship, twice on the same night, in October 2007.
Since then, Randy has won the WWE Championship seven more times, with his last win coming at WrestleMania 33, and even held the World Heavyweight Title two more times during his stint on Smackdown in 2011. Eventually, he became the final World Heavyweight Champion in 2013 when he unified his WWE Championship with John Cena's World Heavyweight Title, thus keeping his final reign to just a few minutes.
#2 Triple H - 14 Reigns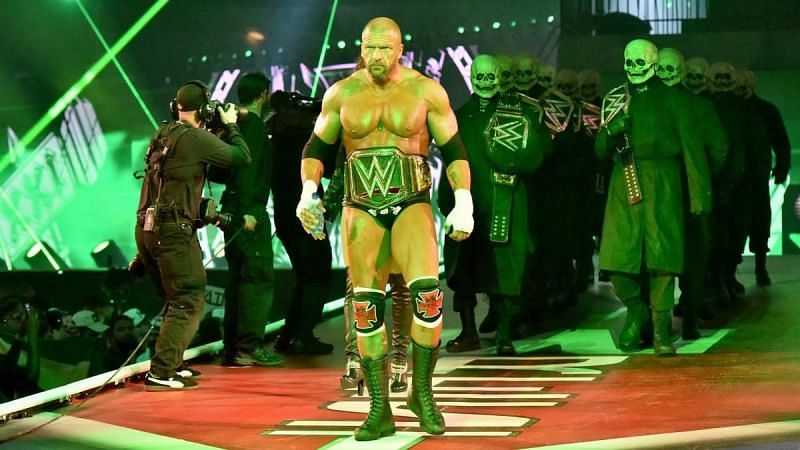 The only reason why Triple H is not the most coveted World Champion in WWE history is that Vince McMahon found John Cena, who emerged as the biggest superstar in the history of the company during the second half of the 2000s. Otherwise, Triple H would have definitely eclipsed even Ric Flair's record of 16 World Titles long, long ago.
However, it would be unfair to say that Triple H didn't deserve or earn any of his 14 World Titles. His run as the WWE's top heel against The Rock in the early 2000s was easily the best work of his career, and it did earn him a total of five WWE title reigns. However, after the summer of 2002, he became more synonymous with the World Heavyweight Title.
In fact, HHH, who had five reigns with the belt, held the title for such a long time between 2002 and 2005 that people started getting irritated with his constant presence. While his ninth and final reign with the WWE Title in 2016 was not very well received, his 210 day run in 2008 on Smackdown was easily the best thing on WWE television and produced some of the best matches he has ever wrestled in his career.
#1 John Cena - 16 Reigns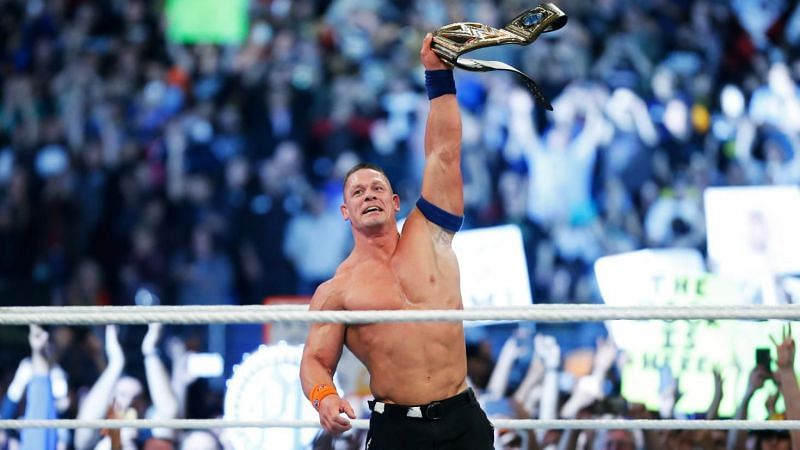 THE CHAMP IS HERE!!!!
John Cena has been a World Champion so many times in his career already that the quote above is now a catchphrase that he uses very often. John Cena is such a big name in professional wrestling industry right now that he can just show up any day after a lengthy hiatus and just wrestle a World Title match with the reigning World Champion later that night. This is how closely he is associated with World Title.
This trend first started at WrestleMania 21, where John defeated JBL in an underwhelming match to win his first WWE Title. This was followed by a lengthy period of 3 years in WWE Title scene where he held the title for two more lengthy reigns. Even though he is more associated with the WWE Title, Cena had two stupendous reigns with the World Heavyweight Title in late 2008-early 2009.
Before he won the World Heavyweight Title for the third and last time in October 2013, Cena added eight more WWE Title reigns to his name in just 4 years. He last won the title in an all-time classic with AJ Styles at Royal Rumble last year to tie Ric Flair's record of most World Title. With WWE adamant on breaking Flair's record, it won't be long before we see Cena hold a World Title above his head again.