Gone are those days when inter-gender wrestling was a common thing in WWE. Wrestlers like Lita, Jacqueline and of course Chyna led the torch to make us believe that women were no less than men. Who can forget Chyna's feuds with Jeff Jarrett and Chris Jericho in her IC Title reign? WWE has shied away from inter-gender wrestling because of it being a more family and advertiser-friendly product. Moreover, those against the WWE would also get a chance of complaining that they are supporting domestic violence. Nonetheless, they did bring it back when Becky Lynch defeated James Ellsworth on SmackDown Live.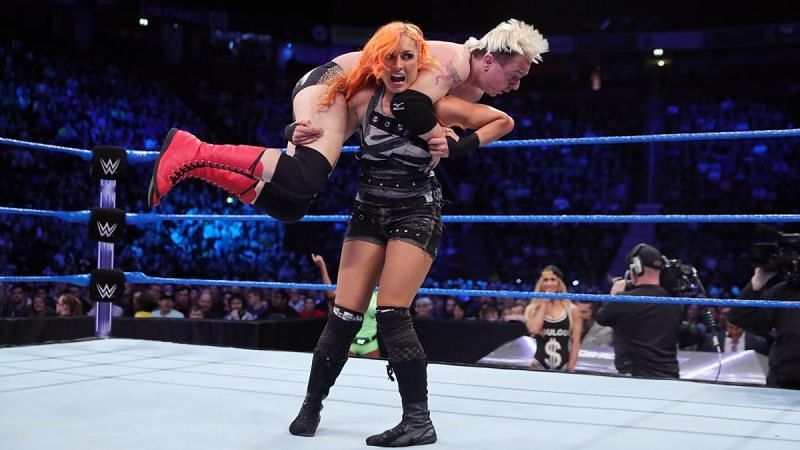 With 'Women's Revolution' picking up the pace, inter-gender wrestling should be the next big thing after the Royal Rumble and Elimination Chamber. If you talk about it, then the first thing which comes in mind of independent wrestling fans is Candice Lerae! WWE, this might come as a surprise to you. The wife of Johnny Gargano is a famed inter-gender wrestler. The new NXT call-up even held the Dreamwave Tag Team Championship, the FSP Tag Team Championship and the PWG World Tag Team Championship with Joey Ryan. Collectively known as the World's Cutest Tag Team, they even defended it successfully against the likes of Young Bucks, Christopher Daniels and Kazarian and Inner City Machine Guns.
Here is a list of intergender matches that Candice Lerae has been a part of:
#3 Joey Ryan vs Candice LeRae- Bar Wrestling
Candice LeRae's last match in the independent circuit came in the form of a victory over her longtime collaborator and the other half of the World's Cutest Tag Team- Joey Ryan.
You need to subscribe to Bar Wrestling California in order to see that match but we have got the emotional send-off she received from the indie fans and Joey Ryan after their match. As soon as the match ended, she hugged Joey Ryan who was still lying on the mat with 'There is a thing called Love' playing in the background. What followed it were 'Thank You Candice' and 'You Deserve It' chants from the crowd. She even led her nieces in singing 'Happy Birthday Mom' with the help of the fans. Enough spoilers already! Watch the video to get the feel.
#2 Adam Cole vs Candice LeRae- PWG Mystery Vortex II
Sorry, we couldn't bring you the full match but we do have a highlight of this from MRH 167. The one-foot height and hundred pound weight difference made Candice look like a perfect underdog in this match against the former Bullet Club member.
Adam Cole didn't take her lightly and dominated her from the word go. She responded with some fast chops and kicks to him in the corner. Adam Cole caught her on the suicide dive and hit her hard on the ring. This match proved the in-ring brilliance of Candice with some astonishing moves like reverse the Hurricanerana and even a Canadian Destroyer off the top rope (Yes! The banned move in WWE from the top rope!)
Adam Cole tried to wrap up his title defence by getting himself disqualified but to no avail. Nonetheless, he won the match later after a belly-to-belly suplex on her. The unctuous heel work by him continued even after the match as after he hugged her, he hit her hard. This wasn't one of the best matches of Adam Cole but surely is that of Candice LeRae.
#1 Johnny Gargano vs Candice LeRae- Absolute Intense Wrestling
Yes, you read it right. Candice faced her future husband in this match at the Absolute Intense Wrestling promotion. She again played the underdog babyface and that left Johnny to play the overconfident heel.
It began with the usual opening of headlocks and quick pin attempts. Counters and suicide-dives by Candice followed it as Johnny was taking it lightly. Johnny had realized that he needed to toughen up and planted a kick right to the side of her face. They exchanged submission moves and Candice even locked in the 'Gargano Escape' on him. It had numerous other spots like Gargano giving a top rope facebuster to Candice and DDT by Candice on the floor through a suicide dive.
After kicking out of one 'Hearts Donut', this appealing and energetic match came to an end after she reversed the second 'Heart Donut' into a fruit roll-up. Incredible selling by both of them and a good amount of fan interaction makes this match a must watch for both critics and fans alike.
---
Send us news tips at [email protected]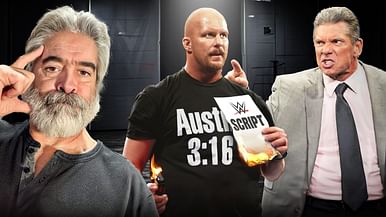 How Stone Cold was born in 2 minutes