WWE's annual budget cuts took place last week and saw the release of several main roster talent. Some of the most surprising names included Samoa Joe, Peyton Royce, and Billie Kay. There were eight other stars on the list, including: Kalisto, Mojo Rawley, Tucker, and Mickie James.
This talent cut happened on exactly the same day as last year's COVID-19 related cuts but saw fewer superstars handed their release.
Many WWE stars who were brought back in recent years have been released again, leaving them with the rare distinction of having been released by WWE more than once.
The following list looks at just five former WWE Superstars who have been fired by WWE on more than one occasion.
---
#5. Former Six-time WWE Women's Champion Mickie James
Mickie James was released from WWE alongside several other superstars this past week, which means that she now joins a list of former WWE talent who have been fired twice.
James made her WWE debut in 2005 and immediately stepped into a feud with Trish Stratus. The feud culminated at WrestleMania 22 where James was able to win the WWE Women's Championship.
Trish Stratus went on to retire later that year and James went on to become one of the faces of the Women's Division. Sadly, after becoming a six-time Women's Champion, the Virginia native fell out of favor with WWE and was later released by the company on April 22nd, 2010.
James' release was a result of budget cuts. She was released alongside the likes of Shelton Benjamin, Katie Lea Burchill, and Jimmy Wang Yang.
The veteran later went on to wrestle for IMPACT before returning to WWE to take on Asuka at NXT Takeover: Toronto in 2016. James signed a new contract with WWE in 2017 and continued on to the main roster.
There were rumors that the former WWE Women's Champion's contract expired last year since James hasn't wrestled regularly on WWE TV throughout 2020 and her last WWE match came back at the Royal Rumble in January.
#4. Former WWE Superstar Maria Kanellis
Maria Kanellis originally came to WWE through the annual Diva Search before becoming a backstage interviewer on the Monday Night RAW brand. Maria would also occasionally wrestle on RAW, but it was obvious that she wasn't a main part of the women's division.
After six years with the company, Maria was released from her contract on February 26th, 2010, and she went on to work for both Ring of Honor and Impact Wrestling before turning WWE's head once again.
In 2017, Maria was rehired by the company alongside her real-life husband Mike and the couple was seen as WWE's next IT couple after The Miz and Maryse were moved over to RAW.
Sadly this was something that Mike and Maria were not able to live up to. After Mike fell out of favor with WWE, he was sent over to 205 Live and never recovered.
Both Mike and Maria were released as part of the company's budget cuts in April 2020, just months after the couple welcomed their second child.
#3. Former WWE Tag Team Champion Curt Hawkins
Curt Hawkins originally arrived on WWE's radar back in 2006 and made his main roster debut in 2007. The former WWE Tag Team Champion went on to be part of several teams, including: The Major Brothers, La Familia, The Gatecrashers, and he even teamed with Tyler Reks for a while.
After Reks asked for his WWE release in the summer of 2012, Hawkins was sent back down to NXT. It came as no surprise when he was released from the company as part of budget cuts on June 12th, 2014.
After a stint on the independent circuit and a short time in IMPACT Wrestling, Hawkins was re-signed by WWE in 2016 following the new brand split. The star debuted a new Face The Facts persona before a losing streak was established in 2017. The streak lasted until WrestleMania in 2019 when he was able to win a match, capturing the tag team titles.
After Hawkins lost 269 matches in a row, he and Zack Ryder became WWE RAW Tag Team Champions. Hawkins and Ryder went on to drop the titles back to The Revival a few months later, and the stars were then both released from WWE on April 15th, 2020.
#2. Former WWE Tag Team Champion Joey Mercury
Joey Mercury is perhaps best remembered for his run as WWE Tag Team Champion alongside current WWE star John Morrison, who was once known as Johnny Nitro.
Mercury and Nitro were one of the best tag teams in the division throughout 2005 and 2006 until Mercury was legitimately injured at Armageddon in 2006. He was then forced to have more than 30 stitches in his face.
Mercury continued to wrestle in singles competition on SmackDown until his WWE release in March 2007. Just three years later, Mercury resurfaced as a member of CM Punk's Straight Edge Society. After the storyline came to an end, Mercury transitioned into a producer role backstage.
The former champion later became part of J&J Security for Seth Rollins alongside Jamie Noble before returning to his off-screen role. It was then reported at the beginning of 2017 that Joey Mercury had been released from his WWE contract. Mercury has since returned to the independent circuit and even worked as a producer at Ring of Honor.
#1. Former WWE Superstar Emma
Former WWE Superstar Emma is one of the women who helped to kick start the Women's Revolution during her time down in NXT. Emma was part of the first-ever NXT Women's Championship matches where Paige picked up the victory to become the inaugural champion.
Emma wasn't as successful on the main roster and her career hit quite the snag in 2014 when she was arrested for not paying for an iPad case at a local Walmart. WWE released the former NXT star but then reversed the decision the same day and accepted Emma back to the roster.
After her lack of success on the main roster, Emma returned to NXT in 2015 where she began an alliance with Dana Brooke. The Australian star was later promoted back to the main roster, and WWE decided to revamp her character into Emmalina. This transition was not a successful one and sparked the end of Emma's WWE career.
It was announced in October 2017 that Emma had been officially released from her contract.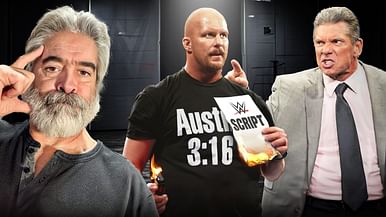 How Stone Cold was born in 2 minutes