Lars Sullivan is a mountain of a man who has been making headlines over the past few days, after the WWE began airing vignettes advertising his upcoming main roster debut.
The WWE has kept Sullivan's future plans under wraps ever since, and has been extremely secretive about whether he'll make his main roster debut on the RAW or SmackDown brand.
However, one thing is for sure -- "The Rocky Mountain Monster" will be making his long-awaited main roster debut very soon!
Today, we bring to you a select few feuds which the WWE could book Lars Sullivan in, either on RAW or on the SmackDown brand. (Please note: Our list has been prepared by taking into account a detailed analysis of the matches and feuds, WWE has booked Sullivan in during his time in NXT)...
---
#5 On RAW: Lars Sullivan could face Finn Balor, in a David vs. Goliath kind of feud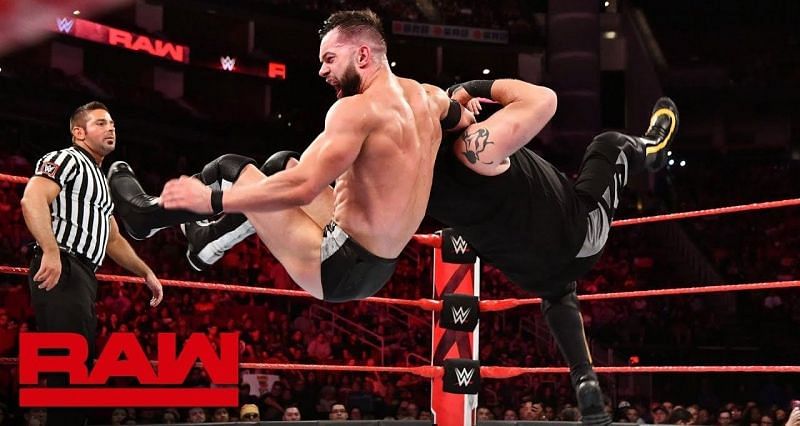 Lars Sullivan, whose real name is Dylan Miley, signed with the WWE back in 2013, and has undergone strict training at the WWE Performance Center after he began training there full-time in 2014. Sullivan wrestled his first official professional wrestling match at WrestleMania Axxess -- during WrestleMania 31 week in March of 2015.
I'd like to note an important point regarding WWE's booking of Sullivan over the past 3 years: The most common pattern in the way Paul "Triple H" Levesque and the WWE Creative Team has booked the big man, is that he's usually paired in matches against smaller guys such as Tommaso Ciampa, Johnny Gargano, Michael Blais, Roderick Strong, Adam Cole and others.
Another key factor over here, is that most of the aforementioned smaller wrestlers, who are very talented, are booked to be dominated throughout the match by Sullivan. And even if the smaller wrestler somehow wins the match, the WWE has been careful to not let Sullivan lose "clean".
In fact, some of my friends who don't follow the NXT brand, and only watch RAW and SmackDown, were surprised when I told them that Sullivan's pinfall loss to NXT Champion Aleister Black at NXT TakeOver: Chicago II (June 16th, 2018), was the first time Sullivan was beaten by way of pinfall in the NXT brand.
The facts that have been noted above, prove how much WWE values Sullivan as a top-tier star. And with that being said, if he debuts on RAW, all signs point towards the WWE booking Sullivan against one of the most charismatic performers in the business today -- a man who happens to be much smaller than Sullivan -- Finn Balor...However, Balor isn't the only one who's in danger on RAW...
#4 On RAW: Lars Sullivan could face his former real-life mentor Bobby Lashley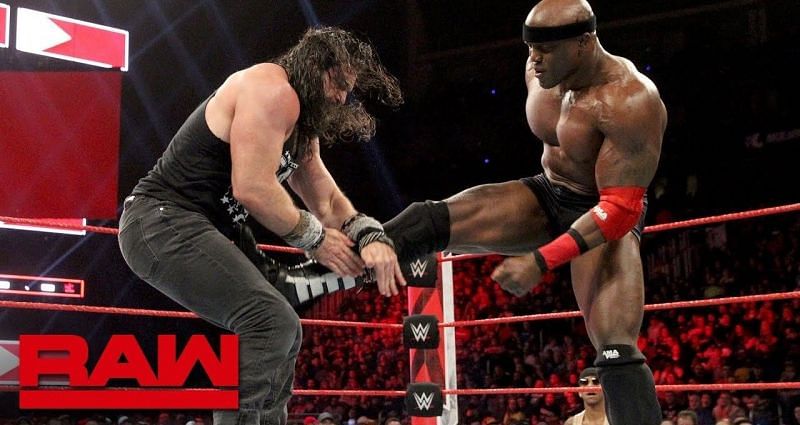 Most fans who aren't familiar with Lars Sullivan's training and beginnings in the world of professional wrestling, may not know that "The Freak" once trained under none other than current RAW Superstar and former Bellator MMA fighter Bobby Lashley.
Lashley was born in Junction City, Kansas, and by the year 2003, he had moved to Colorado Springs, in El Paso County, Colorado. On the other hand, Lars Sullivan was born in Westminster, Colorado...Lashley is 42 years of age, whereas Sullivan is 30, and it's interesting that despite training under Lashley, Sullivan didn't make his professional wrestling debut until he competed at WrestleMania Axxess in March of 2015.
If Sullivan debuts on RAW, you can definitely expect the WWE to use his real-life history with Lashley in the RAW brand's on-screen storylines. In fact, although WWE's history of handling Sullivan's on-screen character, tells us that he's more likely to feud with Finn Balor on RAW, I truly believe that Sullivan vs. Lashley will be more hard-hitting because of the real-life student-teacher relationship between them...
#3 On SmackDown: Lars Sullivan could feud with Randy Orton and hunt down "The Legend Killer"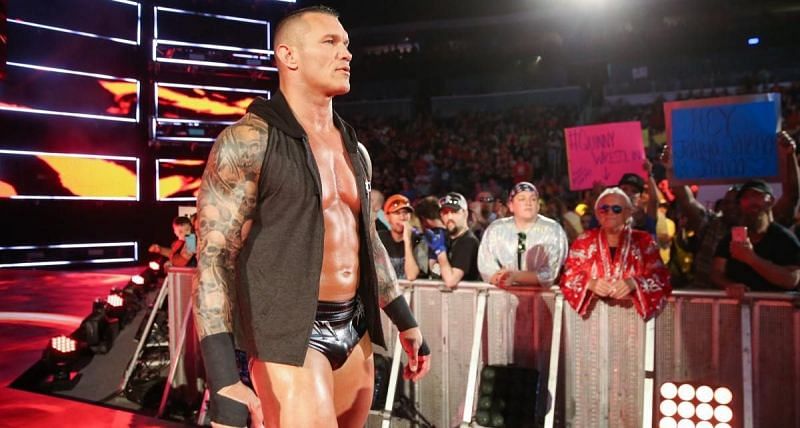 When Randy Orton rose to stardom as a part of Evolution and later as "The Legend Killer", he made a name for himself by feuding with and beating several legendary professional wrestlers on WWE TV. Well, Orton eventually experienced great success in the WWE, and is now regarded by many as a future WWE Hall of Famer.
I'd once again like to note our analysis of WWE's booking of Lars Sullivan here -- Over the course of his 3-year run in NXT, although the company has mostly booked him as a monster who destroys smaller Superstars, he has also faced a few guys who can match his size, at least to a certain extent...NXT Superstars such as Kassius Ohno, The Velveteen Dream, Killian Dain and No Way Jose have all crossed paths with Sullivan at some point or another in NXT.
Now, Jose performs on RAW, whereas Dain (as a part of SAnitY) works on SmackDown. However, instead of feuding with them, Sullivan could pick another relatively big SmackDown Superstar, with an even bigger name, in Randy Orton!
Orton's technique of wrestling is a very free-flowing, limb-based attack style, which may be due to The Viper's history of competing as a collegiate wrestler in his younger days. His style matches up perfectly with that of Sullivan, and I won't be surprised to see the WWE book a storyline featuring Sullivan trying to defeat Orton...
#2 On SmackDown: Lars Sullivan could face Shinsuke Nakamura for the United States Championship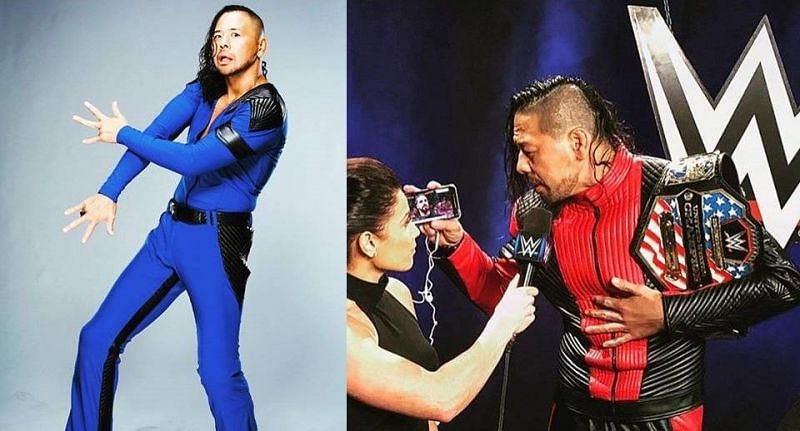 Alright, this may one perhaps be the perfect feud Lars Sullivan could be booked in on SmackDown Live. Sullivan is known for being one of the most powerful WWE Superstars today -- In fact, the man is so impressive, that after watching Sullivan wrestle at WrestleMania Axxess in 2015, former UFC Heavyweight Champion and current WWE Universal Champion Brock Lesnar visited Sullivan to train with him at the WWE Performance Center.
That is how impressive Sullivan's power truly is!
However, the best way of fighting and defeating someone who is more powerful than you is to tire the bigger opponent out. That is exactly what Shinsuke Nakamura is an expert at doing!
In simple words, Nakamura's Strong Style wrestling, excellent stamina, and superior overall grappling skills could pose a lot of problems for The Rocky Mountain Monster. On SmackDown Live, the WWE could easily book Sullivan to feud with Nakamura over the latter's United States Championship...
#1 On RAW: Lars Sullivan could face Baron Corbin and then feud with Drew McIntyre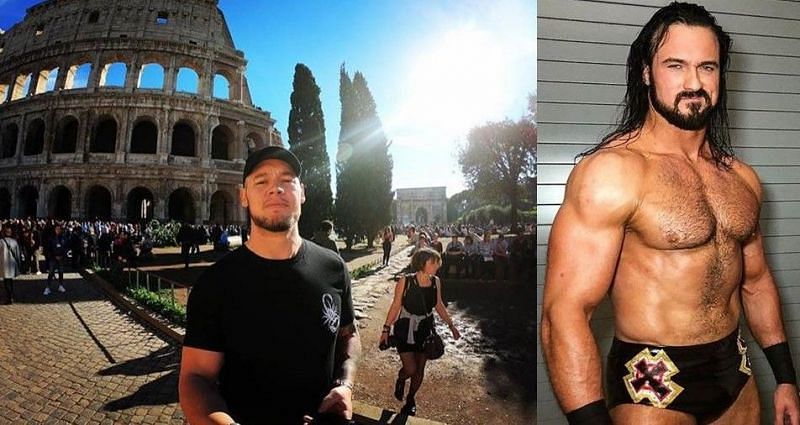 Per the Wrestling Observer Newsletter, the WWE has big plans for Lars Sullivan from this point moving forward. In fact, the professional wrestling rumor mill is presently rife with banter that the WWE higher-ups have plans to accord Sullivan a huge Braun Strowman-like push after he makes his main roster debut.
While it may be a tad too early for WWE to book The Freak in a feud against "The Monster Among Men" Braun Strowman, the company could easily have Sullivan engage in a rivalry with Baron Corbin.
Furthermore, after Sullivan beats Corbin in a singles matchup at the Royal Rumble PPV on January 27th, 2019, the WWE will have built up enough momentum for the fans to take The Freak seriously! Following which, they could book Sullivan in a feud with "The Scottish Psychopath" Drew McIntyre, in a rivalry that could perhaps start after the Royal Rumble, and extend all through the Elimination Chamber (February 2019), and Fastlane (March 2019) PPVs, culminating in a match at WrestleMania 35 on the 7th of April, 2019.
I'd like to emphasize that even if Sullivan loses the aforementioned final match to McIntyre at WrestleMania 35, it'll still set the stage for future rivalries featuring The Rocky Mountain Monster on RAW.
Which other RAW and SmackDown Superstars would you like to see Lars Sullivan feud with? Please give us your thoughts in the comments section below!