It's interesting, when you think about it: wrestling video games are one of the few times where the finish to a professional wrestling match is not predetermined. I mean, unless you're really confident in your video game playing skills, I suppose.
There's been a wide variety of wrestling video games released over the years. Some, say like WWF No Mercy for the Nintendo 64 or any of the Fire Pro Wrestling games (yes, they're all really good, shut up), are fantastic. Others, say like WCW Backstage Assault for the original PlayStation or... well, let's be honest, any WCW game not on the Nintendo 64, are, well.... not as fantastic.
More recently, most of the attention has been on 2K's WWE 2K series - what with WWE being the biggest wrestling company in the world and all. And, to their credit, they've actually put out some fine games over the years (2K19 was a pleasant surprise and 2K20 is shaping up to be interesting, too).
But there's also been a wide variety of games not based on the performers of Vince McMahon's brainchild. There's the excellent Fire Pro Wrestling World for the PS4 and on Steam, which features the New Japan Pro Wrestling roster (as least, the roster at the time of the game's release - go play as Kenny Omega!), or the upcoming RetroMania Wrestling, which is taking the gameplay style of the original WWE WrestleFest arcade game, and updating it with both current non-WWE stars (like Zack Sabre, Jr. and Colt Cabana) and legends (Tommy Dreamer and The Road Warriors, for example).
We thought it would be fun to take a look at some of the non-WWE games of the past that you may have forgotten about. Some of them are.... OK. Others are... way less than OK. But all of them are interesting. But before we get to those, we do have to make mention of...
---
Honorable Mention: WWE Crush Hour
We obviously couldn't include this on the list, as it's both a WWE game and not actually a wrestling game. But, man, this game is just awesome.
Set in the not-too-distant future (probably Next Sunday A.D.), WWE Crush Hour is a car combat game in the vein of Twisted Metal, where WWE Superstars try to murder each other in cars equipped with cannons and machine guns and stuff.
While the concept is just ridiculous (along with the concept of Vince McMahon owning every TV network in the world, which is what the game's plot is centered around - and, yes, it has a plot), the actual gameplay is a lot of fun. The vehicles actually control really well, the audio is well done - there's even commentary by Jim Ross and Jerry Lawler - and each wrestler is very well represented with each car.
I'm not suggesting you run out and find a copy - which was only released on PlayStation 2 and Nintendo GameCube - right now. But, if you get the chance to play it, don't pass it up. It's a lot of fun.
Have you played WWE Crush Hour? Share your memories in the comments below.
Now, on to the actual list...
#5 Rumble Roses
Rumble Roses was a wrestling video game released by Konami - the same company behind both the Castlevania and Metal Gear Solid games) - and developed by Yuke's (which are the studio behind the current WWE 2K games).
It's an original IP, with all female wrestlers, each of them fully developed (as characters, get your mind out the gutter). Thus the name Rumble Roses.
The exploitative nature of the body physics aside, they're well done, especially for the PS2. As far as the story... look, here's the summary from Wikipedia:
A mad scientist disguised as a nurse holds an international women's wrestling tournament, and brainwashes and takes DNA samples from the participants to create super soldiers.
Another interesting feature of this game - and something I'd love to see a WWE 2K game try to implement - is that each character has two versions: "face" and "heel".
The game was successful enough that it received a sequel, Rumble Roses XX, exclusively on the Xbox 360, and that was the last we heard of it.
Women's pro wrestling? Awesome. This game? Well.... I mean, it plays well, but it's kind of hard to defend it. It's not over-the-top offensive and, in some ways, it has its charm. But, it's hard to call this game and its cast of characters "empowering". Well, and to be taken seriously at the same time.
If you get a chance to play either of the titles, go for it, but don't say we didn't a warn you.
Have you played Rumble Roses? Tell us what you think in the comments.
#4 The Simpsons Wrestling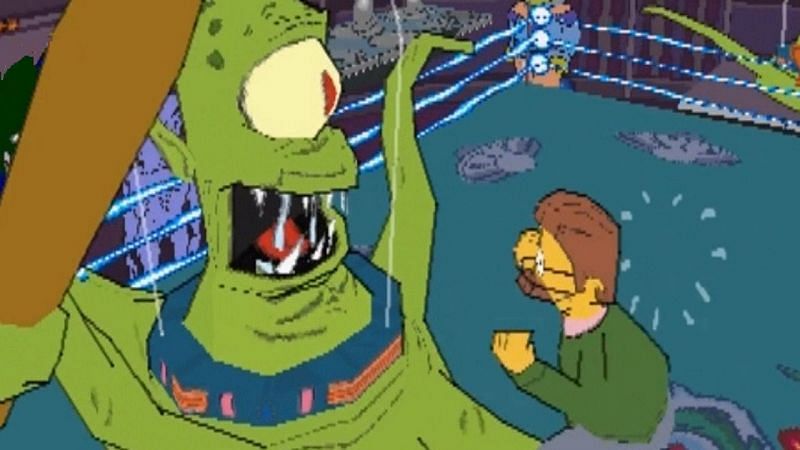 looks cool...
Oh, man. I am so sorry.
The title of this article is 5 non-WWE video game you forgot about. That includes games you forgot about on purpose.
Released only on the original PlayStation, The Simpsons Wrestling was essentially a fighting game set in a wrestling ring, featuring characters from... well, you know where they're from. It was 2001, when everything Simpsons was still a gold mine when it came to licensing.
Insert the Yogurt/"merchandising" scene from Spaceballs here.
The controls were awful, the graphics were garbage, and, worst of all, it just wasn't fun. In its defense, it had original voice work from the actual cast of the show. And there were plenty of Simpsons cameos and Easter Eggs throughout.
But, in general, this and Simpsons Skateboarding are both regarded as some of the worst games of all time. It actually controls better than Skateboarding, but that's like saying something controls better than sitting, drunk, on the back of an angry bull, a bull which is also drunk.
I'm also afraid to tell you that the rest of the games on this list really aren't that much better.
Did you play Simpsons Wrestling back in the day? Are we being a little too harsh on it? Let us know in the comments section down there.
#3 Pro Wrestling (Sega Master System)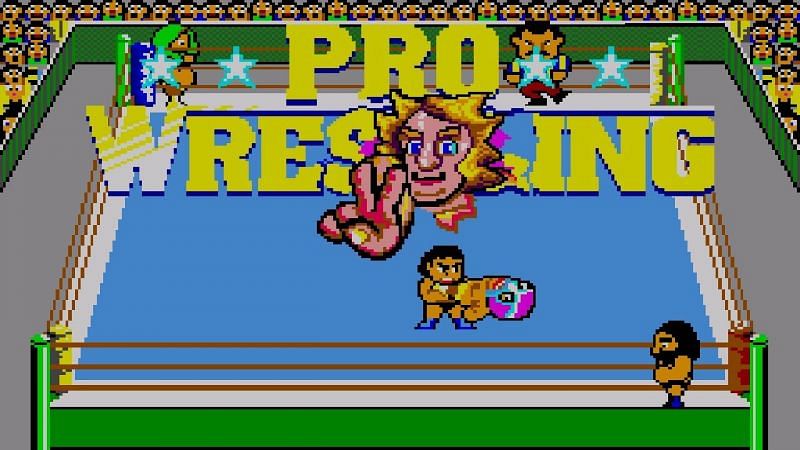 In 1986, a pro wrestling game - in fact, simply titled Pro Wrestling was released on an 8-bit system that, despite its technical limitations, managed to capture the spirit and the fun of the sport. It had a cast of original, colorful characters, yet also referenced wrestling stars of the day in both America and Japan. It received critical acclaimed and is still regarded as a fun game to this day.
This is not that game.
Pro Wrestling for the Sega Master System also came out in 1986. Like all the original titles for the system when it released, Sega went with original artwork for the cover, as opposed to images from the game itself.
Sega's Pro Wrestling was actually a tag team wrestling game, and gave players the option of playing as one of four different teams: the Crush Brothers, the Orient Express (not the WWF version), the Great Soldiers, and the Great Maskmen. In order to win the championships - basically beating the game - your team had to survive through ten rounds of matches.
Interestingly enough, the Japanese version of the game was similar to Rumble Roses, in that the teams were all replaced with female wrestlers. And there were actual wrestlers, like Bull Nakano and the Jumping Bomb Angels. Otherwise, though, both games were basically the exact same.
Also, there was a secret mode that let you wrestle aliens. So, that's weird.
Did you play this game back in the day? Please tell us how you survived in the comments section.
Our next game was actually based on a movie about pro wrestling. But maybe one you aren't thinking of.
#2 Nacho Libre (Nintendo 3DS)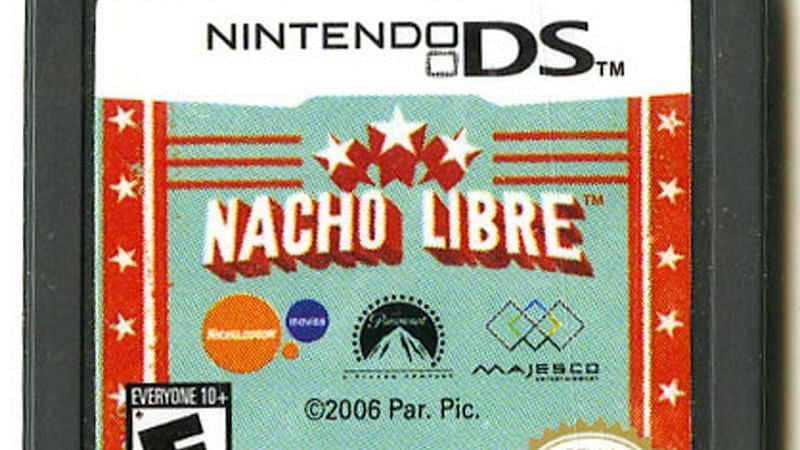 In 2006, the director of Napoleon Dynamite, Jared Hess, released a movie starring Jack Black (High Fidelity, School of Rock) about a Mexican priest who secretly performed as a pro wrestler in order to raise money to save an orphanage.
It's actually a really fun movie. Go check it out if you haven't.
That same year, Budcat Creations developed a Nintendo 3DS game based on the movie, released by Majesco. It contained 18 different wrestlers that were featured in the movie and also had two extra.
It also had a really interesting art style. Here, check it out.
There's a single-player story mode that basically follows the plot of the film. But, there's also a number of other modes, like tag team and even multiplayer matches. There's also a number of arenas to wrestle in, most of them from the finished film, but a couple that are actually from scenes deleted from the movie - like a pig pen, for example.
Oh, don't act like you've never wanted to play a wrestling game set in a pig pen. Stop lying.
It didn't get the best reviews and it wasn't great, but for what it was, it was a fun little game. It's art style and sense of humor served it well, and it was a nice compliment to a nice little movie.
Have you ever played the 3DS Nacho Libre game? What did you think of it? Share your memories of it in the comments down there.
Well, folks. We're at the last one. And it's a doozy....
#1 Hulk Hogan's Main Event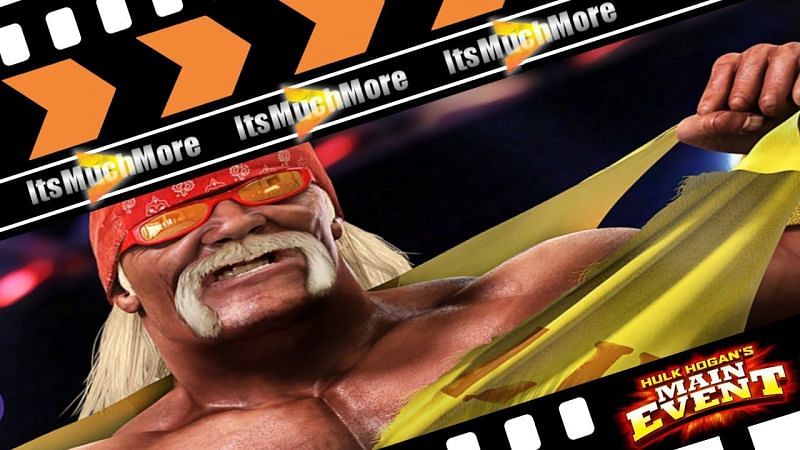 In 2006, Nintendo launched the Wii, a game system that focused on motion controls, using a controller that looked like this.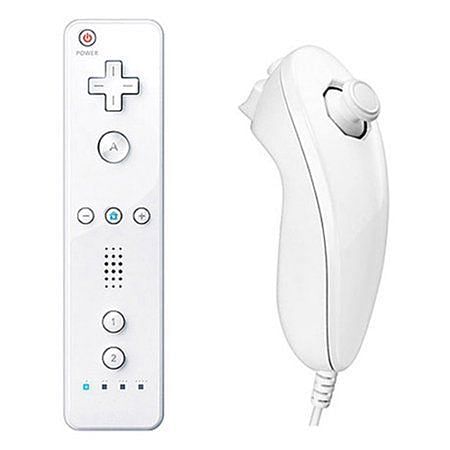 Well, after Nintendo sold 8 quintillion units of this system, Microsoft got the bright idea to do away with the controller altogether. I mean, not permanently, just for some games. It was a sensor and camera-based device called the Kinect, where players controlled games based on actual body movement.
Their tagline was "You are the controller!" to which gamers everywhere replied "Really? Do I have to be? What's wrong with this one?"
And then WWE Hall of Famer Hulk Hogan saw that and said "let's make a wrestling game using that!"
That's not an exact quote. But that's essentially probably what happened. And then he probably said "Brother!" or "Jack!" or "Dude!"
The result was Hulk Hogan's Main Event for the Xbox 360.
It's kind of difficult to explain just how this game works, other than it has you perform gestures that your on-screen wrestler translates into wrestling moves against your virtual opponent. Or, at least, it's supposed to. This is the Kinect we're talking about, after all.
But, let's let the guys from Wrestling With Wregret demonstrate it better than we could ever describe it.
To be fair, it's an interesting concept for a game, especially if the Kinect had actually panned out as a concept. But, it didn't. It was terrible. Which is part of the reason why there was never a Hulk Hogan's Main Event 2.
Brother.
Did you play this one when it first came out? Are you glad you didn't. Are you exhausted just thinking about it? Head to the comments section and say something snarky!
What other wrestling games do you remember? Any games you'd like me to cover in the future? How many fish can you name? All these questions and more... should be directed to the comments. See you next time!