Triple H is one of the biggest stars in WWE history, as evidenced by the fact he recently celebrated 25 years with the company.
The former 14-time World Champion, Royal Rumble winner and Hall of Famer has ensured he'll long be remembered by fans all around the world once he finally steps away from the industry.
While The Game has been one of the most prominent performers in the squared circle during that quarter-century period, he's also transitioned into a high-profile role behind the scenes, meaning his impact will still likely be felt for years to come.
His career hasn't always been full of highs, mind you - that's the case with almost any Superstar you could care to mention. From serious injuries to forgettable storylines, Triple H hasn't always been carrying gold and featuring in the main event of WrestleMania.
As ever, WWE's cameras have been there every step of the way during his incredible journey.
It's no surprise, then, that there are a handful of photos the man himself might just prefer you didn't see. Here are five of them.
---
#5. The Hog Pen Match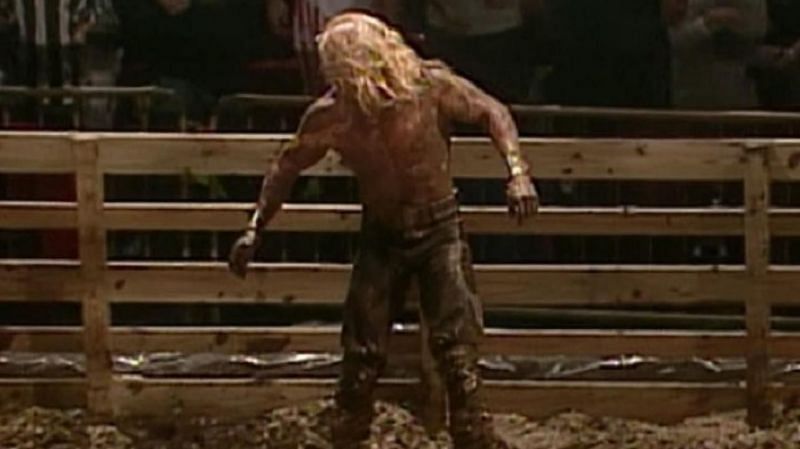 Back in December 1995, Triple H was still very much in the formative years of what would become an iconic WWE career. At the time of the company's In Your House 5 event, he was in a feud with Henry Godwin.
It was a rivalry that provided the perfect contrast in personalities - the purist, elitist Triple H having to tangle with a muddy hog farmer - and in a Hog Pen no less. Having been able to backdrop his opponent into the Hog Pen, Triple H actually managed to win the match. He wouldn't be left feeling like a victor for long, however, after a post-match attack saw him dropped straight in the slop, covered in...well, goodness knows what.
#4 Double Denim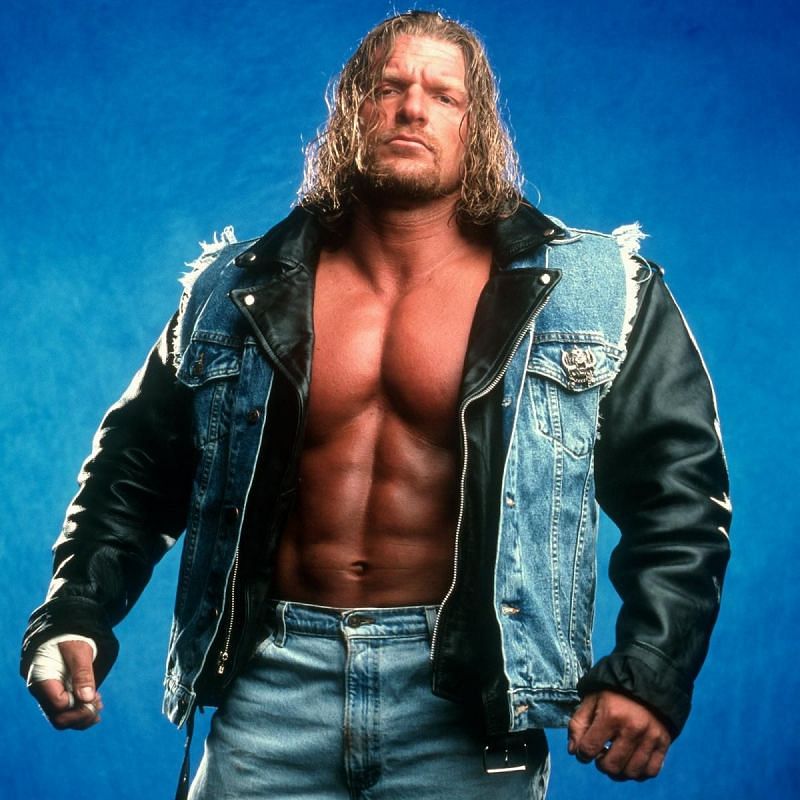 Given his record as the Cerebral Assassin and one of the most feared and respected WWE Superstars of all time, it's not likely that Triple H is going to pay too much attention to our opinion on his attire from decades ago. That's just as well because we wouldn't want to be at the end of a Pedigree or a sledgehammer shot!
That said, there are many that, if they were in Triple H's shoes, would likely cringe at the sight of double denim. After all, Wiktionary defines it as being "often regarded as a fashion faux pas...".
Here, in what resembles the Triple H of the early 2000s, the former WWE Champion quite angrily poses for a promotional shot and, again, we wouldn't want to be the ones to tell him it perhaps doesn't work as well here in 2020 as it did a couple of decades ago.
In his defense, if anyone is going to pull off the double denim look, it's probably him.
#3 Mr. Olympia interview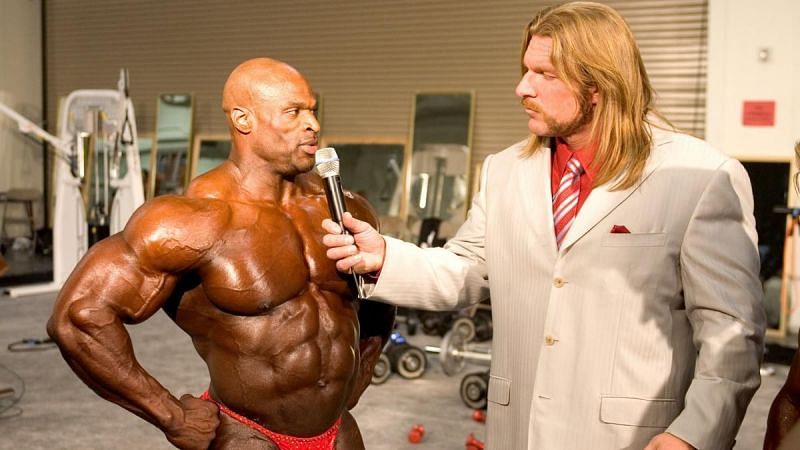 For over 50 years, the Mr. Olympia competition has been one of the pinnacles of the bodybuilding world. The title of Mr. Olympia, for those that may not be aware, is bestowed on the winner of the bodybuilding contest held annually by the IFBB. Its history dates back to the 1960s.
It's hard to be able to accurately date this photo of Triple H conducting some interviews at the Mr. Olympia event, but it appears to be around the 2010s. There's so much we like about it, not least the rather bold, striking choice of ensemble for The Game, who is sporting a red shirt, red and white tie and a cream jacket; quite the combination.
What's really great is that it is a rare shot of Triple H playing a subordinate role. In WWE, he's the main man, and rightly so. However, as a guest, purely with a cameo role compared to the more prominent stars, he just doesn't seem to fit quite as well.
Not too sure he'll be relegated to backstage interviewing duties in WWE any time soon.
#2. A kiss for Stone Cold!?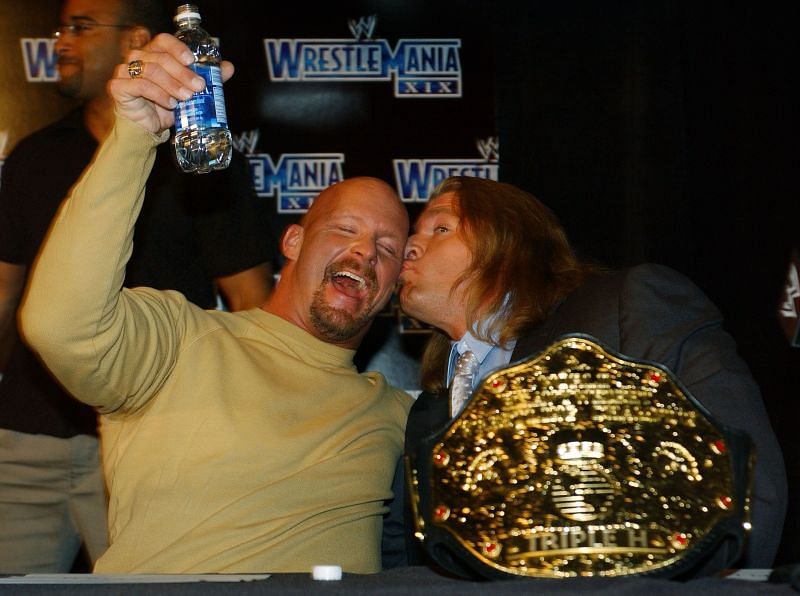 We've spoken before in our photo compilations about professional wrestlers and their need, even in this day and age, to maintain kayfabe - the illusion that what fans see by way of storylines and characters is, in fact, real life.
We've come across numerous examples of photos breaching that very code, and there's another belter for you right here. There's no man more protective of his character's bravado than Stone Cold Steve Austin - so how on-screen Austin feels about this snap of Triple H plonking a wet one right on his cheek is anyone's guess, and it's likely The Game isn't too fond of it either.
Nonetheless, here it is for our relative enjoyment. The photo was taken ahead of WrestleMania 19, where Austin was beaten by The Rock and Triple H defeated Booker T. It's a candid and fun photo that shows the two men - kayfabe or otherwise - letting their hair down in a rare moment relative relaxation.
Pucker up, guys!
#5. A Blueblood throwback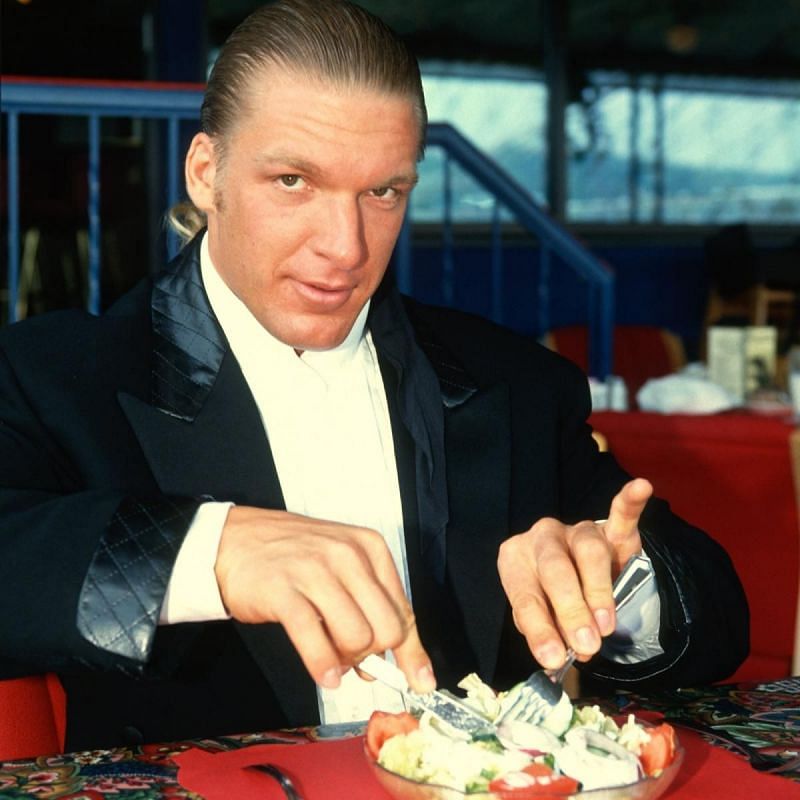 We end our collective of cringe-worthy snaps of the iconic Triple H by throwing this way back to his WWE debut - with this snap taken even before the man himself was being thrown into pig muck by Henry Godwin (see the first slide).
When we think of Triple H, we think of someone who oozes intensity in everything he does - yet that couldn't have been further from the truth when he first made his name with the company. As you can see, the above photo hardly screams intensity, does it?
He made his debut in April 1995 and, before that, he'd been staring in scathing promotional videos that cast him as a 'Connecticut Blueblood.' As the photo shows, doing even something as basic as holding a knife and fork to eat was beneath this version of Triple H, who presumably would rather pay someone to feed him!
He was so far above and so much better than anyone and anything in WWE, it was if he lowered himself to the level of the great unwashed just by entering arenas. The gimmick worked, and fans loved seeing this heel get his comeuppance.
A former WWE writer thinks Bronson Reed's push could be in jeopardy here.