#3 Brock Lesnar has confronted WWE Chairman Vince McMahon more than once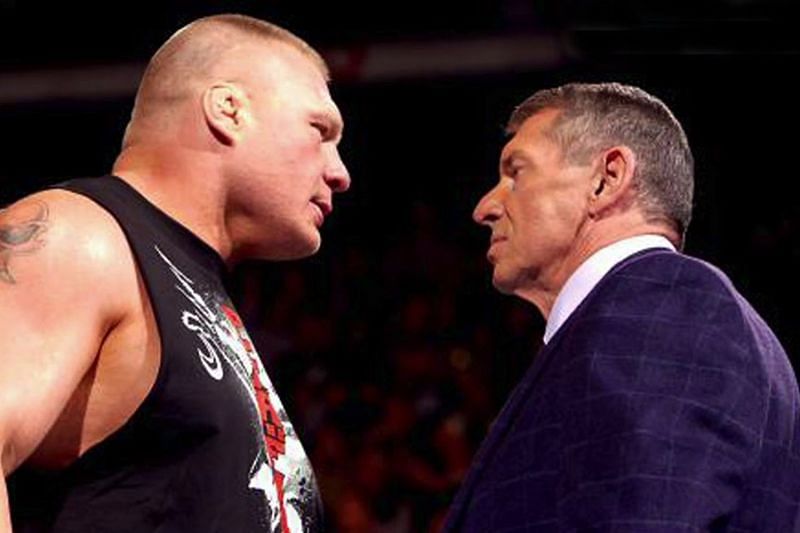 Brock Lesnar has been a mainstream WWE talent for years, even though he isn't signed to the company as of this writing.
With huge fame comes huge controversies and Lesnar has been in the headlines for them, more than once. Unlike many WWE Superstars, Lesnar has barely suffered the consequences of his confrontations with Vince McMahon.
One such confrontation occurred before WrestleMania 31. Lesnar reportedly walked out of Monday Night RAW on February 23, 2015, after having a "shouting match" with McMahon. Professional wrestling legend Arn Anderson was a WWE producer at the time. He revealed that The Beast wanted the best deal - between WWE and UFC - for himself during that period. Arn even credited Brock for being a smart businessman in that context.
Several years later, Lesnar confronted McMahon after the main event of WWE WrestleMania 34. He had just defeated Roman Reigns to retain his WWE Universal Championship. After a successful title defense, The Beast Incarnate went backstage and launched the belt towards McMahon. The latter shouted back some expletives.
Although their backstage confrontation at WrestleMania 34 was short, the situation became intense for everyone present around the two.
Brock Lesnar and Vince McMahon's business relationship wasn't deterred by the aforementioned incidents. The Beast Incarnate went on to perform at WrestleMania 35 and 36 to put over stars like Seth Rollins and Drew McIntyre.
Braun Strowman reveals the greatest talker in history here
Edited by John Cunningham