A tribute to the 'Brahma Bull' – The Rock turns 43
3.40K //
02 May 2015, 12:21 IST
Call him 'The People's Champ', 'The Brahma Bull', 'The Blue Chipper', 'The Great One' or 'The Most Electrifying Man in all of Entertainment'- It doesn't matter how you refer to him! Dwayne 'The Rock' Johnson is undoubtedly one of the most versatile WWE superstars in the history of the company. He is an actor, a producer, a national level footballer and a highly acclaimed WWE superstar. This article is a tribute to 'The Rock' as he turns 43 today.
Early life and WWE debut:
Johnson was born in Hayward, California on 2nd May 1972. He was born into a wrestling family – his father Rocky Johnson and grandfather Peter Mavia both being professional wrestlers. Rock completed his schooling in President William McKinley High School in Honolulu, Hawaii and later graduated from Miami in 1995, with a Bachelor of General Studies degree in criminology and physiology. From his early days in school, Rock involved actively in Track and Field activities, Football and Wrestling at the respective levels of his education.
Rock's journey in WWE began at Survivor Series in November 1996, in an eight-man elimination tag match. He was the first ever third-generation superstar in WWE history. His debut was remarkable as he was the sole survivor in the match. Rock won his first IC Championship title in 1997 against HHH. In his initial days in the WWE, chants of "Die, Rocky, die!" and "Rocky sucks!" were common during his matches. But in the days that followed, Rock became the largest sporting icon, the WWE industry has ever seen.
Climbing the WWE ladder and first WWE Championship win:
Rock defended his IC title on a few occasions and faced opponents like Bret Hart, HHH, The Sultan and later, Rock along with Faarooq, D'Lo Brown, and Kama, he formed a stable called 'The Nation of Domination'. On November 15, 1998, The Rock entered the Deadly Game Tournament at Survivors Series and outlasts 13 Superstars to clinch his first ever WWE title in his wresting career.
On March 28, 1999, The Rock faced Stone Cold for the WWE Championship, one of the intense rivalries back then, at WrestleMania XV and became the first superstar in the history to kick out of a Stunner. These two men put on a great fight but Stone Cold emerged victorious at the end of the night. In the later years, these two men were involved in numerous brawls and built interesting story lines.
Greatest Career Accomplishments:
Let us have a look at few of Rock's career accomplishments in the WWE
The Rock won the 'Match of the Year' award twice in 1999 and 2002 and his opponents were Mankind and Hulk Hogan.
'Most Popular Wrestler of the Year' in 1999 and 2000, 'Wrestler of the Year' for 2000.
PWI ranked him 2 of the top 500 best singles wrestlers of 2000 in the PWI 500.
Won the Slammy Award 8 times.
Championship reigns- WCW/World Championship (2 times), WWF/E Championship (8 times), WWF Intercontinental Championship (2 times), WWE Tag Team Championship (5 times).
Winner of the 'Royal Rumble' match in 2000.
Johnson co-wrote an autobiography with Joe Layden, titled The Rock Says.... It was published in 2000, debuting at No. 1 on The New York Times Best Seller list and remaining on the list for several weeks.
WWE Aftermath and Film life:
On March 14, 2004, The Rock and Mankind, as the Rock 'n' Sock Connection, lose to Evolution in what is heretofore known as The Rock's last match. After WrestleMania XX, Rock left WWE to focus on his acting career. On May 4, 2001, The Rock's first movie—The Mummy Returns—is released, and officially launches his acting career. When I say 'Scorpion King'- You know what I am talking about!
Rock accrued a lot of fame as an actor and he featured in some great movies like- G.I. Joe 2, Pain & Gain, Fast Five, Faster, Hercules, Furious 7 and San Andreas.
Here is a look at the accomplishments of Rock in his acting career. He was nominated for numerous awards and won a few of them.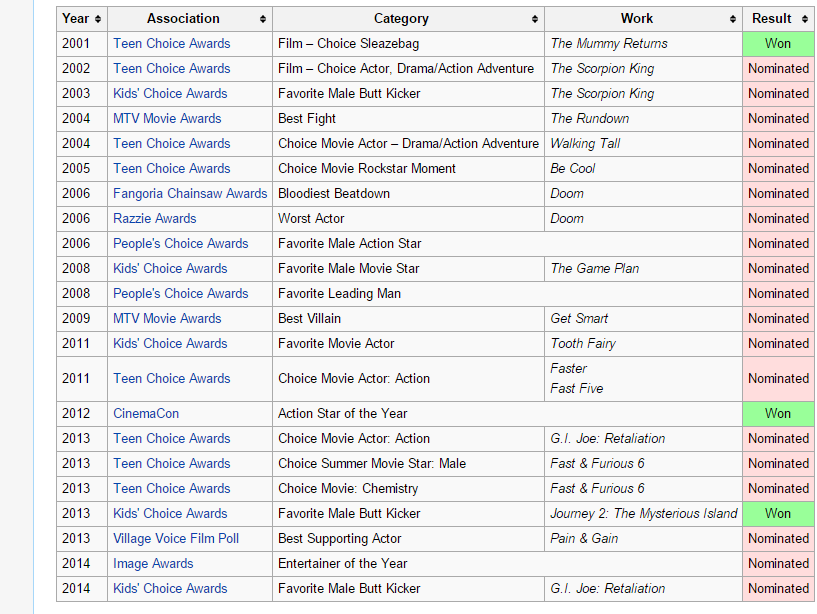 Occasional WWE appearances and Rock's catch phrases:
The Rock makes some occasional appearances in the WWE ring. After a gap of 7 long years, he came back in 2011 to host WrestleMania XXVII. In a 20-minute promo, he calls out John Cena, setting the stage for the greatest showdown in WWE history. He faced Cena in WrestleMania 28 and WrestleMania 29.
The Rock kicked-off WrestleMania 30, along with Hogan and Austin. The Rock once again returns to confront Rusev and Lana. He appeared in the 2015 Royal Rumble, in the closing events of the PPV, to save Reigns from the assault of Show and Kane. Recently, he made a surprise appearance at WrestleMania 31 and teamed up with Ronda Rousey to take care of Stephanie.
Now, it's never too late to recall Rock's catch phrases. Let us have a look at some of them.
BootsToA**es
Finally…The Rock Has Come Back to
If You Smell What The Rock Is Cooking
It Doesn't Matter
Know Your Role And Shut Your Mouth
Just Bring It
Kung Pao Bit**
Lay The SmackDown
The Millions (AND MILLIONS)
The Most Electrifying Man In Sports Entertainment
The People's Eyebrow
Take Object A. Shine it up real nice. Stick it straight up your candy ass
Who In The Blue Hell Are You?
Yabba Dabba Bitch
So, it's time to wish 'The jabroni beating, Pie eating, eye-brow raising great one' a very 'Happy Birthday!'