Following the loss of his WWE World Heavyweight Championship, the "Phenomenal One" AJ Styles participated in a press conference with members of the media from all around the world.
Featured below is a complete transcript of the conversation, with Styles fielding questions about his loss to Wyatt, his WWE debut at last year's Royal Rumble pay-per-view, his mindset stepping onto the grand stage of WrestleMania for only the second time in his veteran career, and much more.
Your reaction to the Elimination Chamber match:
I think my first reaction was pain. I think that had a lot to do with that match. At the end of the day, the better performer won in that case, and that was Bray Wyatt. The great thing about losing a championship, in my case is I have yet to receive a rematch clause for my WWE Championship. It looks like I'm gonna get that with Bray Wyatt instead of John Cena.
Any favoured opponent for WrestleMania?
It doesn't really matter who my opponent is at WrestleMania. I would say that the fact that it's WrestleMania, it doesn't matter who it is. WrestleMania is one of the biggest events in the world, and I can't wait to be a part of it. It's my second one, so it's not like it's getting old to me, that's for sure.
Is there anyone in WWE that you're looking forward to facing?
There are a lot. I've only been here a year, and half of that year has been on the Smackdown roster. I would say there's definitely some Raw guys, but there is one particular guy I have yet to lay hands down on Smackdown, and that would be Randy Orton. We're going to have to lock it up before one of us gets out of this business, and I'm sure it won't be long before Randy and I lock up in the ring.
Has WWE opened the door for you?
WWE has definitely opened the door to performing, and not doing it just in front of a couple of people. Not just in a particular country, but literally all over the world. The best place to be right now is in the WWE, there's no doubt about that. I've never seen so many fans all over the world, responding on Instagram, Twitter – it's just amazing. The great about the WWE is, if you want to get your name out there, this is the place to do it, and this is the place to make a name for yourself.
What is like to perform in main events at this stage of your career?
The thing about me is, I've got one gear. It's either all or nothing with me, and I can't turn it off. Once it's on, it's go time. The thing that worries me the most is that someone won't be entertained by what I do, so maybe sometimes I go a little overboard and beat myself up a little bit. The main thing is, when these people spend their hard-earned money to see AJ Styles, they get their money's worth. I'll put my body through whatever I need to to make sure they're entertained.
Is there any difference between the main event in WWE, and the ones you've done before in TNA or New Japan?
The calibre of talent is there everywhere, but the exposure to the world is only with WWE. When you're in the main event in WWE, it's much bigger than anywhere else because it's WWE – it's shown all over the world. I would say the talent that I've been in the ring with here is second to none. They are just unbelievable, and that's why they've been able to put so many great matches together.
What is your mentality like? Is it always goal-oriented, or is it your goal to headline WrestleMania or win a Royal Rumble?
Of course, I want to headline WrestleMania, but that isn't what keeps me going. I just want to be the best at what I do, that's really what gets me going every day. How can I be better today than I was yesterday? WWE gives me the platform to do that.
When can we expect you to hold the title again?
As soon as I get the opportunity, you can expect me to get the title back.
WrestleMania 33 will be the second time you've performed at the WWE's biggest event. What are your goals?
Literally to entertain. That's my job, and that's what I want to do better than anybody. WrestleMania is such a huge event, to have that platform, to showcase what you're made of, what you can do inside and outside of that ring. That's what I'm most excited about. This only being my second time at WrestleMania, something I didn't think would ever happen, it's pretty exciting.
Could you give Shaq some advice heading into his match with Big Show at WrestleMania?
From what I've seen from the Big Show, the guy is definitely in shape and ready for Shaquille O'Neal. Now Shaquille O'Neal is definitely an athlete all on his own, he is a massive mountain of a man, just like the Big Show is. It's hard to give advice to a man the size of Big Show because I've never been in that position before. I would say cardio could be a win in this match because the bigger you are the more winded you get. Whoever has the best cardio will win the match – that's my prediction anyway.
How are you feeling coming out of Elimination Chamber?
It would be a lie if I didn't say I wasn't beat up. I'm definitely a little beat up, but that doesn't mean I can't perform on tonight's show. I'm gonna get after it like I always do. That's what we all have to do when we're in matches like this. Is it what it is, the Elimination Chamber, one of the most brutal matches so I expect to be little sore afterwords.
Could you describe your experience with WrestleMania 32?
You just don't realise how big WrestleMania is until you're a part of it. Being at the biggest WrestleMania ever was mind-blowing and exciting, all at the same time. I didn't think I would ever have the opportunity to wrestle at WrestleMania, so it's one of those things where I finally had my WrestleMania moment, which I thought I would never have. Certainly, it was exciting, and it was almost too much to take in. The next night I had to sit down and go, 'wow, I just did WrestleMania. I am definitely a WWE Superstar.' It was a great moment in my career, for sure.
How did it feel being the champion of WWE? Did you feel like you accomplished the pinnacle of your career?
I don't know that I've reached the pinnacle. I've really enjoyed being the WWE Champion, but the only problem with being the champion is you get a target on your back. Now that I've lost that belt, I want it back. I want every championship that I can get my hands on. One of the biggest moments has got to be when you get the opportunity to headline WrestleMania, and it's a big one. It may or may not be one of those things that happen, but it gives me something to work for.
How do you feel about Japanese WWE Superstars?
I can't wait for Shinsuke Nakamura to move up from NXT to the main roster. I know he's a talent that is definitely going to be one of the biggest in the world. I knew that years ago. It's exciting, all the new things that are coming Smackdown and Raw's way, with the Japanese stars like Shinsuke, and others.
Do you prefer physical matches like the Elimination Chamber, or tradition one-on-one matches?
If I had to pick I definitely wouldn't be in a cage, and be thrown against steel chains, and be thrown off the top of things. But that's just a part of the entertainment business that we're in. The fact of the matter is if you put me in something like that it creates an opportunity for me to show what I can do not only in the squared circle but outside of it like in a crazy match like the Elimination Chamber. I enjoy being able to challenge myself. I thought I did a pretty good job last night, the results were painful, but if I had to pick one I think I'd rather be in a one-on-one match. I think that's what I'm best at.
Are there any other specialty type matches you want to try while in WWE?
I've basically been in a ladder match at the TLC, which also includes tables and chairs. Then we did the Elimination Chamber, so I don't know what else we have left to do as far as being different. It's crazy to think I've been in every match that can be different. Falls Count Anywhere I believe is what Roman and I had. I can't remember, it was so long ago. But I've been in a lot of different matches since I've been here in a year. Don't get me wrong, I thought those were really great matches, but I'm very used to just staying in the ring one-on-one without falling through a table or being thrown over something.
For Valentine's Day, does AJ Styles have any advice to impress their partners?
When you see your significant other, like when I see my wife, sometimes I don't tell her what I feel when I'm feeling it. And that's the most important thing when you look into her eyes – right into her eyes, that's a big deal – you have to tell them how you feel, even if it's the smallest things. You gotta notice the things nobody else will, that way they know that you notice them.
In terms of WrestleMania, can you describe that feeling when you hit the curtain and there's 100,000 people in the venue?
It's hard to explain. There's a reason why so many other Superstars have done this for so long. It's because of that feeling that you get when you walk through the curtain. It's the same reason why athletes play past their prime. It's hard to get over hundreds of thousands of people cheering for you, or booing you. I can't put it into words. When you look and all you see is a sea of people, there's no way to describe that feeling when you're walking down, and they're hoping to see something great from you.
Will WrestleMania feel any different on your second time?
I think it's going to feel a lot different. I'm not sure how many they hold in Orlando, but I'm pretty sure it's not 100,000 people. This one will be outside, it will be in a stadium, so that's a different feeling altogether. I don't really know what to expect, to be honest with you, but I'm anxious to find out.
Does WrestleMania being in Orlando, where you have a connection because of TNA, does that make it more special for you?
I definitely have some fans in Orlando, evident of the Royal Rumble where I made my debut. There are a couple AJ Styles fans down there, so I should feel right at home.
Will you have a lot of family down in Orlando to cheer you on?
I will have my family. They definitely will come down and see their dad in action, just like they did last year. I'm excited to have them with me and to spend time with them.
Is it difficult to counter fans cheering you, when you're playing heel?
Sometimes you just gotta go with the flow. My job is to be whatever they tell me to be as AJ Styles. Sometimes it doesn't work exactly the way that you want it to because sometimes the fans decide for you. It's not the first time they've acted like this with certain guys, and it's flattering, to be honest with you. No matter what I say or do, sometimes I can't get them to boo me. But at the same time, I do my best and I'm happy to get a response whether it be bad or good.
Do you ever worry about your kids watching if you're going to have a super bloody match?
We don't have to worry about the blades anymore. The worst injury I've had here [at WWE] was when I went through a chair and it tore my butt. You got to see a little bit of the butt cheek of AJ Styles, and a bloody one at that. This is what they've known their whole life. They don't know of their father doing anything than what I've been doing, so they're quite used to it. The only one whose not really comfortable with seeing dad get thrown around is my daughter, who is two. She doesn't like it when her brothers fight, so you can understand how she must feel when she sees her daddy out there fighting.
That's a pretty cool job for their dad to have, isn't it?
You would think that, but the fact of the matter is this is all they've ever known, so it's like 'eh, my dad's a wrestler.'
What was bigger: walking out onto the WWE stage for the first time, or the WrestleMania stage for the first time?
Different emotions. I would say the scariest, most nervous, excited moment was definitely my debut in the Royal Rumble, not knowing if the WWE Universe knew who I was, or if they cared. Having that emotion, and then hearing the way they reacted was a totally different emotion. I was very emotional on my debut, and it turned out to be one of the best moments of my career.
Continued on page 2.
What do you think of Kurt Angle wanting to face you?
I would love to get in the ring with Kurt Angle again. Whether or not that will ever happen, who knows. I'm very excited that he's in the WWE Hall of Fame. I know how much this means to him, and it's a big deal. Even when we were with a different company, he still talked about WWE so I know this is a big deal to Kurt Angle, and I'm very happy for him. And as far as other performers, I would love to have gotten into the ring with a bunch of them. But you know, that's not gonna happen. I would certainly have been able to learn from some of them. And there are tonnes of them; too many to name. For me it's not just the fact of getting in the ring with them, it's about learning from them.
Is there anyone on the current NJPW roster that you would like to see in NXT or WWE?
I was very familiar with the New Japan roster, so there's a lot of guys I would like to see come over. But some of them are honestly a better fit for where they are. Despite me leaving there, there were no bad terms and what not. It's a great place, and there's a lot of great talent over there. That roster could come to WWE and do well, but they're very loyal, and I respect that. Some of them were just made – and I'm talking about Americans too – made to wrestle in Japan, and wrestler for New Japan.
When will see the Fosbury Flop make its debut in WWE?
Well, I can tell you I'm no spring chicken anymore. The vertical's not as great as I'd like it to be, and the ropes are a little bit higher here. I haven't done it in years, so it may have been retired, as unfortunate as that is. But then again, who knows? I may get a little crazy one night, feel it coming and do something terrible. Never say never.
What has contributed to AJ Styles being the number one most over star of 2016?
I think it's something new in the WWE. I think that I've grown, just being in the company, and it's in a good way. Despite that I've been on television for a lot of my career, the WWE is just another animal. They see something fresh, the fact that I'm now in my late 30s; it's special.
What are you doing differently than the other Superstars on the roster?
My thing has always been to do my own thing. Don't be like anybody else. I don't want to be like Shawn Michaels or some of these other Superstars. I want to be the first AJ Styles, and be as different as I can be. There are things that can make me a little bit different than everyone else and that's what I try to do. When it comes to my moves, when you see me a do a move you're not thinking of anyone else, you're thinking of AJ Styles and that's very important to me.
Is there anyone in history that you would most like to have a dream match with?
In this business, it's never about what I want. It's what the fans want. I don't want to have my dream match, I want to have their dream match. From Shawn Michaels to Andre the Giant, there are so many different guys. At the same time that's flattering, because they're anxious to see how many different things can be done with so many different people. I'm all about challenges, and that would be one. Being in the ring with so many different types of opponent is a good thing.
What are your first impressions of India, and would you like to come here?
It would be great! That's what WWE is about, is getting to the world. We want to get to the world, and India is a part of that; I huge part of that, as a matter of fact. I would love to have the opportunity for us to come over, and put on some shows for you guys. I think it would be great.
What is your all-time favourite celebrity moment from WrestleMania?
Wow! You gotta understand that Cyndi Lauper was a big deal back in the day. And I'm not the youngest guy on the roster, so I actually remember this. I don't remember much about the match, but I remember Cyndi Lapuer being there. As crazy as that sounds. Also, there was an American football player named Refridgerator Perry, who was a huge name in American football, so that was cool to me. He was in the Royal Rumble – I think that was the Royal Rumble – but that was a pretty cool moment.
How do you adapt your training outside of the ring to make it different from that done by other wrestlers?
Like I said before, my thing is always being different. I don't want to do anything that anyone else does. That's why you see me, instead of doing a running tope through the ropes, I do a spring-over forearm. Little things like that, to make my stuff different than anybody else. I don't know how many other guys do a jump-over-the-top-rope strike, but that makes me different. It's one thing I'll always do when it comes to high-flying and whatnot is try to make mine different than everyone else.
How do you make sure you're performing at your best in an environment like WrestleMania?
Whether there's a hundred thousand people or five thousand people, I have a job to do. Regardless of how many people are there, I'm going to do it to the best of my abilities. Once I step through the curtain, once I walk down and I step into that ring, nothing matters anymore – just the person in front of me. That always keeps me on my toes. You don't notice anything else really, once you start. That's a good thing.
What advice would you give to the Chinese trainees to help them?
You're definitely in the best place to learn your craft. It takes a lot to learn how to get to the level of a WWE Superstar, and it's not an easy journey to go on. Keep pushing, keep working hard; good things happen to good people. You gotta appreciate what you're doing in there. And the fact that you're learning from some of the absolute best, and having the best equipment to get you in shape, to maintain the rigorous falling down and whatnot that it takes to be a WWE Superstar. Know that you got the best opportunities at the Performance Center. Then you have NXT, and ultimately the WWE main roster.
How do you feel about John Cena after facing him in WWE?
Regardless of what anyone else thinks about John Cena, I respect him. They can boo him or say he sucks; the guy is one of the hardest workers in the WWE. He's been here on top for a long time, and there's no way he can do that without being one of the toughest, one of the best, and one of the most experienced guys in the business. John Cena has earned my respect, and that's why we've had incredible matches.
Did you change your style training for New Japan?
My style hasn't changed whatsoever. None. I've been the AJ Styles in Japan, that's the same AJ Styles you see in WWE. Nothing has changed. Which is why maybe I'm one of the most Google'd guys in 2016. My styles a little bit different from everybody else, including in Japan, therefore why change it? It definitely worked out for me.
Did you manage to get your Xbox back after your luggage was stolen?
I did not. I don't think that's ever going to happen, and it made me very angry. This is the world that we live in, that nobody wants to be a hero anymore. You got thieves out there, and people thinking that's cool, wanting to do certain things like this. They think we're a bunch of Superstars over here, and we're all billionaires, which is absolutely not true. We basically have to scratch, crawl to earn money just like everybody else. But unfortunately, like I said before, there are not as many heroes in this world as we'd like.
What's your favourite match from WrestleMania?
When Seth Rollins cashed in his Money in the Bank, that was a pretty big moment. To see a guy that I wrestled so many years on an indie show, and to see him get the WWE Championship is pretty amazing.
Do you think we need more shock and surprises in WWE?
Absolutely. WWE right now is like, there are so many things on the internet that shouldn't be. That really bothers me. That hurts surprises, that hurts a lot of things. Hopefully, that will be taken care of so that we can give you the surprises that everybody wants. We got to tell a story out here, and you know that the best movies are the ones you didn't see coming. We're doing that same thing, and when things are leaked it bothers me. But we definitely try to give you guys surprises, but sometimes it's hard.
---
send us news tips at [email protected]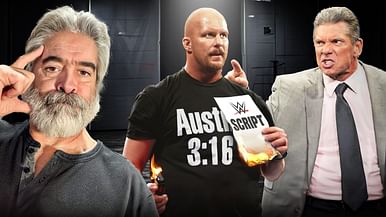 How Stone Cold was born in 2 minutes