What's the story?
Popular television series Arrow star Stephen Amell has been at the center of attraction in the Pro Wrestling World ever since his first ever interaction with Cody Rhodes way back in the WWE.
Fast forward to 2018, After recently competing in his first ever singles match at Cody Rhodes self-financed event All In, popular TV superstar Stephen Amell has seemingly claimed that this could very well also be his last ever singles match in a recent interview on Facebook.
In case you didn't know...
Having previously competed in the WWE way back in 2016, Stephen Amell made his official return to Pro Wrestling in November of 2017 under the Ring of Honor brand and upon his return to the squared circle, Amell officially joined the legendary Bullet Club faction.
Heading into All In, Stephen Amell only had competed in two Pro Wrestling matches and in his first ever singles match, the Arrow star stepped into the ring with veteran and former Ring of Honor World Champion Christopher Daniels.
Despite suffering a loss to Daniels in his debut one-on-one match, it was Stephen Amell who successfully managed to impress the entire audience, thanks to his high-risk taking maneuvers.
The heart of the matter
In his recent interview on Facebook, Stephen Amell displayed his gratitude towards the fans and thanked everyone who helped him in getting in touch with All In and lastly also went on to thank his opponent Christopher Daniels, who played the major part of helping Amell in the match. (H/T: Wrestling Inc)
"I want to thank Christopher Daniels for being just a wonderful opponent," Amell said. "I don't want to break kayfabe, but when it came time to selecting who we wanted me to work with here for All In, Cody was very insistent that I be with a guy that has the know-how and the wherewithal that Christopher Daniel's has. He was nothing short of a life saver in the ring. Because about three minutes in, I did what I anticipated would happen, and what everyone told me would happen, and what I knew would happen. I blew up! Couldn't catch my breath. I had no idea where I was and being with a guy like CD [Christopher Daniels]... I couldn't have done it without him."
Amell would also thank Cody, Brandi Rhodes, and the entire Rhodes Family for putting together such a spectacle of a show and after having known Cody for the better part of the three and a half years, Amell claimed that he couldn't be any prouder of The American Nightmare.
"Most of all I would like to thank Cody, Brandi and the entire Rhodes family. I've known Cody for the better half of three years and to watch him come out for his match later on in the night and the emotion on his face, and to see him realize a show like All In was really quite amazing. I'm so very proud of him."
What's next?
Cody Rhodes is currently in his first reign as NWA Worlds Heavyweight Champion and will look forward to defending the title belt on several occasions. Meanwhile, Stephen Amell will look to continue with acting career, instead of the squared circle.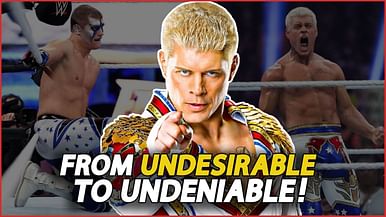 How Cody Rhodes returned to WWE and change pro wrestling forever!