Kane burst onto the scene at Badd Blood: In Your House in 1997 as The Undertaker's forsaken brother. With their similar heights and physiques, it was easy to believe The Undertaker and Kane were half brothers in WWE's storylines. Fans have often wondered whether it holds true in real life as well.
The answer is no. In fact, they're not even related. The Undertaker, real name, Mark Callaway, retired from professional wrestling after a Boneyard Match with AJ Styles at WrestleMania 37.
Meanwhile, Kane, real name Glenn Jacobs, went on to become the mayor of Knox County, Tennessee, in 2018. He was also inducted into the WWE Hall of Fame in 2021.
The Undertaker and Kane always made for compelling storylines
After their initial confrontation, The Undertaker initially refused to lay a hand on his brother and continued to feud with HBK over the WWE Championship.
However, Kane proceeded to interfere in his on-screen brother's casket match against Michaels at Royal Rumble 1998, throwing the 4-time WWE Champion into the casket before setting it ablaze.
This led to the start of their feud, with the first of many contests being held at WrestleMania 14. What followed was a series of entertaining matches at the likes of Summerslam 2000 and WrestleMania 20 as well. However, they are mostly remembered as one of the most compelling tag-teams of all time.
The duo formed the Brothers of Destruction and dominated the tag-team picture, winning the championships thrice during their tenure. They also feuded with Triple H, Shawn Michaels, Mankind and 'Stone Cold' Steve Austin. They last teamed together in a losing effort against DX at Crown Jewel 2018.
Now that The Undertaker has retired from in-ring competition, it is unlikely that they'll have another match. However, The Brothers of Destruction will go down as one of the most iconic duos in WWE history.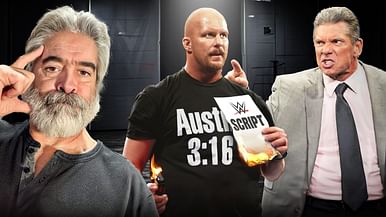 How Stone Cold was born in 2 minutes