Are the WWE going to go all the way with Rusev?
4.57K //
05 May 2014, 15:59 IST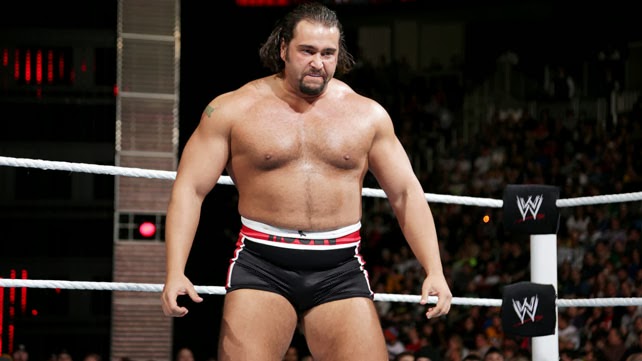 This is certainly one question that will be plaguing almost everybody's mind. Will the WWE management put faith in Alexander Rusev and see to it that he gets a deserved push? Or is it just another one of their infamous experiments with larger athletes?
We typically term it the 'experiment' because of what the WWE has done with stars similar to Rusev in the past. His predecessors include big names like Heidenreich, Ryback, Brodus Clay and Kozlov amongst others.
All these guys were pretty similar in stature, they were tipped to become the next 'big heel' during their era's and they were all involved in multiple squash matches initially to prove their prowess to the world so that the WWE universe got a chance to accept these guys as genuine threats in an era that the 'face' character predominantly dominates.
But what was the whole outcome of the experiment with the other guys? The answer is that it did not materialize for any of them. Heidenreich first feuded with the Undertaker and then was demoted to the tag team division before being eventually released. Brodus Clay was Del Rio's body guard and then a dancing 'extinct species' from Planet Funk ( Yawn! ) before being pushed back to the NXT circuit. Kozlov and Ryback were given promising starts after which both of them were reduced to being feeders to top stars.
This is typically the timeline or the character path that the WWE plans to adapt every time an experiment fails. Rusev as described earlier is 'similar' to the above mentioned guys in a lot of ways and will he suffer a 'similar' fate is what is left to be seen.
Either ways, let us take a look at what this Bulgarian beast has had to offer so far in the WWE. He started like most of the others now a days in WWE's developmental territory, NXT. He's had several alliances in a short span of time before associating himself with the beautiful Lana, a pairing that the WWE has compared to Ivan and Ludmilla Drago from the 1985 film Rocky IV.
He, like other popular 'heavyweights' made his debut in WWE's trademark 'Royal Rumble' PPV. An event that lets the universe know that guys like these are going to be a mammoth task to eliminate and that it takes more than just a 'few' superstars to rule out threats like these and push them off the top rope.
They've tried the same thing over the years with Big Show, Kurgen, Mark Henry and others. Can't blame the WWE can you?
Anyways, Rusev or should I say Lana delivered some promos on his behalf before he made a full fledged debut squashing Zack Ryder recently on RAW. He is now pit against R-Truth and his rookie Xavier Woods in a handicap match at the upcoming Extreme Rules pay per view.
This is perhaps going to be one the most easiest predictions of the night. Rusev is going to squash both of them in a jiffy and the match might end quicker than most of the Divas matches that are presented to us now a days.
The question now is what the WWE will do with Rusev henceforth? He's had ample time to display his power and get recognized as a real 'baddie'. Will he start feuding for the mid card titles and then get promoted to mainstream stardom or will he become another one of WWE's infamous 'failed experiments'?