Batista to make WWE comeback?
13.16K //
25 Mar 2013, 20:43 IST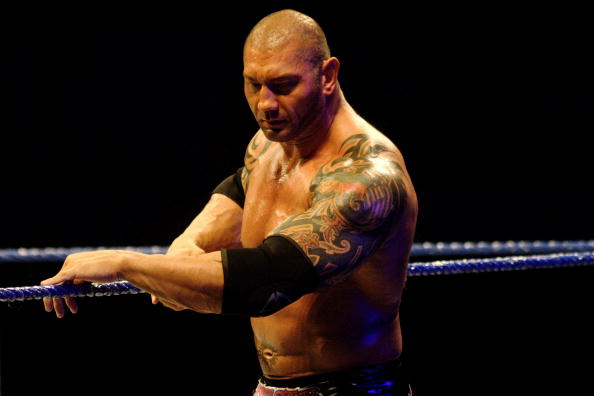 The Full Sail University in Winter Park, Florida, played host to the recent NXT tapings, which featured former WWE superstar Batista.
Before the show, Batista was seen talking to WWE COO Triple H before the show. After the NXT tapings, Batista agreed to be interviewed for Triple H's upcoming DVD.
Both of them were part of one of the most successful factions in WWE history known as Evolution which had two other superstars, Randy Orton and Ric Flair. Triple H was the mastermind behind the team, whereas Batista was the muscle. They were probably one of the most deadly factions ever started in the WWE, since the Four Hoursemen.
Later, Batista turned his back on Evolution and decided to go solo, following which he became the World Heavyweight Champion. He then remained as one of the biggest stars for the next few months, winning the WWE World Heavyweight title four times, WWE title two times and the World Tag team title three times in that time.
With Batista turning out to be a possible threat to Triple H and his title, the Game plotted many schemes and played many mind games to keep The Animal from going into any situation that would see the two face each other for the title. An ugly feud grew between the two superstars and finally Evolution was torn apart.
Having won the WrestleMania 21 event, Batista faced Triple H at Backlash and beat him to become the new World Heavyweight Champion. Soon after that, the two faced each other once again at Vengeance. Batista retained his title in that match too.
Batista was later released by the WWE, following which he attended the Strikeforce: Los Angeles. The Strikeforce is a U.S.-based mixed martial arts and kickboxing organization based in San Jose, California. Having shown interest in it previously, Batista chose to pursue a career in Mixed Martial Arts (MMA). The Animal's debut match was against Vince Lucero. Batista picked up an easy win with a TKO in just 4 minutes.
Now with Batista having helped Triple H promote his DVD by giving an interview, could this possibly be a stepping stone for the Animal to make his comeback to the WWE?
Watch this space for more.