Booker T announced for the 2013 Hall of Fame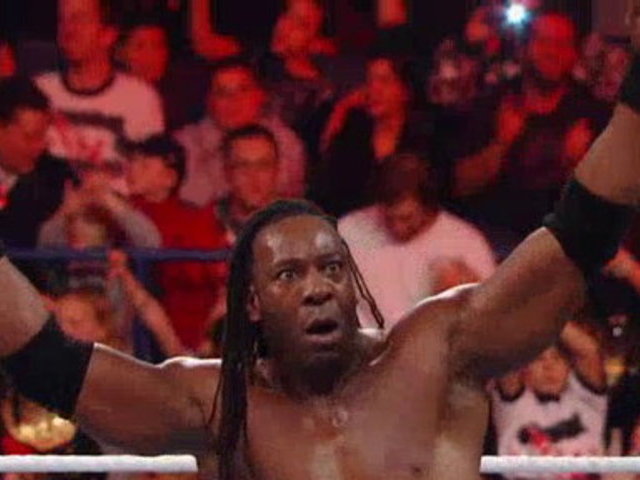 Many are considering the WWE Hall of Fame, Class of 2013 to be one of the most star-studded classes in history, and it's not hard to see why. Most of the inductees are former multi-time World Champions, with the two men with the top two longest reigns in history – Bob Backlund and Bruno Sammartino – rounding out the top.
Well, we can add yet another former multi-time champion to the list, as none other than current SmackDown General Manager, Booker T, will be inducted in this year's class.
Although Booker is still relatively young (just in his forties), he has already led a Hall of Fame-worthy career. After training under fellow Hall of Famer Ivan Putski and Scott Casey in his native Texas, Book spent a few years in the GWF (Global Wrestling Federation) with real life brother Stevie Ray in a precursor team to Harlem Heat. The two signed with WCW in 1993 at the behest of Sid Vicious, and just one year later, picked up their first World Tag Team title. The duo would go onto hold those titles 10 times, a record in WCW.
After parting ways to attempt singles careers, it was obvious who the star of the team was, in Booker T. While brother Stevie was sluggish in the ring and cut nonsensical promos, Book was crisp, fluid and highly charismatic. His charisma definitely resonated with the fans, as he went on to have a remarkable singles career, putting on tons of classic matches along the way, including the now-famous "Best of 7″ series with Chris Benoit, a series that is still remembered fondly today. During his time as a singles star in WCW, Book picked up six TV titles, one United States title, and five World Championships. He also became the 8th man in WCW to win the coveted Triple Crown.
After WCW closed, Book continued his career with WWE from 2001 until 2007. During that time, he added one more World title to his resume', as well as one last reign with the WCW tag titles (bringing his total to 11), three World Tag Team titles, an Intercontinental title, three US titles, two Hardcore titles and the coveted King of the Ring trophy. As a result of these title wins, Book became the sixteenth Triple Crown Winner in WWE history, as well as the tenth Grand Slam Champion. He also ranks as one of only a very small handful of wrestlers to win the Triple Crown in both WWE and WCW. He was also the first TNA Legends Champion and one-half of their World Tag Team Champions during his short time with that company, leaving after just a couple of years to return to WWE, where he has stayed ever since.
Across three major promotions, Booker T has won a total of thirty-five championships, possibly giving him more title reigns than any other Hall of Famer in WWE history.
Kudos to Booker T on a career worthy of a Hall of Fame induction.