Booker T says he gave Batista a "Pretty Good Beating"
24.78K //
08 Nov 2012, 17:00 IST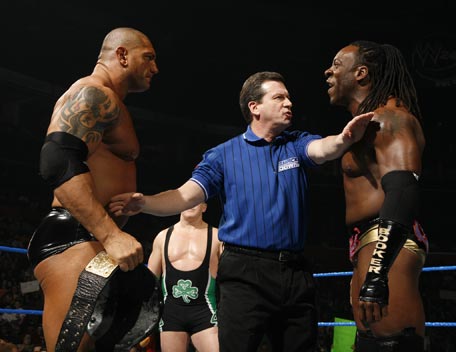 Speaking to Fighting Spirit Magazine, Booker T recalled his fist fight with Batista on May 8, 2006 during a commercial photo shoot in Encino, California for the 2006 SummerSlam PPV event.
Batista, whose rise to main event status was quick and meteoric was an unpopular figure within the locker room due to his lack of respect for other wrestlers and also behaved spoilt and entitled. And that day, Booker T took issue with The Animal's poor behaviour.
According to eye-witness reports, Booker-T challenged  Batista to "[go] into an empty room and go for it." The two apparently fought for 5 minutes with Booker T coming out on top, while Batista took two cheap shots at Booker just before the fight began and also another when other wrestlers came in to separate the two!
"It wasn't blown out of proportion. He took a pretty good beating," said the SmackDown General Manager.
"The thing is, when you're in a fight, it's different from an MMA fight. That's the thing with me. I've fought my whole life. You don't just call a person out to a fight if you don't know their background, what they've been through, and how to test them. That was his mistake, and I think it was definitely a case of him underestimating me, and thinking he was the bigger guy. For me fighting is in the blood, and it's something I grew up doing. Honestly though, I hope Batista does well (in MMA), even just for the business' sake."