Brock Lesnar vs. Roman Reigns: A statistical comparison
34.17K //
17 Sep 2017, 15:46 IST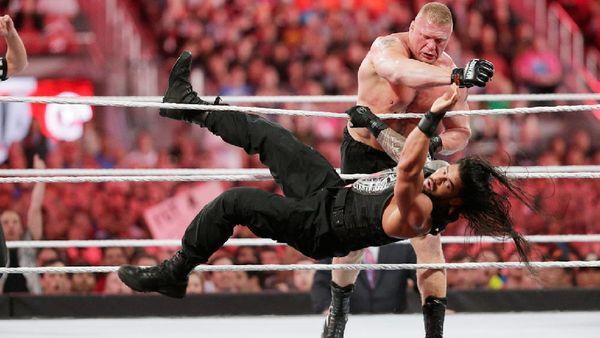 They had a titanic clash at WrestleMania 31, made even more memorable because of Seth Rollins cashing in his 'Money in the Bank' contract. And according to various sources, Roman Reigns and Brock Lesnar are set to collide yet again, this time in the main event of WrestleMania 34 from New Orleans.
In many ways, both men mirror one another's journey. Both were protected since their main roster debuts, and thrust into a role they were not necessarily ready for. Both transitioned from other sports into sports entertainment; neither is exceptionally gifted on the microphone. But, both are household names, known even to those who may not necessarily be fans of WWE or professional wrestling.
Whatever your opinion on the booking may be, one must admit that this is a main event of gigantic proportions. Let's examine Champion and Challenger (provided Brock Lesnar holds the Universal Championship until that day), and provide you with a statistical comparison of the two powerhouses, before they clash once again.
Here are arguably the two most protected individuals in modern day WWE, side by side! Let's examine what happens when an irresistible force meets an immovable object.
---
#5 Number of championships held
As it stands right now, Brock Lesnar has won the WWE Championship a total of four times and is now in his first reign as the reigning, defending and undisputed Universal Champion. What is surprising about Lesnar is that he's never won a mid-card championship.
He's always been booked at the top of the card, either competing for the title or in a high-profile program. Because of the way he's been booked, it's impossible to imagine Lesnar with the US or Intercontinental Championship.
On the other hand, Roman Reigns has done it all. Apart from being a three-time World Heavyweight Champion, he's also held the United States Championship in the past. He's also held the Tag Team Championship with his old Shield mate, Seth Rollins. Miz better watch out because the only thing Reigns hasn't done is hold the Intercontinental Championship.
Both men have won one Royal Rumble match each, Brock Lesnar in 2003 and Roman Reigns in 2014. Reigns has never held the Universal Champion through his time on the red brand.