CM Punk injured after Brock Lesnar's attack on WWE RAW
8.54K //
17 Jul 2013, 14:59 IST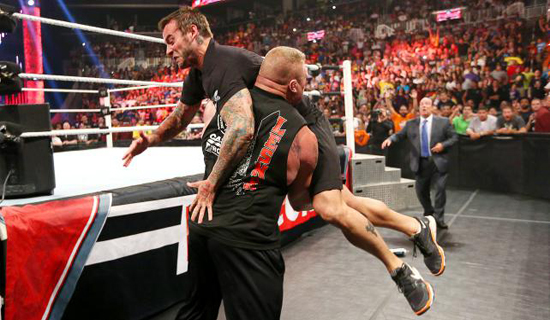 According to reports by WWE.com, former WWE Champion CM Punk  suffered whiplash and strained ligaments in his left knee and right ankle after the brutal attack from Brock Lesnar this week on RAW. They also added that Punk's ribs are also bruised and potentially broken.
Punk summoned Heyman to the ring on RAW to confront him for his actions at 'Money In The Bank'. Heyman and Punk exchanged words before Brock Lesnar entered the scene, tearing apart an already injured CM Punk. Lesnar also slammed Punk on the commentary table before vacating the scene.
Punk and Lesnar are anticipated to wrestle one another at the upcoming SummerSlam PPV. However, no official word is out yet.