Does The Miz deserve yet another IC title match?
2.01K //
01 Jul 2013, 09:51 IST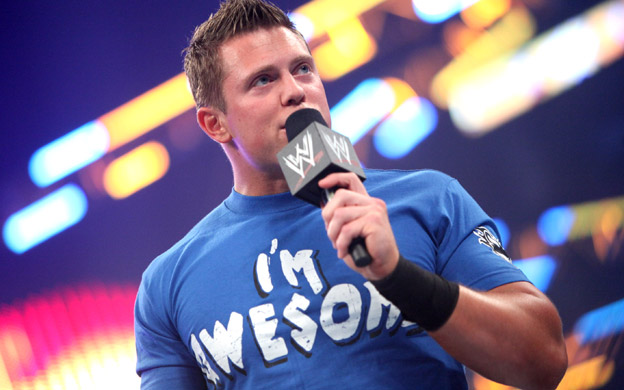 In case you didn't watch Smackdown this past Friday night, we saw yet another edition of The Miz's brainless "television show", MizTV. The segment started out with Miz trying to interview Paul Heyman about his relationship with CM Punk; but when the conversation got "too personal", Heyman's newest protege, Curtis Axel, entered the ring to stand between the two. Miz challenged Axel to a match for Axel's Intercontinental Championship right then and there, but Heyman said his champions don't fight for free, and it would have to wait another time. Axel then laid Miz out with a modified neckbreaker, which will likely lead to a championship match between the two, most likely at Money in the Bank.
Okay, how many championship matches does Miz have to get on PPV before WWE finally gives up on him? As I've said in previous articles, the Miz experiment is a colossal failure, no matter how much WWE wants us to love him. And giving him yet another championship match isn't helping anything. In case you haven't been paying attention, Miz has been getting championship matches all year. Don't believe me? Take a look at these stats:
Royal Rumble 2013: Miz loses to WWE United States Champion Antonio Cesaro.
Elimination Chamber 2013: Miz loses to WWE United States Champion Antonio Cesaro.
Wrestlemania 29: Miz defeats Intercontinental Champion Wade Barrett for the title on the pre-show, only to lose it back the next night at RAW.
Payback 2013: Miz loses to Curtis Axel and Wade Barrett in a triple threat match (Axel wins the IC title from Barrett).
Out of the last five PPVs, Miz has been featured in championship matches in four of them. He has only won once, and that barely counts when you realize he lost the belt back the next night. It would be one thing if Miz was the defending champion, as the IC or US Champion should be defending the title at nearly every PPV. However, Miz has been challenger in each and every match, despite doing absolutely nothing to really earn all of these championship matches.
WWE, despite their love for Miz, seems to be hesitant to make him a champion, as evidenced by his one-day IC title reign earlier this year. So, why do they keep putting him in matches for belts? It's almost become a running joke on the internet as to when Miz will be announced as the #1 contender for the US or IC titles in any given month, and when you look at his track record, it's not hard to see why.
The fans aren't buying him, neither are most of his peers. Axel, days before his triple threat with Miz and Barrett, more or less called Miz a joke in an interview, talking about how little value Miz adds to any championship. I'm pretty sure the interview wasn't in-character either.
I realize Miz is good for doing media appearances and things like that, but that's pretty much all he's good for. He's obnoxious when it comes to promos, and average at best in the ring, showing very little improvement over the years. No matter how many championship matches you give the guy, the fans just aren't interested.