From the WWE Rumour Mill: Ronda Rousey could have a match at WrestleMania 34
6.96K //
18 Aug 2017, 13:39 IST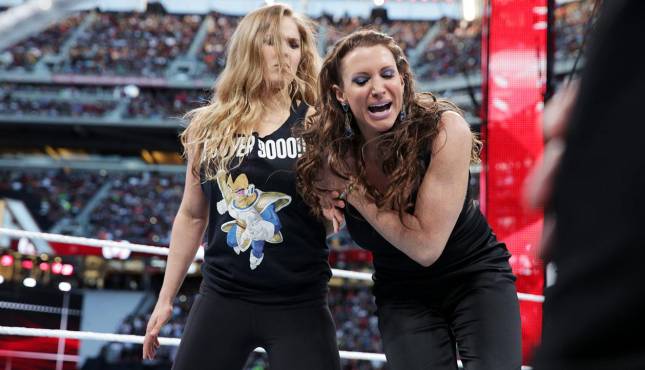 What's the story?
This report is mere speculation at the moment, but according to the Wrestling Observer (as reported by the Rumor Roundup section of Cageside Seats), UFC legend Ronda Rousey has been training to enter a WWE ring and is likely to have a singles match at Wrestlemania 34.
In case you didn't know...
Ronda Rousey was part of the proceedings at Wrestlemania 31, part of a famous segment with The Rock, and The Authority. A lifelong WWE fan, Rousey is friends with several stars on the WWE roster and was part of a showdown between the Four Horsewomen of WWE and those from the MMA World during the Mae Young Classic. The Four Horsewomen are inspired by the 'Four Horsemen' stable that Ric Flair made famous. There has been plenty of speculation about her coming to WWE, and it has never been stronger than right now.
The heart of the matter
Rumours are rife that Ronda Rousey has been training hard to enter the wrestling ring, under the tutelage of 205 Live Star Brian Kendrick — the man with a plan. This is seemingly to carry out the eventual Four Horsewomen vs. Four Horsewomen feud (Marina Shafir is familiar to the WWE Universe, making regular appearances on NXT, while Shayna Baszler is a participant in the Mae Young Classic). What makes the report interesting is the speculation that Rousey may wrestle a singles match at the Showcase of the Immortals, even though no further details were shared.
What's next?
We wait impatiently for Rousey's debut, and wonder whom she will face when she enters the squared circle for her big match. We can't even imagine the big pop.
Author's take
Rousey will be the X-Factor that elevates the women's division to the next level, much like Mike Tyson did for the men in the mid-90s, attracting massive mainstream attention.Ronda Rousey wrestling in the WWE appears to be a matter of if and not when.
---
Send us news tips at fightclub@sportskeeda.com