Gimmick Some Lovin': "Little Blue Pills" on a Pole match
1.00K //
Timeless
In Gimmick Some Lovin', we take a look at one iteration of a gimmick match each week. Some are iconic for their success, others for the extent to which they flopped, and some just...happened.
We defined a "gimmick match" as, in any way, adding a rule/stipulation to or removing a rule from a match, changing the physical environment of a match, changing the conditions which define a "win", or in any way moving past the simple requirement of two men/women/teams whose contest must end via a single pinfall, submission, count out, or disqualification.
This week, in honour of the announced "Guitar on a Pole" Match between Elias and Jason Jordan on this Monday's RAW, and in honour of the fact that I've enjoyed both matches we've seen in this feature so far, it's time that we had a stinker. Today, we'll be looking at the Pole Match between Shane Douglas and Billy Kidman with a prescription prize at stake on the July 31, 2000, WCW Monday Nitro.
DISCLAIMER: Any and all puns in this article will be avoided at all costs, as the commentary in this match kills any ability to find humour in its existence.
---
Ask your doctor if this particular Pole is right for you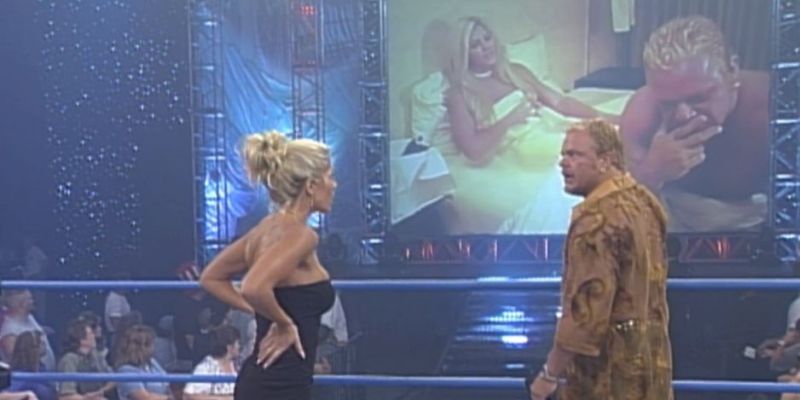 The origins of the match come from Billy Kidman's onscreen relationship with his future wife Torrie Wilson, who managed Kidman and his Filthy Animals stable, and subsequent heel turn with the New Blood. Wilson went on to turn heel on Kidman during his feud with Hulk Hogan.
Wilson then devoted her onscreen affections to "The Franchise" Shane Douglas, spurning Buff Bagwell in a move which probably made sense to both people who were avidly following World Championship Wrestling at the time. Following a bout in the United States Championship Tournament, Douglas and Kidman would start a program which included Kidman and Douglas each presenting intimate footage of themselves with Torrie Wilson.
Douglas's retaliatory tape detailing his romantic success with Wilson aired on WCW Thunder and saw the camera stay on long enough to reveal that Douglas had a legitimate medical issue deserved to be mocked for being unable to perform. This being 2000, and just mentioning the name of a treatment for such an issue being enough for a punchline in many comedy circles. The July 31, 2000, installment of Nitro saw WCW Commissioner Ernest "The Cat" Miller order the company to affix a steel rod to the ring post from which they would hang the most cartoonish bottle of medication known to man (before Obamacare, this was how obtaining doctor-prescribed treatment worked).