Indie Wrestling News: Former Knockouts Champion to face herself in a match
5.93K //
12 Feb 2018, 11:53 IST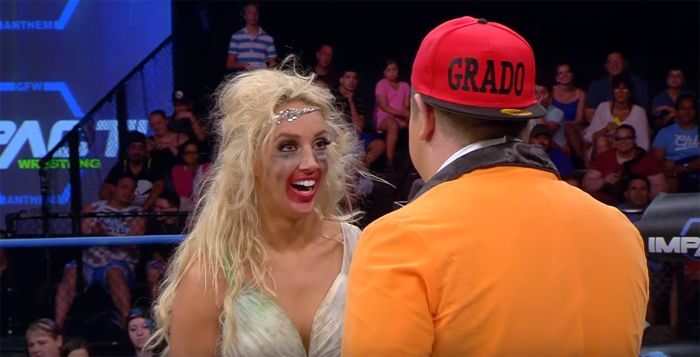 What's the story?
Former Impact Wrestling Knockouts Champion Laurel Van Ness has never been known for being sane or reasonable, at least on television. But this match is far too weird, even by those standards.
Black Label Pro, a promotion based in Indiana has booked a match between Laurel Van Ness and well, the woman who plays Laurel Van Ness, Chelsea Green. According to them, this match was very difficult to lock down, but they made it happen!
In case you didn't know...
If you are an Impact Wrestling fan, you're definitely familiar with Laurel Van Ness. She plays a deranged bride who was left at the altar by Braxton Sutter and just kept getting crazier with every single passing week.
WWE fans may even remember her from her stint on Tough Enough. She's also the girlfriend of WWE superstar Zack Ryder.
Even though Van Ness is still the Knockouts Champion on TV, it is well documented that she dropped the title to Allie, during the recent sound of Impact tapings.
The heart of the matter
For what it's worth, this gimmicky match has really captured the attention of everyone on social media. Even we were intrigued, and cannot wait to find out how the match will actually be carried out.
At a time when there's a monopoly in the marketplace, such clutter-breaking matches are a surefire way to get your product out there. It'll take some really good booking to not disappoint the crowd that's come to see the match, quite honestly.
What's next?
Rumours abound that much like many others in the Impact Wrestling roster, Van Ness is on her way to WWE soon.
We don't know if she'll continue with her Impact Wrestling gimmick or be repackaged if these rumours are true.
However, she's a talented woman and would be a really great fit!
Author's take
In an age when you're competing for eyeballs, innovation is everything. Kudos to the promotion and Laurel Van Ness for thinking beyond the obvious.
We hope that this isn't another Undertaker vs Undertaker match, for her sake!
---
Send us news tips at fightclub@sportskeeda.com