Interview: Bad News Barrett talks about WWE return, WWE 2K15, Sting's debut and more
WWE Superstar Wade Barrett was in Bangalore's ITC Gardenia this Tuesday as a part of his promotional tour for WWE 2K15 which will hit stores on 31st October for the PlayStation 3, PlayStation 4, Xbox 360 and Xbox One.
For Latest WWE News, download Sportskeeda android app!
In an exclusive interview with Sportskeeda, Barrett talks about his injury, being part of the WWE 2K15, football among other topics.
Q: You have been out of action for quite a long time now with your shoulder injury. When can we expect you to be in the ring?
Yes, I have been out for a while. I'm going through my recovery phase right now. It has been great, I'm feeling great. I will be back probably by December, with WWE doing their European tour this winter.
Q: How hard has the recovery process been for you?
It has been tough since you have to start from scratch, you have to regain your strength. I have been injured before, (pointing towards his scars) and it is just part of the game.
Q: Upon your return, will you be aiming to regain your Intercontinental title back?
Definitely. Since I didn't really lose the title, and was stripped off from it. I hope I'll come back and beat him up, cos' nobody likes the Miz. Everyone wants to beat Miz up. But, Dolph has it now, Dolph Ziggler. He is another guy who I think is a very talented performer; had some good matches with him in the past. And, if he is still the champion when I come back, I'll go straight for him. I enjoy wrestling him, but I want my title back.
Q: And, what about Jack Swagger, the guy who injured you?
Jack Swagger, he is a good guy himself. I don't really blame him for the injury, I've been asked that before. It is just one of those things. And, unfortunately, you can get two guys, very experienced, like Jack Swagger and myself, and sometimes things go wrong, and that's exactly what happened with regards to my injuries. I don't blame him, but if I do get a chance I'm gonna hit him right away, just to be on the safer side.
Q: So, talk us through with WWE's 2K15. How different is it from 2K14?
Well, 2K15 - I was very fortunate enough about six weeks ago, I got to play the advanced copy of the game. Obviously, it is coming out on the 31st of October here in India, and much of the world, and it is an incredible game. I've been blown away how good the graphics are, and the realism used this year. I've always thought about really good graphics in the game, but this year, they brought in along the 2K15 guys who make the game; in the locker room, these crazy, they kind of scanned every part of our body, and took pictures of us from various different angles, and now when you see the end product of the game, it is almost like watching WWE Raw on television.
It is not like cartoon characters or anything like that anymore, it is literally like watching yourself on tv. So, it has been a big step up graphic wise, and there is an aspect of the game that they have implemented this year which is called the career mode where you start off as a new wrestler in NXT and the development programme, you gotta work your way all the way through WWE, and hopefully and ultimately win the WWE Heavyweight Championship which I thought was already a cool addition to the game, I was impressed with that. I think fans are going to respond well to that.
Bad News Barrett via his Instagram account: I think I love India. @WWEIndia #Bengalaru
Q: Will you be saying your catchphrase "I'm afraid I've got some Bad News" in the game?
I will be. Actually, it is really important because I've in the game for a few years now. Since 2010, I've been the game every year, but this is the first time, I'm actually in it as Bad News Barrett. So, yeah, it's pretty cool for me that this new character that I've been doing has been doing so well, fans have responded to it pretty well. And, now I'm in the 2K15 video game as Bad News Barrett, so that's pretty big in itself.
Q: Sting will be featuring in the game. So, can we expect a debut from the man in the WWE?
Who knows? I've never actually met Sting, I've never seen him backstage in WWE or anything like that, and I don't know what his plans are. I've heard rumours that he wants to have one last match, and he wants it to be in the WWE. I think it is almost inevitable that this is going to happen at some point. Who his opponent will be, I've no idea though. It would need to be a big, big match. I am a fan of his.
It is great we got him in the video game this year, and I know if you pre-order the game, you actually get a free downloadable version of Sting's. I think there is two versions of Sting: one where he was face painted with the dark hair and the leather jacket, and there is one early in his career when he had the blond hair. So, it is cool that you can get both of those if you pre-order the game. But, yeah I think we might get to see him in the wrestling ring very soon in the WWE.
Q: Who is the guy you like to hangout with backstage?
The guy I hang out mostly is probably Ryback. He is a very entertaining guy, probably the weirdest guy I've ever met.
Q: Did you have to feed him? (jokingly)
Yeah, I don't feed him, no. He brings his own food, he is smart enough to take his food around with him, but yeah, he does eat a lot. But, yeah he is a really cool guy, the guy I got along with well. And, we used to drive around a little bit, we came from the developmental system together so he is a guy I like.
Q: We all know about the breakthrough that Nexus got in the WWE, and you were the leader of that revolutionary group. Can we expect something in the future like that?
I think Nexus is one of the favourite periods of my career, and I think we had a lot of success, and I think people responded to it really well. The WWE Universe loved it. I hope in some point of the future we can bring something like that. I don't like the way it ended, and maybe in some point, I'll need some help with the WWE Heavyweight Championship, I'll make a few phone calls, and see if I can get those guys back together.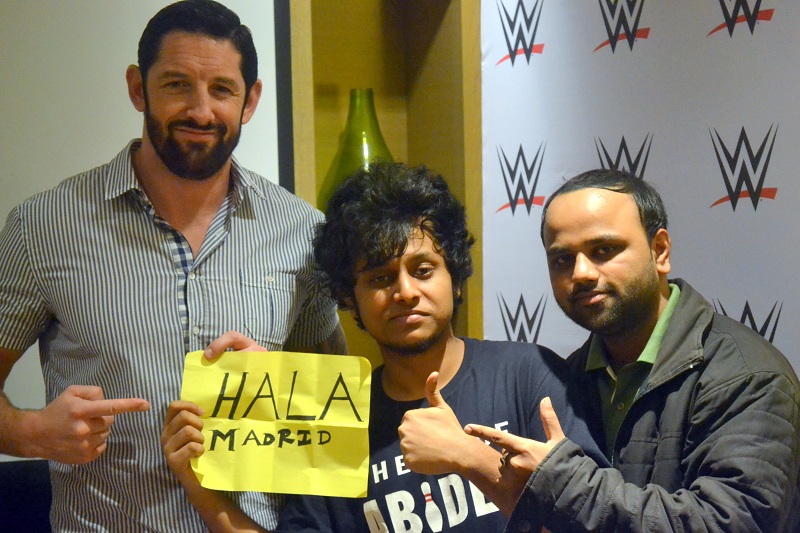 Q: We know you are a fan of Preston North End, a club that has been here for over 150 years now. So, what is your favourite moment as a fan? And, other than that, what club do you support in the Premier League? And, whether Roy Hodgson is the right man to lead England to the 2016 Euros?
Okay, that's about 15 questions there. (laughs) Alright, my favourite moment as a Preston North End fan would probably be in the year 2000 when we won, what was Division 2 back then, and David Moyes as our manager who later went onto manage Everton and Manchester United. We had our club captain Sean Gregan at the time. That was probably my favourite Preston North End team. I was in the university at the time, I used to go watch them quite a lot because my university was near where they were playing, so that was probably my favourite year as a Preston fan.
In the Premiership, there are two teams I really look out for. There is not many people who would say that they like both Everton and Liverpool. I went to a University in Liverpool to study Marine Biology, so I spent three years living in the city. So, I went and watched both teams, and I have a lot of respect for the city and the way they play football. And, they are both doing very well at the moment. Everton got into the Europa League, and obviously, Liverpool are back in the Champions League this season. So, they are both doing pretty well.
And, the final question, Roy Hodgson, after the World Cup, obviously like all other Englishmen I was disappointed with that. It was big let down for everybody, and we were all down about how the team played. But, last week we played our first European Championship Qualifier for the Euro 2016. And last week, England beat Switzerland 2-0 away from home, so Antonio Cesaro will know all about that. He was very disappointed obviously, but England played amazingly well. Danny Welbeck was fantastic.
England, kind of played a lot of new younger players in that side. Quite a few guys have retired from International duty after the World Cup. Thankfully, they have got out of the way. I don't believe they ever performed for the most part of the careers, so it is great that these younger guys are coming in now. They are hungry, and there seems to be real competition for places, and I think Roy Hodgson is tweaking his formation and his team now, and he has started to put something together now. So fingers crossed, this is going to be a start of a new era for us.
Q: So, do you still believe in him?
Still believe in Roy Hodgson.
Q: Is this your first visit to India?
Yes, it is. Never been here before, and it has been great so far. I always wanted to come out here, and so far so good. I'm looking forward to seeing what the country has to offer.
Q: Maria Sharapova didn't know who Sachin Tendulkar was. Do you?
I know who Sachin Tendulkar is. I'm not a huge cricket fan, but I know about it. Also, the IPL where Andrew Flintoff was playing, and I know how important that is. I actually know that England beat India very recently in a Test series so that was pretty big over the UK.
Q: Bad News Barrett or Wade Barrett?
Bad News Barrett. There you go that is the future. I mean Wade Barrett, I'm very proud of what I've achieved in the past, but right now, I'm performing as Bad News Barrett, that's my name, that's how I'm in the video game, and that is what my pictures says. So, yeah Bad News Barrett, that's my favourite right now.
You can listen to the un-edited audio-version of the interview here.
Buy WWE 2K15 here