Jim Ross on Booker T's Hall of Fame induction
2.44K //
20 Mar 2013, 14:55 IST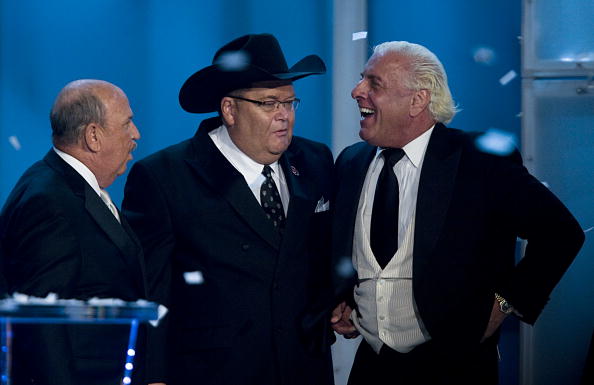 Jim Ross recently his blog at JRSBBQ.com to express his disappointment over the urn stealing act of CM Punk and the to congratulate the latest inductee into the WWE Hall of Fame, Booker T.
CM Punk stealing Paul Bearer's urn: A disappointed Jim Ross has said that CM Punk's act was a bit disrespectful. He stated: "The CM Punk biz with the urn made me uncomfortable."
Booker T Hall of Fame induction: Being a Hall of Famer himself, he expressed his happiness over Booker T's Hall of Fame induction this year. He was all praise for Booker T, who is also the present general manager of RAW. Mentioning him as a deserving candidate for the induction, in his blog he wrote, "Congrats to Booker T for being selected to be inducted into the all star, 2013 WWE Hall of Fame Class the night before WrestleMania at the sold out Madison Square Garden. After, self admittedly, making some serious mistakes as a young man, Booker Huffman has made some amazing life changes and is a success story that needs to be heard over and over again.
"Arguably, over the long haul, Booker T was WWE's best 'get' from WCW when the Turner folks closed their doors. Whether it be wrestling, fan favorite or villain, utilizing scientific wrestling or brawling, cutting entertaining and compelling promos, doing commentary or representing WWE in a variety of ways, Booker has been at a main event level in every thing that he has been asked to do."
Triple H future after WrestleMania: Recently, Paul Heyman took a brutal beating from Triple H, after which The Game signed a contract which says that he will end his wrestling career if he fails to beat Brock Lesnar at WrestleMania 29. JR said: "I know that The Game would rather wrestle than sit in business meetings even though his long term future as WWE COO is well established. Men like him want to end their run on their terms and not the terms of people like Heyman and Lesnar. However, Triple H could be facing the same fate as his friends Ric Flair and Shawn Michaels who both ended their in ring careers in WWE at WrestleMania events."