I recently sat down with wrestling legend Marty Jannetty. Jannetty is a former WWF Intercontinental Champion, and one-half Tag Team Champions with 1-2-3 Kid. Jannetty is best known for tagging with Shawn Micheals as one half of The Rockers.
---
SK: What was it like for you and Michaels in 1988 to get the call and go from AWA and sign contracts to (at the time) WWF?
Jannetty: It was really cool because we knew we were going to make a lot more money haha. We were trying to be loyal and faithful to the Gagnes in AWA. We decided to be real with them.
They gave us ESPN television and national exposure. They panicked because they (AWA) were losing a lot of talent to WWF at the time. They said, "We don't have the money to pay any more." Otherwise, we would have hung around because of loyalty because they gave us our break.
---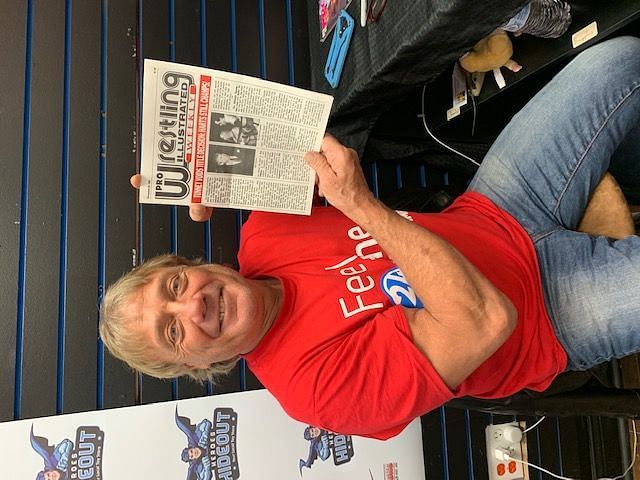 ---
SK: October 30th, 1990, The Rockers defeat The Hart Foundation and technically win the tag team titles. Rumor has it Neidhart resigned with WWF is that true?
Jannetty: Well, not technically, in actuality it happened. With Neidhart, that's a popular rumour. I don't think it was that. We were all good friends, me, Neidhart, and Bret. I would think that would have been something he would have said.
If you were going to do something with The Rockers, that was the time to do it because we had been there for so long already. It was almost like we were becoming extras (laughs). We were putting everyone else over. At that point it was we had to get a belt, or we were going to mean nothing. That's why it was time.
We defended them three times! We won on NBC's Saturday Night Main Event. So Sunday, we did a double shot in Corpus Christi and Houston. Monday we were in Dallas. We defended the belt three times. It was so embarrassing when they took them back. (insert photo of Marty with magazine) Here's the proof. It's in Pro Wrestling Illustrated.
We were embarrassed. What were people going to think of us giving the belt back after defending them three times? We were told, "It doesn't really matter we have to do it this way."
The real answer is Vince called me and said, "NBC didn't want to put it on TV because the rope broke." NBC thought it would be bad television. The Neidhart thing I don't think is true at all.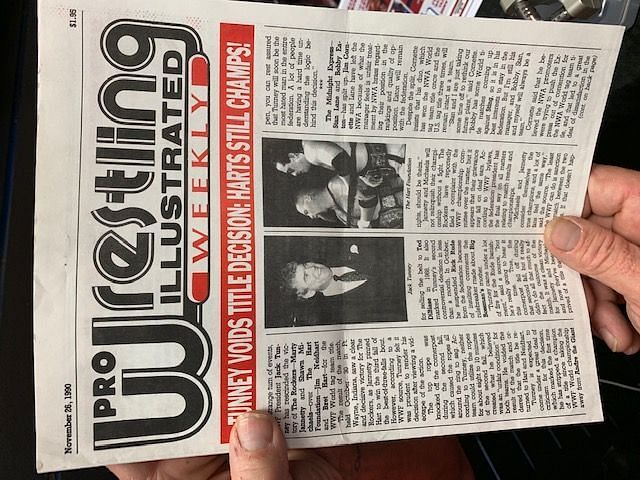 ---
SK: Shawn Micheals, Razor Ramon, 1-2-3 Kid Sean Waltman, Leif Cassidy. Who was your favorite tag team partner while in WWF?
Jannetty: Do I have to tell? (Laughs) Nobody hold it against me. Shawn and I were like magic. We had great chemistry for wrestling, but Al Snow was the best partner I ever had.
The reason I say that is Shawn was an a**hole. He was a little harder to get along with; Al was the best and just as good. Shawn was good, and nobody is going to take that away. I'll defend him all on that, Shawn is one of the best, next to me (laughs) I'm just kidding about that, but no, he's really good. Al was right there too.
In the wrestling world, people think, "Okay, he did the backflips, fast-paced, high energy stuff." That's nice, but it's the psychology. Why are you doing all that? We always say we're working this guy or that guy because we're working to beat them. Shawn was right, but Al just got it.
---
SK: Mr. Perfect Curt Henning helped get you back into the WWF after being let go as Henning was good with Vince McMahon. He also helped you win the Intercontinental Championship. How did it feel to win the title?
Jannetty: Yeah, all that was because Shawn went and stuff about our Rumble match. Winning the title was cute and sweet revenge when I found out Shawn went and buried me to Vince on our Royal Rumble match. When I found out Vince thought I was messed up at the Rumble, and I won't deny it, I was young and single.
---
SK: In 1993, you and 1-2-3 kid were the sole survivors of your Survivor Series match, you then formed a tag team and won the tag team titles. What was it like to win those?
Jannetty: It's called tag team title. It's the belts, but it's just one title, hahaha I always do that though. Sorry, I'm just playing around.
It was very good. Shawn and I did what we did for all those years and officially never got the belts, not titles haha. It was special because it gives you credibility like, oh you must be good.
Do you remember Davey Boy Smith, The British Bulldog? He used to love to joke on Bret Hart on drawing a crowd. Well, Bret Hart is an artist, and we'd have chalkboards in the dressing room.
Bret would draw up some funny character stuff. It was always fun and a good time. So, he's the world champion the second time. Davey Boy used to go around saying, "Oh look at him now, he can draw on a blackboard, but he can't draw out there to the people."
They were going to put on his board, "They force feed a champion if they want to get a champion over." Nothing against my boy, I love him to death, that's my brother. When he became the champion for the third time, we all said, "Okay damn, he must be good." So to tie that all up, when we became the champions, it was like, okay we must be good.
---
SK: Speaking of the 1-2-3-Kid, in 1995 you ended up on the opposite sides of the Survivor Series against him. During the match, you did a top rope powerbomb to Skip of The BodyDonnas. At the time where Diesel (Kevin Nash) is doing a Jackknife Powerbomb; Sid is doing a Powerbomb. What made you think of doing a top rope powerbomb?
Jannetty: I felt a few of those powerbombs! It was Skip's idea. He said, "They've never done this (WWF). I seen it once in Japan, nobody has done it here in America." So I said, "Okay, watch we're doing it tonight." We did, and it worked.
---
SK: Did you enjoy your time in WCW?
Jannetty: That's a yes and a no. I always love what I do for a living. I love pro-wrestling and meet and greets. I didn't like how I was being used. I felt I was better than some of the guys they were pushing.
I was training hard; dieting hard and stopped partying like I used to. I like to say this; I used to party a lot (laughs). It was no secret. Being single, on the road, on TV? Do you know what I mean? I straightened up a lot and being used like that, I wasn't crazy about that, but I still loved it.
---
SK: From 2005-2009 you made appearances re-forming The Rockers with Shawn Michaels. Ho was it reteaming with him?
Jannetty: Yeah, Shawn and I did a Rockers reunion. We hadn't tagged together in like fifteen years. Heck, I hadn't been on TV in seven years at that point. It was like it never stopped.
---
SK: Speaking of reuniting, you were in Chikara teaming with another former partner 1-2-3 Kid Sean Waltman and took on The Young Bucks. What was that match like for you?
Jannetty: It was great. I love The Young Bucks. They're friendly and respectful guys. The Bucks kind of formulated their style behind The Rockers. When I met them, they were so lovely.
I hate to say it, but some of the young guys now are disrespectful, well not disrespectful but they think they're all that so they don't give a damn about the guys that came before them. That's fine, but give a little less attitude toward guys in the business.
---
You can listen to the interview here. We'd like to thank Captain's Corner for allowing us to interview Marty Jannetty.
Braun Strowman reveals the greatest talker in history here