For two generations of wrestling fans, when you refer to a backstage interviewer, the first name they will recall is that of Mean Gene Okerlund.
Okerlund is best known for the decade he worked in WWE from the mid-1980s and the subsequent decade he was employed by WCW in this same role. For 20 years he was witness to the birth of Hulkamania, the inaugural WrestleMania, the formation and split of the Mega Powers, the debut of Monday Night Raw and was front and centre as the rise of the New World Order took hold in WCW.
Okerlund studied broadcast journalism as a youngster and initially worked in radio before receiving an opportunity to work for the American Wrestling Association (AWA) wherein he eventually replaced longtime announcer, Marty O'Neill.
After spending 14 years working for the promotion, he received a call from Vince McMahon Jr who had bought his father's wrestling promotion, now known as WWE and was planning a national expansion.
The dependable and talented Okerlund was seen as crucial to McMahon's plans. Okerlund had a talent for coaxing great stories and interviews from the talent in the days before they were wholly scripted without ever overshadowing the wrestlers themselves.
For this reason, as well as being a backstage interviewer, Okerlund also hosted WWE shows such as Tuesday Night Titans, primarily a David Letterman style interview show wherein the host - which initially was McMahon and later Okerlund - would speak to the wrestlers about their ongoing feuds in order to sell the upcoming events.
Such was Okerlund's fame in his WWE heyday that he also appeared in the Hulk Hogan cartoon, "Hulk Hogan's Rock 'n' Wrestling."
Okerlund's WWE career expired in 1993 and was not renewed by the company. Therefore, he wound up working for rival WCW, in the same role he had in WWE. He would eventually be reunited with many of the wrestlers from his WWE days when the likes of Hulk Hogan, Macho Man Randy Savage, The Ultimate Warrior, Jim Duggan and others made the jump.
During his tenure, he controversially ran his own premium rate hotline phone line wherein he supposedly revealed backstage secrets and other inner workings and plans for WCW.
Most controversially though, he hinted that former WCW talent Ricky Steamboat would be re-joining the company in mid-1996, which was a total fabrication and something he and WCW would be forced to apologise for.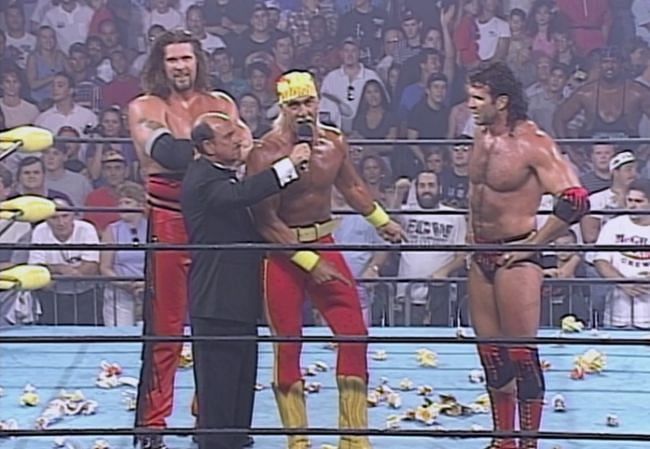 His tenure in WCW lasted until March 2001 when the company was bought out by WWE and he immediately showed up back in WWE as a guest announcer for the Gimmick Battle Royal at WrestleMania X-7 which reunited him with the Gobbledygooker; an absurd turkey type character with whom he had danced with during the Gooker's debut at Survivor Series 1990.
Okerlund was assigned the task of hosting WWE's insider programme, WWE Confidential for the entirety of its run in the early 2000s and was inducted into the WWE Hall of Fame in 2006 as recognition for his near four-decade career in the wrestling business.
Okerlund continued to work for WWE up to his dying day on a range of projects aired on the WWE Network.
The wrestling world will never be the same without Gene Okerlund. Expect WWE programming to give him a fond farewell next week.
Who was Rhea Ripley's first crush? Find out here.