Names being discussed for WWE Hall of Fame Class of 2013
6.69K //
29 Dec 2012, 12:19 IST
Wrestlemania is coming up soon, and with that, we also get the annual Hall of Fame induction ceremony. Names are already being discussed for the 2013 class. While some of them are pretty much a lock, others will likely never happen, while others still seem like odd choices. Let's take a look at these names.
Bruno Sammartino: Unfortunately, this will likely never happen. Despite being the longest-reigning champion in WWWF/WWF/WWE history, Sammartino has long-standing issues with Vince McMahon, issues that stem nearly 30 years. Paul "Triple H" Levesque has recently reached out to Sammartino in hopes of smoothing things over, and while "Da Brune" responded positively to Levesque's character and professionalism in their discussions, he has repeatedly stated he will still not accept the spot.
Owen Hart: Again, highly unlikely. The entire Hart family has been extremely supportive of McMahon trying to induct Hart in the past (WWE has wanted to induct him several times) and are completely on board, but the problem is Owen's widow, Martha. She owns the rights to his estate, and is still extremely bitter over what happened in 1999 when Owen fell to his death. She has stated several times that she refuses to allow Owen to go into the Hall, and has attempted to sue WWE for likeness rights several times over the years (she has lost each time).
Mick Foley: Foley is practically a lock. He has been heavily involved with WWE since leaving TNA, and has been featured in several angles and pay-per-view matches over the last year or so. WWE seems to be set on inducting him, and Foley has said he would love to be inducted and would gladly accept the honor.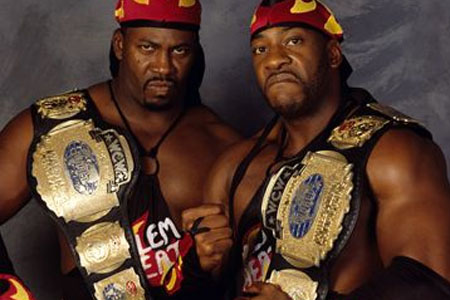 Harlem Heat: I understand the reasoning behind this one, but at the same time, it's still a little strange. Harlem Heat are 10-time WCW World Tag Team Champions, and are considered the most prolific team in that company's history. However, it was obvious to everyone that Booker-T was the star. Stevie Ray was never a good talent or even very charismatic, and it showed when the team split up. Booker went onto win every title in WCW multiple times, while Ray became an afterthought in the nWo and had one reign as TV Champion, a reign he only got via forfeit. Still, with Booker-T being a part of WWE, this one is almost a lock.
The Nasty Boys: This choice I really do not understand. Yes, the "Nasties" were 4-time World Tag Team Champions, but that doesn't excuse the fact that they are one of the worst tag teams in history. The only talent Brian Knobbs and Jerry Sags had were being loudmouths and notorious troublemakers behind the scenes. I really do not understand the choice here.
The Rock: If Rock doesn't go in this year, he will likely go in next year. Either way, it will be deserved. Rock is one of the highest-grossing superstars of all time, and his track record of championships, main events, sell-outs, pay-per-view buys, etc. speaks for itself. I have a feeling Rock would like to officially retire before being inducted, but I'd be willing to bet he'd accept the induction either way.
Kevin Nash: Considering his real-life friendship with Levesque, you can pretty much guarantee this one. Although he is a multi-time World Champion and has held numerous other championships, the success of his career really can't be contributed to his in-ring work. Nash was never that great, and most of his success can be contributed to knowing how to play the political game behind the scenes. Having said that, if for no other reason, he eventually deserves a spot for his involvement in the nWo, one of the most successful angles pro wrestling has ever seen. While Hulk Hogan may have been the focal point, Nash (along with Scott Hall) really laid the groundwork, and are probably more associated with the famous group today than Hogan is.