Carmella announced her pregnancy earlier this month. Since the reveal, the WWE Universe has expressed its happiness for the WWE Superstar. Now, the former WWE SmackDown Women's Champion has an update regarding her baby's gender reveal.
Carmella and Corey Graves have been trying to have a baby for quite some time now. In September 2022, the female WWE Superstar suffered a miscarriage and was treated for ectopic pregnancy the following month. It was these reasons that kept her away from in-ring action for the second half of 2022.
Mella made her return to WWE in 2023 and was scheduled to participate in the Fatal Four-way Showcase match at WrestleMania 39. She was supposed to team up with Chelsea Green at the PLE but went missing a few weeks prior to the match. At the event, Sonya Deville took her place.
Almost a month after WrestleMania, The Princess of Staten Island appeared on Good Morning America, where she announced her pregnancy, explaining her absence to the WWE Universe. Now, Carmella has taken to Twitter to let her fans know that she will be revealing the gender of her baby today.
---
Will Carmella return to WWE after the birth of her child?
Since her pregnancy announcement, Mella fans have wondered whether the former Money In The Bank winner will make her way back to wrestling. Luckily for them, she made her intentions clear in a recent interview.
"I love working for WWE, I love performing, and it's just such a passion of mine. I've done it for 10 years so it's so crazy to be away from it."
One can assume that the former SmackDown Women's Champion is far from done with her WWE career and will be looking to make her way back to the top of the women's division.
What do you think will be the gender of the child? Let us know in the comments section below!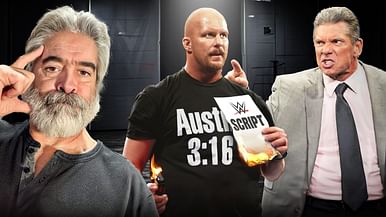 How Stone Cold was born in 2 minutes
Edited by Gurjyot Singh Dadial