Conor McGregor continued his online war of words with Roman Reigns and Paul Heyman as he took a shot at The Bloodline members in a series of tweets.
WWE recently announced its sale to Endeavor, the parent company of the UFC, and the two promotions are set to merge down the line. Soon after the announcement, the UFC star posted a picture of himself holding both WWE and UFC belts on social media alongside the caption 'It's inevitable.'
This started an online battle between McGregor and Paul Heyman as the duo took multiple shots at each other. The Irishman recently added further to the fire as he quoted a picture of The Tribal Chief with two world titles on Twitter. He then uploaded a pic of himself holding two titles back from his days as the dual-weight UFC champion. In another tweet, Conor McGregor stated that he's going to suplex Paul Heyman on the site.
---
Roman Reigns' wiseman Paul Heyman went off on Conor McGregor in a past interview
Conor Mcgregor has caught flak in the past from multiple WWE stars for his comments on professional wrestling. Paul Heyman also took multiple shots at the UFC star in an interview with Ariel Helwani.
"I'm not a grandfather, but I appreciate the fact that I'm old enough to be one, number one, and I'm still thriving on top. I would like to see if Conor McGregor at 57 is still thriving at the very top of his entire industry. We'll see if he's even relevant at 57. We'll see if he even lives to 57 with his lifestyle now, number two," Heyman said.
"Number three, it's not that he tweeted to me, I picked the fight with him. Let's be honest about this," Heyman said. "He, as a Roman Reigns wannabe, did the Paul Heyman style, you know, title on each shoulder, and, you know, gave a shout out to himself, of course he did. You know, the ultimate self promoter in McGregor, you know, standing nine feet tall and weighing 155 pounds and five foot four. So, with that in mind, I said, 'Look at Conor McGregor, a Roman Reigns wannabe', and of course, you know, he said, 'Oh, be careful grandpa. I'll break your jaw in three places.'"
With WWE and UFC bound to work under the same parent company, it wouldn't be surprising if this all proves to be a work . We might get to see a match between two megastars inside the squared circle.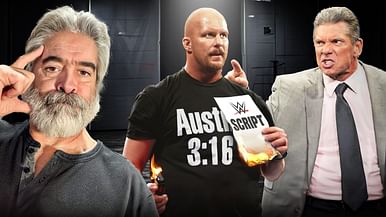 How Stone Cold was born in 2 minutes
Edited by Ashvinkumar Patil