WWE Hall of Famer Teddy Long recently spoke about the prospect of managing the RAW tag team, the Street Profits.
Angelo Dawkins and Montez Ford are two of the most popular superstars on the current WWE roster. The two stars have been a prominent feature of the tag team division and are also two-time tag team champions.
During an exclusive interview with Riju Dasgupta on WrestleBinge by Sportskeeda, Teddy mentioned that he would probably enjoy managing the Street Profits.
He spoke highly of the duo and put them over for their mic and in-ring skills. The Hall of Famer recalled meeting the former SmackDown Tag Team Champions and felt they were nice guys to work with.
"Well, if I were to manage somebody, I think it would probably be a tag team. It would probably be the Street Profits. I like them, I watch them. You know they are good, they are good in the ring. Their mic skills are good. You know they are a couple of nice guys. I had a chance to meet them. So Street Profits are the guys I'd like to be with." [From 0:32 - 0:48]
You can watch the full video here:
---
Montez Ford drew praise from Triple H after WWE Elimination Chamber
This Saturday night at the Elimination Chamber, Montez Ford pulled out his A-game in a bid to win the United States Championship.
The Street Profits member was one of the last three inside the chamber and looked threateningly close to taking the title away from Austin Theory. However, he was pinned after a Stomp from Seth Rollins. In fact, Ford needed help to make his way out of the arena after being eliminated.
WWE Chief Content Officer Triple H also took notice of Ford's efforts in the match and praised him on social media after the event.
Would you like to see Teddy Long manage the Street Profits in WWE? Sound off in the comments section below.
---
If you use any quotes from this article, please embed the YouTube video and add a H/T to Sportskeeda Wrestling for the transcript.
---
Also, remember to check out Mac Davis and Teddy Long's Road Trips after Hours podcast!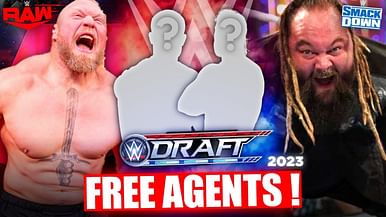 Brock Lesnar and 10 WWE stasr who are FREE AGENTS