Trinity Fatu, formerly known as Naomi, has seemingly not been involved in any wrestling promotion since her departure from WWE in May 2022. She and her partner Sasha Banks, now known as Mercedes Mone, walked out of the company due to disputes over the Women's Tag Team Championships.
It was recently reported that the former SmackDown Women's Champion was in talks with STARDOM, which later broke down over financial issues, with Dave Meltzer stating on Wrestling Observer Radio:
"The hard part about a longer commitment is that Bushiroad's wrestling division, even though Stardom has grown greatly, has overall taken a major financial hit because of New Japan's declines related to the pandemic, even with New Japan World up. Because of that, the wrestling division is under pressure to keep spending down. An example is that they were told they could bring in Trinity Fatu, but it was felt it would cost too much for the return and thus far hadn't made that deal." (H/T Wrestle Purists)
However, Fatu, FKA Naomi had a two-word response to the report. She posted a screenshot of the report to her Instagram story. Over the top of the image, she wrote:
"NOT TRUE"
During her time in WWE, Naomi was a two-time SmackDown Women's Champion, one-time WWE Women's Tag Team Champion, and won the WrestleMania Women's Battle Royal in 2018. She also appeared in nine seasons of Total Divas. The star confirmed that she had indeed left WWE on her Instagram page in March 2023.
---
A Current Women's Champion spoke out about wanting to face Trinity Fatu (Naomi) in the ring
In a recent appearance on The Sessions podcast with Renee Paquette, the current ROH Women's Champion Athena (FKA Ember Moon) opened up about her friendship with Naomi and wanting a match with the fellow former WWE Superstar.
"I love Trin. We did not get to have a lot of interactions in WWE. Me and Trin always found each other, but we never got to complete anything we started. We stayed in touch, which was very important to me. We talk almost every day. I genuinely love her and she's extremely talented. Got the short end of the stick every single time. She's one of those people that I need that match with." (H/T: Fightful)
It is still not clear what the next move will be for Trinity Fatu, but she was recently spotted front row supporting Athena at the Supercard of Honor event last month.
What do you think Trinity Fatu will do next? Share your thoughts in the comments section below!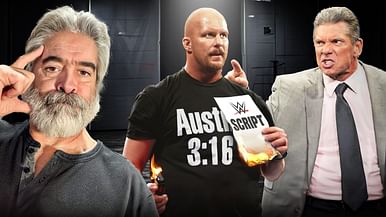 How Stone Cold was born in 2 minutes
Edited by Gurjyot Singh Dadial