WWE Superstar Omos and his wife were seen dancing together in a clip shared on his Instagram story.
In March, The Nigerian Giant revealed that he is set to marry his fiancee later this year. The news was met with a string of congratulatory messages addressed to the WWE Superstar on social media.
Omos recently reshared a bunch of clips that his friends and family posted on Instagram. The clips were shot at the pre-wedding ceremony and you can watch a video of the couple's dance below:
Omos has been a mainstay on WWE TV for about three years now
The 7'3'' star wrestled his first main roster match at WrestleMania 37 in 2021. At the mega event, he teamed up with former WWE Champion AJ Styles, and the duo defeated The New Day to win the WWE Raw Tag Team Championships.
AJ Styles is pretty high on his former tag team partner. Here's what he had to say about him while speaking with BT Sport's Ariel Helwani:
"He could be one of the greatest superstars ever. He could be just like Andre The Giant. He's bigger than Andre, I think, I could be wrong, I never met Andre. He's a massive human being. To have him stand in front of you, you have to see it to believe it. He's not a goofy giant. He's a very smart individual.
Styles made another bold comment during the interview, stating that the 29-year-old star doesn't need a mouthpiece:
I think he's more than capable of doing it himself instead of having a mouthpiece, he doesn't need that. Time will tell. Some people can handle it, some people can't. You can only do so much for someone and then they have to take control of their own career." [H/T Fightful]
Only time will tell how far Omos goes on WWE's main roster. As for now, he's in a pretty good spot on WWE TV and is all set to start a new chapter of his personal life.
---
The Sportskeeda community congratulates The Nigerian Giant on his upcoming wedding!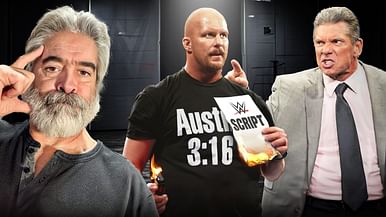 How Stone Cold was born in 2 minutes
Edited by Gurjyot Singh Dadial