As per 31-year WWE veteran Mike Chioda, he once lost two teeth on Randy Orton's head during a TV match.
The former referee was let go by WWE in 2020 after more than three decades of service. He is one of the most respected officials in pro wrestling history.
Chioda recently had a chat with Steve Fall of Ten Count. He told an interesting story from his time in WWE, revealing that he lost two teeth on Randy Orton's head while officiating a match.
"My teeth have been in Randy Orton's head. I remember one time, I meant to go pull them off and went down and he came up. My front two teeth were right at the top of his head and he started gushing the blood. He's looking at me, goes, 'You're all right?' I'm like, 'My teeth are still there!' It's a TV match and I'm like, 'Is my teeth still there?' He's like, 'Yeah.' I'm like, 'Holy! You're juicing from the top of your head!'" Chioda said. [2:40-3:03]
Randy Orton has suffered his fair share of gruesome injuries
Orton made his main roster debut in mid-2002. It's been more than two decades, and he's one of the most respected veterans in the company today.
Orton has suffered several injuries over the years and is currently out of action due to a legitimate back injury. In 2004, he took on Cactus Jack in a Hardcore match for the Intercontinental Title at Backlash.
Many fans deem it the night Orton turned into a star due to the amount of punishment he endured during the match.
At SummerSlam 2016, Orton took on Brock Lesnar in the show's main event. By the end, The Viper was bleeding profusely and was given immediate medical assistance.
It would be interesting to hear Orton talk about the incident with Mike Chioda and his immediate reaction to learning that the referee had lost two teeth on his head.
Dop your reactions to Mike Chioda's insane story! Sound off in the comments section below.
---
Please credit Ten Count and give a H/T to Sportskeeda if you use Chioda's quotes!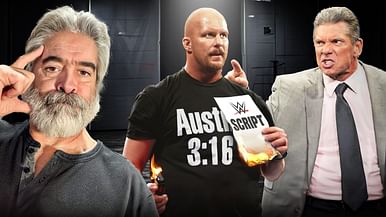 How Stone Cold was born in 2 minutes