Opinion: AJ Styles might finally drop the WWE title, and this is why
6.16K //
25 Jul 2018, 16:01 IST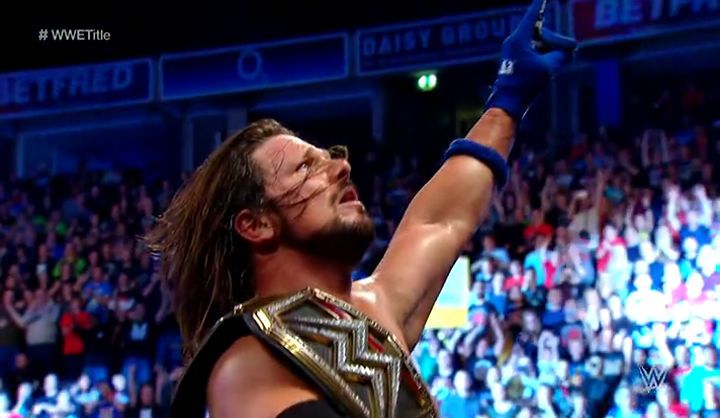 AJ Styles has had a tremendous title run as the WWE Champion. However, if we were to really take a look at the challenges he's faced and the excitement he's created during his title run since November 2017 - we would see that he hasn't been in a meaningful feud or one that generated an air of intensity.
Alright, his feud with Shinsuke Nakamura could be tagged one of the best in a long time as it had a series of dream matches. However, the feud was completely ruined by the segments where Nakamura would deliver low blows repeatedly on the champion.
While it did work as a factor in his initial heel turn, doing the same thing over and over again was not something that the WWE creative should have done. Instead, there should have been a back and forth competition between the two.
Title match for SummerSlam announced
AJ Styles' competitor was finally revealed in the last episode of SmackDown Live to be Samoa Joe.
Although many have been recently opposed to Samoa Joe being 'handed' a shot at the title, there is definitely quite a significant logic behind it, and it has the potential to morph into a great storyline complete with great matches.
Samoa Joe unlike his previous opponents brings an air of unpredictability and seriousness as he enters this feud with Styles. Samoa Joe means business and is one of those competitors who can bring out the best in Styles.
Samoa Joe is one of the most focused superstars ever, and it is evident that he is hell bent on getting some gold around his waist. Added to that, his viciousness plays an important part in adding character to his gimmick.
Now one may say that this was present in Shinsuke Nakamura as well, but to be honest, during his feud with AJ Styles, Nakamura did not seem to be too focused on the title. Instead he seemed to be more focused on hurting Styles and making him feel bad about himself.
Styles' feud against Nakamura took a much more personal turn, and it had very little focus on the title. Although one may say that it was a part of Nakamura's mind games, he repeatedly got himself disqualified without displaying any concern for the title.
Samoa Joe in this regard can be considered to be a better pick, as he has always displayed a penchant for gold which will certainly come to play in the upcoming feud. The storyline would thus revolve around the title as feuds should be.
The history between the two men
One factor which will definitely be at play is the history between these two men. Although AJ Styles and Samoa Joe have never feuded before in a WWE ring, they have created some of the best matches and some of the most intense feuds in the past.
This only serves to prove that the two of them have a solid chemistry and the WWE can use it to their advantage by creating a solid feud. This is one of the reasons why the WWE can consider putting the title on Samoa Joe as it would give rise to a long term feud that goes back and forth.
Joe as a solid heel
Speaking of long term feuds, it would be a great decision if the WWE decides to put the title on Joe. This would not only create a lot of surprised reactions from the audience, it would also set up the platform for a long fruitful feud.
Samoa Joe could be a credible heel champion as he is massively over with the fans. This would set the stage up for a long term feud which would generate genuine heat in the audience.
Unexpected game changers
Finally, here is an unexpected angle - James Ellsworth!
Considering what happened this week on SmackDown, Ellsworth appears to have been fired by the WWE. However, what if WWE decides to use James Ellsworth as a deciding factor in the match for the WWE Championship?
James Ellsworth came out to challenge AJ Styles and spoke of his history with the champion. While it was absolutely dumb on his part to say he defeated Styles, we must not forget that he played an important part in Dean Ambrose's mind games.
Ellsworth might make a surprise appearance in the WWE Championship match, causing Styles to lose focus, allowing Samoa Joe to capitalize on the opportunity.
With that being said, this year's SummerSlam does have an extremely solid card, and we can only keep our fingers crossed for the event to be an engaging one, complete with eventful moments.