Rey Mysterio gets injured, again!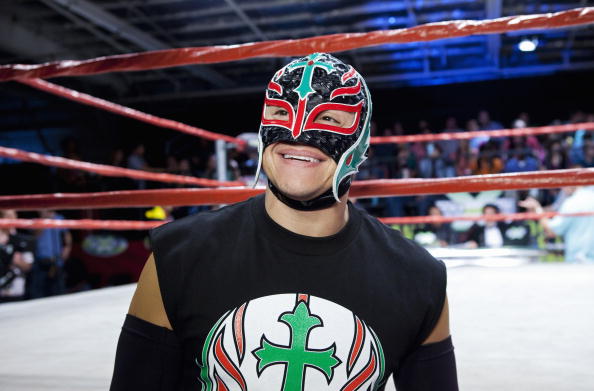 Well, Rey Mysterio fans are going to be disappointed. Despite making a return just a couple of months ago after a lengthy absence due to injury, Mysterio is once again sidelined with an injury. According to WWE.com, Mysterio (real name: Oscar Gutierrez) will require immediate surgery to repair this injury, and according to Mysterio's official Twitter account, he suffered a torn ACL, a type of knee injury.
While this is bad news for Mysterio as well as his fans, I personally think this might be the sign he needs that it's time to call it a career. In the time he's been in WWE, he has been racking up injuries left and right. Don't believe me? Let's take a look at a little bit of history:
- WWE No Mercy 2006: Removed from television in order to get knee surgery, putting him on the shelf for nearly a year until Summerslam.
- February 14, 2007: Mysterio suffers a biceps injury on an overseas tour that requires surgery. Out of action for four months. During this time, Mysterio undergoes three separate knee surgeries in the span of a month, in addition to surgery for the torn biceps.
- August 2, 2009: Mysterio is suspended for violating the company's Wellness Policy. He claims he had a prescription for the drugs in question and they were used to rehabilitate his knee, but fails to produce a doctor's note, resulting in the suspension.
- August 2011: Mysterio suffers an arm injury that requires surgery, and is sidelined for roughly 10 months.
- April 26, 2012: During rehabilitation for the latest injury, Mysterio is suspended a second time for failing the Wellness Policy once more.
- March 2013: Mysterio suffers a possible torn ACL and will require surgery once more. At this time, it is unknown how much ring time he will miss.
And this is just the last few years. This does not take into account all of the other numerous injuries Mysterio has incurred during his near 25-year career (he debuted in 1989 at the age of 14). Over the course of his career, he has had about a dozen surgeries on his knees alone, and considering his style of wrestling, that is not something his knees can put up with much longer, unless Mysterio wants to be crippled in his formative years. Injuries are common in wrestling, but when you consider other experienced veterans like Christian, who have incurred less major injuries over their entire career than Mysterio has in just the last 6 years or so, it's a very telling sign that it may be time for "The King of Mystery" to finally hang up the boots once and for all. It's only a matter of time before one of  his knees blows out during a match and permanently shelves him. He's better off leaving now before that happens.