What's the story?
During last night's ROH: Survival of the Fittest event, popular Canadian TV actor Stephen Amell made his Ring of Honor debut when he teamed up with the Bullet Club and faced off against The Addiction, Flip Gordon, and Scorpion Sky in a mega eight-man tag team match.
In case you didn't know…
Earlier this month, Ring of Honor announced on their official Twitter handle that popular DC Comics actor Stephen Amell will be a part of ROH's Survival of the Fittest tour for this year.
Amell is mostly known for his work in DC, where he plays a fictional superhero character called the Green Arrow.
However, despite not being a full-time wrestler Amell is no stranger to a wrestling ring owing his previous association with the WWE where he wrestled a match in 2015 during the Summerslam event.
The heart of the matter
At last night's Survival of the Fittest event, Stephen Amell stepped into a wrestling ring for just the second time in his entire career as he teamed up with The Elite (Kenny Omega, Matt Jackson, and Nick Jackson) to take on the team of The Addiction (Christopher Daniels & Frankie Kazarian), Flip Gordon, and Scorpion Sky in an eight-man tag team match, which was also the main event of the evening.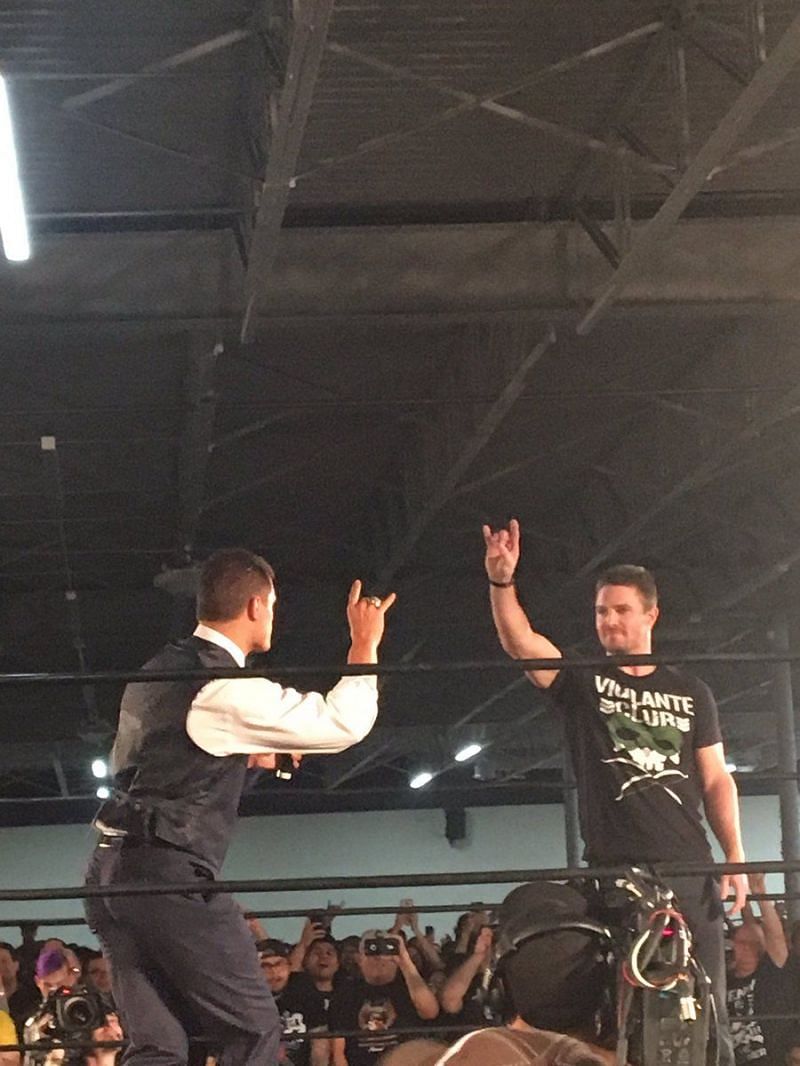 However, prior to the main-event Stephen Amell was also added to the Bullet Club by non-other than his good friend and ROH World Champion, Cody Rhodes—with whom Amell had a match against in WWE.
The match itself was a great contest and had some amazing high flying action as well. Amell was also put through a table on the night and was also seen performing the Indytaker move (The Young Bucks' finishing manoeuvre) as the Bullet Club were victorious in the evening.
What's next?
Following his addition to the Bullet Club, Amell became the faction's 14th current member—which is the highest incarnation in Bullet Club's four-year history. After the show, the DC actor also took it to his social media and claimed that this was one of the best nights' in his entire life.
It is most likely that Amell will now turn his attention towards his acting career but we can surely expect him to wrestle in the future and as he continues to represent the Bullet Club.
Author's Take
Seeing Stephen Amell in the Bullet Club certainly remains as one of the coolest moments in wrestling for me and I'm looking forward to seeing him in BC colours in the future as well.
---
Send us news tips at [email protected]